Dinner With Dames #13, With VJ Boyd (Recap)
For Dinner With Dames #13, Cinefemme gathered a group of women filmmakers to dine with the night's mentor, VJ Boyd, writer on CBS's S.W.A.T.
Who: VJ Boyd, writer on CBS's S.W.A.T., & Cinefemme board, sponsorees, and volunteers – Kimby Caplan, Christianna Carmine, Michelle Kantor, Sarah Leibman, Jenna Payne, Lane Stroud, and Joyce Yoo, and myself, Gina Casazza
What: Dinner 2.3 – a casual discussion on industry issues facing women & ways to excel in their careers over dinner & drinks
When: Wednesday, December 13, 2017
Where: The Valley Inn, Los Angeles
Why: To propel women to bigger and better career opportunities within studios and networks
I had the pleasure of attending Cinefemme's Dinner with Dames dinner mentorship program. I didn't know what to expect. The idea of Dinner with Dames is to get more women working for equal pay in the film industry by learning from mentors. The women at the table were in various stages of their careers, and almost every woman attending the dinner was a writer and/or director. I was really intrigued by them, how they have been pursuing their careers, and their goals. They were all so passionate, creative, and intelligent. It frustrates me when I am working on a set to see very few women when clearly there are talented women out there! Dinner with Dames is very passionate about connecting women in the film industry, and I was privileged enough to experience it firsthand.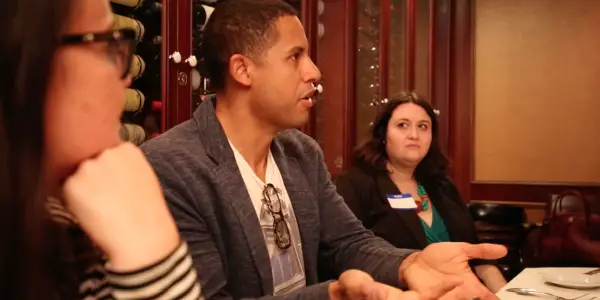 Our guest was TV Writer/ Producer VJ Boyd. Boyd has worked on television shows like FX's Justified and currently is writing for CBS's S.W.A.T.. Dinner with Dames program director Jenna Payne led the dinner with insightful questions for Boyd to answer. Boyd told us his story, he shared his experience working on various shows, and he shared his knowledge and insight into how women are treated on the shows he has worked on. I loved how intimate the setting was. Boyd was able to connect with each person and answer everyone's questions. It felt more like friends having dinner by the end of the night and an incredible mentorship opportunity.
An organization like Cinefemme, founded by Michelle Kantor, is an amazing outlet for women to connect with other successful people in the entertainment business. It knocks down the barrier of conscious and unconscious bias and connects people face to face. These dinners give everyone more connections, both with the mentor and with the other women at the table. In life no matter what career you choose, it is beneficial to know people and for people to know you.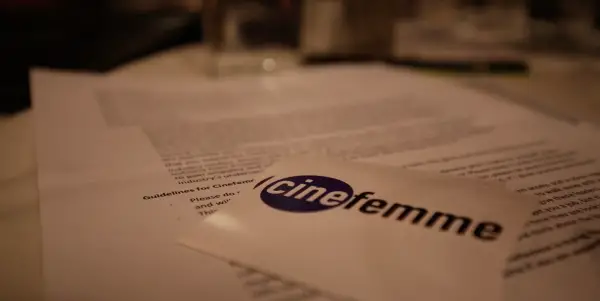 Boyd talked a lot about who has helped him get to where he is today and whom he has helped in return. From my experience working in the film industry, you want to work with your friends. We work long days, and sometimes we want to lighten it up and have fun. Plus when we trust each other we tend to finish work quicker. Networking shouldn't be diminished but praised, and Dinner with Dames helps level the playing field for women. It helps us to also constantly support each other instead of competing with each other. Dinner with Dames and Cinefemme really boosts the support system for women.
Recently, I finished writing, directing, producing, and starring in a short film called Silent Struggle. It is a short film based on a true story about a young woman filmmaker who gets her first shot in the film industry and then goes deaf. Coincidentally, our videographer for Dinner with Dames, Kimby Caplan, is profoundly deaf, and she is a talented director of photography. Caplan is writing a short film featuring a child deaf actress. She mentioned to me the discrimination of not only being a woman but also hard of hearing. Organizations that bring together all different people with one common goal is what's going to help us succeed and stay successful, and last night I got to experience that at Dinner with Dames!
Christianna Carmine, an up and coming director, asked Boyd about conscious and unconscious bias at work, and Boyd admitted that he had witnessed some examples himself and had heard horror stories from friends in the industry. Some of the #MeToo stories have caught him by surprise and others have not. He said he was grateful to have worked under good bosses who gave him a hand up in the industry.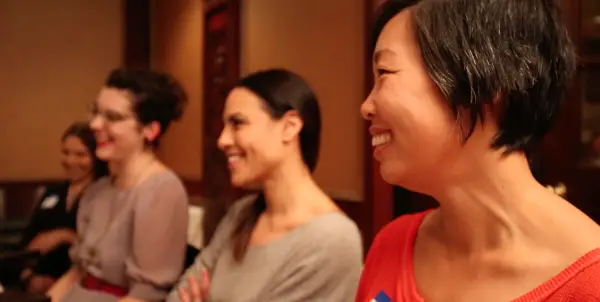 One thing that Boyd mentioned was how hard it is breaking into this business and how hard it is to succeed and move forward. Ever since I was 14 years old, I have wanted to be a successful film director. Everyone has said the same thing as Boyd. You have to really want it because the path is not easy. When I first started out in the industry two weeks after I graduated college, I landed my first job on Dancing with the Stars. After that, almost every single job was from a connection. In my experience, organizations like Cinefemme help make the process of breaking into the film industry easier.
Through these organizations you get to meet people in your industry and in different departments. You may find out that you have a passion for producing and never knew. I currently work as the Executive Assistant to Penny Marshall. When I landed the job four years ago I always had my eye set on directing. When Penny suggested I pursue acting, I laughed. That sounded awful. However, she persuaded me to take an acting class and for some crazy reason I did. I fell in love and found a new passion.
All my networking and connections for my various other jobs helped me make that transition into acting so much easier. If you join Cinefemme as a member and have the opportunity to attend a Dinner with Dames, you simply can't pass it up. It opens up doors and brings talented, driven, hardworking people together to succeed in one common industry.
Photo credit: Kimby Caplan. Video credits: Footage by Kimby Caplan / Editing by Liana Alexander
About Cinefemme:
Cinefemme is a 501(c)(3) non-profit organization founded by women filmmakers, for women filmmakers in 2002. Cinefemme provides fiscal sponsorship to women filmmakers and artists, as well as peer-to-peer networking, mentorship, and strategy for project fundraising. By advancing women's careers in film and the arts, we empower women's voices to create gender parity in the arts and equal representation in the media.
About Gina Casazza: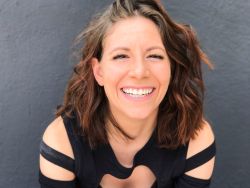 Gina Casazza is from New York. She moved out to Los Angeles eight years ago while working on the TV show Dancing with the Stars. Gina has worked on various TV shows like White Collar and Wrecked and also has worked as an assistant for Ralph Macchio and currently Penny Marshall in pursuit of a directing career. However, over the past two years Gina has shifted her career ambitions from director to actress inspired by Penny's recommendation. Gina is currently SAG-Eligible, and her new film Silent Struggle that she wrote, directed, produced, and played the lead in will be making its festival rounds in 2018! You can see some of Gina's acting work on her website  and follow Silent Struggle here.
Film Inquiry supports #TimesUp.
"The clock has run out on sexual assault, harassment and inequality in the workplace. It's time to do something about it."
Read the Letter of Solidarity
here
. Make a donation to the legal fund
here
.
Opinions expressed in our articles are those of the authors and not of the Film Inquiry magazine.