Dinner with Dames: Dinner #5, With Morgan Long (Recap)
Cinefemme gathered another group of inspiring female filmmakers, writers and content creators for the fifth iteration of Dinner With Dames, to dine with Morgan Long of Requiem Entertainment, and casually discuss film industry issues facing women.
Dinner with Dames Case File
Who: Morgan Long, owner and manager at Requiem Entertainment, & Cinefemme board, sponsorees, and volunteers – Kimberly Dilts, Rory Gory, Michelle Kantor, Destri Martino, Jen McGowan, Jenna Payne, and myself, Lagueria Davis
What: Dinner 1.5 – a casual discussion on industry issues facing women & ways to excel in their careers over dinner & drinks
When: Thursday, January 12, 2016
Where: Franco on Melrose
Why: To propel women to bigger and better career opportunities within studios and networks
At this point in my career as a writer and director, my bandwidth is maxed. I have a day job working as a production manager or line producer for film, television, and commercials. Then I have all the things that I'm doing for great organizations; like Cinefemme, Alliance of Women Directors, and Array Now. In addition to all of the above, I'm carving out time to write and direct, both of which, presently, I do not get paid to do.
In the summer of 2015, I threw in the towel on my day job, where I was coordinating on a feature film. I put in a one week notice and found a coordinator to replace me because I was exhausted and needed to focus my attentions on my career as a writer and director. I also realized everything that I'd written and directed had been done while I was working and juggling so many other things, making it much harder to achieve my vision. That included the first feature I wrote and directed, 1 in 3. I took eight months off. I used that time wisely. I put myself out there and I showed up.
That is what I did the night of January 12th, I showed up after a long work day for Cinefemme's Dinner With Dames fifth mentorship dinner with Morgan Long, who just started her own management company called Requiem Entertainment. It is a literary management company that represents writers and directors and primarily focuses on television. Her background was especially interesting to me, as someone who basically created the position she currently holds. She knew what she wanted to do. She knew what she didn't want to do and then she put herself in a position to be able to do the very thing she wanted to do. She made it happen. That fact fascinated me because getting to that point in my career where I'm earning a living doing what I want to do has been so elusive.
She described her journey and spoke candidly about working with agents and managers. Dinner With Dames attendee and Board Member Rory Gory felt the biggest takeaway from the discussion was how open she was. She said that Morgan Long "gave a lot of practical advice for advancing our careers and shared insightful thoughts on how to deal with roadblocks with grace and integrity." Her passion for what she does is what I found most encouraging. She loves working with writers and directors. She wants to and is able to help springboard careers.
Networking is another major component of putting yourself out there and can launch careers. Jen McGowan, director of Kelly & Cal and founder of FilmPowered, spends most evenings networking. However, mothers are unable to network with this frequency and consistency, and for up and comers, the price is unsustainable. While everyone agreed that networking is imperative, Long took it a step further stressing the importance of making genuine connections with people, because at the end of the day, we're all people doing the best we can.
Her openness to share her wisdom and interest in the guests' varied backgrounds and projects created a lively conversation over the course of dinner. During my introduction, I mentioned the Women in Film Mini Upfronts showcase of women creatives and projects that was taking place the next day. Immediately, Long asked if she could go. I was thrilled to offer her an invitation to a program on which I had worked very hard to bring together.
Kim Dilts, actor, writer, and producer, and her husband are having to rethink the industry altogether after two features, including Auld Lang Syne which was fiscally sponsored by Cinefemme, and no chance to level up on the horizon. The table discussed how expensive and time consuming it is to dedicate yourself to an independent film only to make another one with no shot at a sustainable career in sight. Women are bottlenecked at multiple points in the process.
Long emphasized how despite the struggles that diverse candidates face, increasing diversity is at the forefront of most agencies. Not only are increasing diversity conversations being had, agencies are also actively seeking ways to put those conversations into actions. Putting our conversation into action, she offered to read a script from each guest in attendance. This is not something that is required of hosts but goes to show how dedicated she is to investing time in uplifting a talented pool of women.
I almost didn't go to this dinner but I am glad that I did. I've learned over the course of the years that showing up is half the battle. On Friday, January 13th, Morgan Long showed up to the Mini Upfronts event, and Hollywood should take note. At a certain point, you learn that progress is about action. By surrounding myself with passionate people who show up, we'll lift each other up and make progress together.
(photo & video credits: Amara Singamsetty)
About Cinefemme:
Cinefemme is a 501(c)(3) non-profit organization founded by women filmmakers, for women filmmakers in 2002. Cinefemme provides fiscal sponsorship to women filmmakers and artists, as well as peer-to-peer networking, mentorship, and strategy for project fundraising. By advancing women's careers in film and the arts, we empower women's voices to create gender parity in the arts and equal representation in the media.
About Lagueria Davis: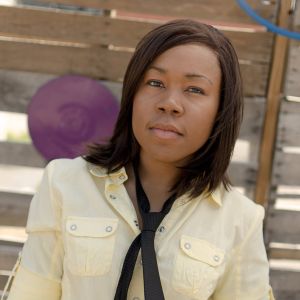 Lagueria Davis is a writer and director currently residing in LA. Her first feature film 1 in 3 completed in 2010, a social drama about domestic violence, has won several awards and continues to have screenings today. Lagueria also works in film and television production– coordinating, managing, accounting, and producing. She is a filmmaker who is notoriously soft spoken with a loud voice for advocacy and activism. Also, Lagueria is an award-winning writer. She's had two projects advance to the second round of Austin Film Festival Screenplay Competition. In 2016, a project she co-wrote, Maid of Dishonor advanced to the quarterfinal round of the Academy Nicholl Fellowships in Screenwriting. In addition, she's on the board of the Alliance of Women Directors and Cinefemme. Lagueria received a BFA in Media Art from the University of Oklahoma.
Film Inquiry supports #TimesUp.
"The clock has run out on sexual assault, harassment and inequality in the workplace. It's time to do something about it."
Read the Letter of Solidarity
here
. Make a donation to the legal fund
here
.
Opinions expressed in our articles are those of the authors and not of the Film Inquiry magazine.