Dinner With Dames #11, With Rachel Shane (Recap)
For Dinner With Dames #11, Cinefemme gathered women filmmakers to dine with Rachel Shane, Chief Creative Officer at OddLot Entertainment.
Who: Rachel Shane, Chief Creative Officer at OddLot Entertainment & Cinefemme board, sponsorees, and members – Amy Adrion, Jamie Hanson, Michelle Kantor, Angie Polkovich, Jenna Payne, Melanie Wise, Kaitlyn Yang, and myself, Anastasia Washington
What: Dinner 2.1 – a casual discussion on industry issues facing women & ways to excel in their careers over dinner & drinks
When: Wednesday, September 27, 2017
Where: L'Assiette Steak Frites
Why: To propel women to bigger and better career opportunities within studios and networks
Women in film is a hot topic right now. It's in demand, it's what's in the news, and it's what the studios want… right?
I grew up in Hollywood. Acting and singing professionally since the age of 3, I've seen a lot, experienced a lot, and, let's face it, failed a lot. In this cut throat world – are we as women bringing each other up? Or holding each other back? I personally have made efforts to bring other women up but sometimes have been gossiped about and torn down. Cinefemme's recent Dinner with Dames in West Hollywood brought into focus how so much can be learned from women who surround themselves with amazing women.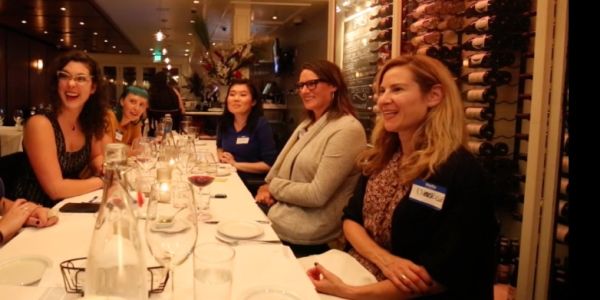 Chatting with Rachel Shane of OddLot Entertainment, it was amazing to hear that when she started out she did not realize there was a problem for women in the industry. Why? Her guess is that she was surrounded by women in the industry and guided by some amazing women bosses. Recently, though, she has experienced the boys' club of lore.
I can't help but be jealous of the amazing women that help each other out. I would describe my way of working with women as refusing to be jaded but also sometimes feeling vulnerable.  This issue was also mentioned by Melanie Wise of Artemis Women in Action Film Festival, an annual action festival dedicated to stuntwomen. The idea that only so many jobs are available to women must be retired. Women need to work together to add more chairs to the table instead of fighting for the current 1 or 2 seats available. Rachel Shane is proof that there are great women out there who can champion other women.
With the glut of exposes on Harvey Weinstein and progressive journalists tipping off Breitbart, men are also a major part of the problem. Rachel Shane pointed out that some of these men are never going to change.
In a time where the word "hepeating" is now a real term, referring to when a women has an idea and no one listens but then a man repeats it and is patted on the back for the same idea, society is well aware of the problem. So what can we do? How can we support each other and raise each other up? How can we make Hollywood a woman-inclusive world?
Dinner with Dames is a major start. With organizations like Cinefemme, founded by Michelle Kantor, Artemis Women in Action Film Festival, started by Melanie Wise, and more, we bring the focus to the awesome, kick ass women out there. This program gives them opportunities and connects them with other amazing women.
The stellar women who showed up for this event are proof of this. Kaitlyn Yang attended the dinner in a wheelchair. She is the Asian CEO of a VFX Company, Alpha Studios, and said that the biggest strike against her when pitching to clients is sometimes being the only woman in the room – not her disability or her race. Wise and Dinner with Dames program director Jenna Payne discussed how the rules are different for women, even for something as simple as writing an email. Men can write short, to the point work emails, but women sometimes must agonize over sugar coating a message in order to avoid being perceived as blunt, aggressive, or uncaring. Men are just presumed to be busy and doing their jobs.
I know what you're thinking – but how can I personally break into this world? The truth is we all have our own path. Mine is in the digital sphere where I can continue to create constant streams of content with amazing women that inspire me. Through my YouTube channel Anastationtv and web series like Joy Ride, and podcasts that focus on women in pop culture, like Nerd Up or Shut Up, Geek Girl Social Club, and Legion of Leia, and more multi-platform content coming soon (Twitter).
What's Rachel Shane's advice? The busy executive in charge of content like Genius and Hell or High Water says create! Submit to everything. Get your work out there, and make films. Give them no reason to say there aren't women screenwriters, directors, actors, and producers out there. Solid advice. Work hard and never give them a reason to say you don't.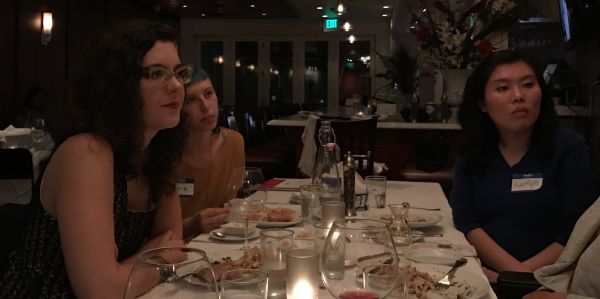 One thing I will take away from the lovely dinner with these incredible ladies, is that each of us has awesome stories to tell. And I can't wait to see their work – like Amy Adrion who is producing a documentary called Half the Picture that truly hits home. Adrion spoke about the lack of opportunities and funding after grad school and decided to pursue a documentary project, asking the handful (but growing!) big name women directors how they were able to climb the ladder.
Next step? Get out there. Get to know people. Find your tribe and keep working, and I'll see you at the next award show….
Photo & Video credit: Michelle Kantor
About Cinefemme:
Cinefemme is a 501(c)(3) non-profit organization founded by women filmmakers, for women filmmakers in 2002. Cinefemme provides fiscal sponsorship to women filmmakers and artists, as well as peer-to-peer networking, mentorship, and strategy for project fundraising. By advancing women's careers in film and the arts, we empower women's voices to create gender parity in the arts and equal representation in the media.
About Anastasia Washington: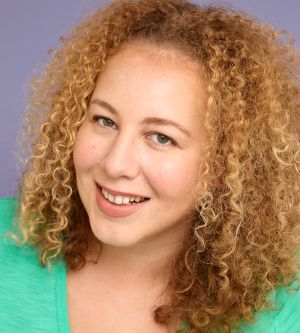 Anastasia Washington is a multi-hyphenate with over 30 years of experience in the industry. She is the Producer/Writer/Director/Actress of projects like Joy Ride Web Series, Comics n Cocktails, and podcasts including Nerd Up or Shut Up, Geek Girl Social Club, and Legion of Leia. Regular panelist at Comic Con, for body positivity as a curvy model, podcasting live, and women in entertainment. You can keep up with all things Anastasia on Twitter (@AnastasiaW) and on her website www.anastasiawashington.com.
Film Inquiry supports #TimesUp.
"The clock has run out on sexual assault, harassment and inequality in the workplace. It's time to do something about it."
Read the Letter of Solidarity
here
. Make a donation to the legal fund
here
.
Opinions expressed in our articles are those of the authors and not of the Film Inquiry magazine.