Renaissance Woman & EMIFF Founder Sandra Seeling Lipski Talks 6th Annual Opening This Week
We spoke with Sandra Seeling Lipski, founder of the Evolution Mallorca International Film Festival, just before its 6th opening this week!
She is a studied actor, talented screenwriter and director, accomplished actor appearing in CSI NY, Borat, and Jane the Virgin, and successful founder and director of the Evolution Mallorca International Film Festival (EMIFF), which is entering its sixth year this week! Sandra Seeling Lipski is quite literally breaking new ground in the film industry. EMIFF's mission statement has spoken volumes to people across continents: "Bridging Cultures – Bridging People."
Born in Berlin and raised in Mallorca, Spain, and happily married, Lipski effortlessly splits her time between living in Mallorca and Los Angeles, where the festival takes place simultaneously. That's right, EMIFF quite literally follows through on its mission statement, which is why it's resonated so well and seen so much growth, including past guests such as Blade Runner: 2049's Ana de Armas, Danny DeVito, and this years inaugural recipient of the Evolution Vision Award, which awards filmmakers whose work reflects the festival's mission statement, Paul Haggis, with whom I spoke last week. Haggis will be honored this week on October 26th!
Lipski received an AA in dramatic arts from the Lee Strasberg Theatre Institute in New York City in 2004 and majored in Filmmaking at the Los Angeles Film School, graduating in 2011. Looking ahead beyond EMIFF, Sandra was invited to speak on a panel organized by the SCL (Society of Composers and Lyricists) in partnership with the AFI (American Film Institute), and will be a member of the Los Angeles Music Video Festival in California this fall. Suffice it to say, she is a busy woman.
Lipski found some time during her busy schedule, as her and her superb festival team geared up for the opening, to Skype with me across continents, from Mallorca to San Francisco, and discuss the upcoming festival, her excitement, what it has to offer, Haggis, and what is in store for the future of this fast-growing festival.
Alex Arabian of Film Inquiry: Are you excited for the festival?
Sandra Seeling Lipski: Very excited!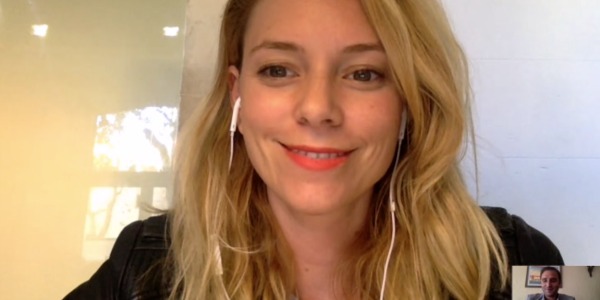 I could imagine! And congratulations are definitely in order, it's shaping up to be your sixth successful year in a row now, which is really exciting!
Sandra Seeling Lipski:Yeah! Number six, we've come this far!
One thing that really intrigued me about your background is that you studied at the Lee Strasberg Theatre School, where some of the greats have studied. What was your experience like there?
Sandra Seeling Lipski: Studying at the Lee Strasberg Theatre institute was an amazing experience. It was a very intense experience for a 19-year-old, I was one of the youngest students who were in my year; it was my first time away from home, living in a big city, it was a culture shock after having grown up in Mallorca. It opened up my my mind to new possibilities and New York is an amazing place to live in your early twenties.
You wear many hats, and, in every sense of the term, a renaissance woman. Could you speak about your career as a producer and director? What projects, themes, or genres interest you behind the camera, personally?
Sandra Seeling Lipski: As a filmmaker I am interested in telling intimate family stories in my short films that I've done. I've done five short films, and I'm just now in development of a feature that I'm going to shoot next year. I like to develop the story around one central character and dig deep into their psyche. In my first short film Going Down I explored young love between two women who randomly meet, are lonely and fall in love. My second short film is called My Mother, it's an intimate portrait about a mother visiting her daughter who is an aspiring writer in L.A. My latest short film entitled Fay Away again is very family oriented, telling the story about a daughter and her estranged father. I like the combination of drama and laughter, really deep emotional laughter that nearly makes you cry.
As the founder and director, you perform a ton of tasks, but what is your submission and screening process, and how long does that typically take to vet around 800 projects per year?
Sandra Seeling Lipski: EMIFF starts receiving submissions in January, our deadlines are spread throughout the year encouraging filmmakers to submit early and avoid the higher submission fees. However I do not encourage submissions of unfinished films. It is never a good idea. As a filmmaker, just as in life you only have one "First Impression" and you want it to be the best one. We are a team of 4 programmers, each film get's viewed at least twice before we make a decision on it.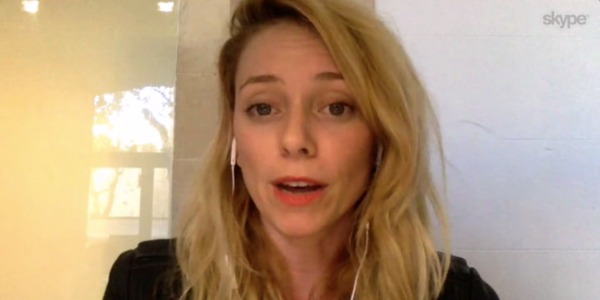 What percentage makes the cut, and are you encouraging of nurturing non-festival-ready films?
Sandra Seeling Lipski: This year we received around 800 submissions, 103 made the cut.
I love that you've bridged two continents, and I love that it takes place in the beauty of the mediterranean. I'm Armenian, so I always feel at home in that region. What are some of the educational and networking opportunities available to emerging but also aspiring filmmakers?
Sandra Seeling Lipski: At EMIFF our main focus is Bridging Cultures – Bridging People. Mallorca has an incredibly international pool of people who call the island their home or second home. EMIFF is the only cultural event where all nationalities come together and enjoy the same art form at the same time. It's incredibly inspiring!
Do you guys have workshops for collaboration on projects for development, and do you see this as eventually becoming a marketplace festival for talented young filmmakers with a diverse and singular voice?
Sandra Seeling Lipski: This year we offer a PITCH WORKSHOP followed by a PITCH FORUM. The workshop is taught by a Pitch expert getting filmmakers ready to pitch their projects to potential producers, investors and distributers and really get structured so you go into a meeting and you just know what you're doing. And I think that's half the battle – giving people confidence to go in, and then it's up to you to charm them. The Forum is exactly that; a jury of 6 feature film and doc feature experts sit, listen and evaluate the Pitch, and they are people from European distribution companies, producers, investors that are looking for new content. EMIFF believes it to be an amazing opportunity for filmmakers to learn, connect and move their project forward.
And then we have our PRODUCERS CLUB. Our Producer's Club is pretty much our roundtable, we call it Producer's Club – we made up a cute name for it – and that's where we have a panel this year, it's going to be about independent distribution and self-distribution, because it's just becoming such a big question mark with everyone, I feel like, for indie feature films. Like, what do you do? Do you sell to a VOD early in the game, but then you kind of limit your possibilities for festivals. Because there are so many options right now, people are really confused. So, we try to clarify that. So, on the panel, we have a director who has been through this twice, she has self-distributed twice, and then we have an independent distributor there.
You must be ecstatic to have Paul Haggis be the inaugural recipient of the Evolution Vision Award. Was Paul always in the conversation for receiving this award? Was there a voting process, or was it pretty unanimous, because he is very deserving of this award and what it embodies, that of your mission statement.
Paul Haggis and EMIFF connected on mutual level of admiration for our mission statements BRIDGING CULTURES – BRIDGING PEOPLE. Apart from being an incredibly inspiring filmmaker who tells stories and aim to unite and shine light on social injustice etc., Paul is also a strong Social justice advocate on a personal level. Haggis is the founder of Artists for Peace and Justice Under this umbrella, many of his friends in the film business have come forward to build schools and a rehabilitation clinic serving the children of the slums of Haiti (www.APJNow.org).
It's truly incredible, what he has done with that organization. What's your favorite Paul Haggis film?
Sandra Seeling Lipski: It's hard to pick one favorite Paul Haggis film…Crash is wonderful but I also love The Last Kiss ( I guess that's my inner girl speaking up).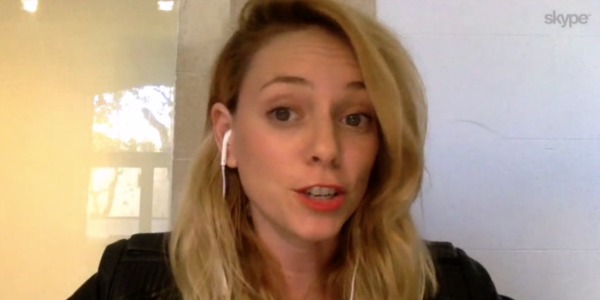 One thing I noticed is how much talent you have been able to host at the festival in such an early amount of time since its inception. Can you speak a bit about some of the talent you've had such as Ana de Armas and Danny DeVito?
Sandra Seeling Lipski: Ana de Armas was a guest at the first EMIFF in 2012. She visited the festival with her then-husband Marc Clotet, who that year was the lead actor in the opening night film La Voz Dormida. Ana caught our attention, she was acting on TV shows and slowly transitioning into films, she had something very special about her and we awarded her the New Faces "Evolutionary Award", an award to a promising new filmmaker/actor etc. Marc Clotet (GOYA winner for Best new actor) joins us again this year in the Feature Film Jury.
What's in store for the future for you organizationally?
Sandra Seeling Lipski: The future looks bright! EMIFF is growing. I am hoping to develop the Evolution LAB, a summer educational film program, similar to the Sundance Lab.
Do you ever have to pinch yourself because everything is moving at such an exciting and positive pace forward, just to make sure you aren't dreaming?
Sandra Seeling Lipski: Pinching myself has become a daily activity. You are right, EMIFF has grown very fast. Mine and my team's goal is to focus on keeping up our quality of films hight, invite inspiring filmmakers and offer unique networking opportunities all with the mission to…Bridging Cultures – Bridging People.
Sandra, thank you sincerely for taking the time out of your schedule to answer my questions, and good luck with your 6th annual Evolution Mallorca International Film Festival! I look forward to what is in store in the years to come!
Sandra Seeling Lipski: Thank you Alex for your interest in EMIFF! I hope you can make it one year and experience this festival and our wonderful island for yourself!
Film Inquiry would like to thank Sandra Seeling Lipski for her time and incredible insight into her multifaceted career, and we hope to attend the festival in years to come!
Film Inquiry supports #TimesUp.
"The clock has run out on sexual assault, harassment and inequality in the workplace. It's time to do something about it."
Read the Letter of Solidarity
here
. Make a donation to the legal fund
here
.
Opinions expressed in our articles are those of the authors and not of the Film Inquiry magazine.