FANTASSÚT: The Human Face Of War
Fantassút, a short documentary about the largest refugee camp in Europe, is a surprisingly beautiful depiction of real people who lived through hellish conditions.
There is so much about the Syrian War and its refugees that we've seen plastered across the news that it's sometimes hard to make heads or tails of it.
Enter Fantassút/Rain On The Borders. This haunting, compelling, blessing of a short is gifted to us by filmmaker Frederica Foglia. It is a surprisingly beautiful depiction of real people who lived through hellish conditions, only to face more at the largest refugee camp in Europe.
Idomeni
Foglia, an Italian immigrant to Canada, moved by the horrors she witnessed, volunteered to help in the Idomeni refugee camp. Idomeni is a small village in Greece, bordering Macedonia. The camp held nearly 11,000 refugees at one point and has been described as a nightmare. People who left their home country to seek refuge from bombings and ISIS were then faced with starvation, rejection and beatings from those they thought would save them. Others faced depression so deep, they burned themselves alive.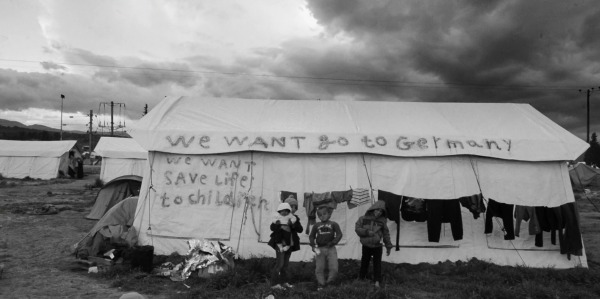 Foglia spent the last three days of her stay there shooting Fantassút. It features several real people who lived in the camp, briefly piecing together their individual stories. Its brilliant images of the vast, barren wasteland stand as a metaphor for these people's lives. It is heart wrenching to behold and to know that so many of our brothers and sisters of this world were, and still are, being treated this shamefully. Hundreds of thousands flee horrors that most of us will never have to know, just to survive. Stripped of their pride and belongings, they wait, seemingly endlessly, for aid.
Bilal
One of the stories of Fantassút that struck me the most, was of 11-year-old Bilal. He was an orphan living at the camp with his 9-year-old sister. He took it upon himself to create a "school" for the younger children in one of the abandoned shacks nearby. Using a marker and a wall, he taught children English, numbers and the alphabet. He gathered worksheets and books for the children to learn from.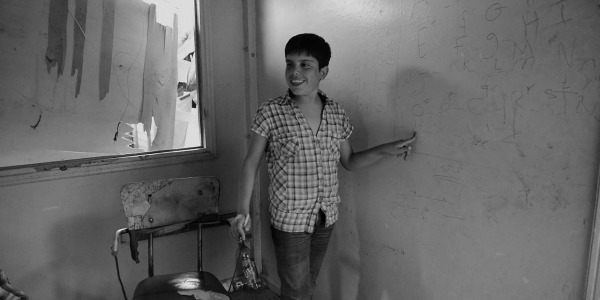 It was astonishing to see a child move so passionately to help bring a sense of normalcy in such a desolate situation. His optimism is nothing short of inspirational and this young man stands to be a "teacher" to adults, on making the best of any situation.
The Beauty of the Human Spirit
As disturbing as these situations can be, Fantassút brings a sense of beauty to it all. It gives voice and honor to these disgraced people. It shows us, up close, their courage, hopes and dreams. They are instantly transformed to become our children; our siblings and parts of our families. Foglia's technique of turning total strangers into family shows an innate genius in her methods and how much these people meant to her. She shows us that, even in the bleakest circumstances, there is hope, time for togetherness and for play.
Every one of the children are radiant expressions of the light within us that is the human spirit. It is a reminder to us of our eternal connection to one another. Fantassút exemplifies how vital it is for us to recognize ourselves in strangers so we can empathize and reach out to them. We can't look at the refugees as "others" because, the reality is, they are us.
Ultimately, the refugees were removed from the camp as of May 24th, 2016 when it was officially closed. 65.3 million people are still displaced. 21.3 million of them are children.
How far would you go to help your Earthly family?
Fantassút plays at the Vancouver Justice Film Festival March 30, 2017 and at the Human Rights Watch Film Festival in Toronto March 31, 2017.
Film Inquiry supports #TimesUp.
"The clock has run out on sexual assault, harassment and inequality in the workplace. It's time to do something about it."
Read the Letter of Solidarity
here
. Make a donation to the legal fund
here
.
Opinions expressed in our articles are those of the authors and not of the Film Inquiry magazine.