40 YEARS IN THE MAKING: THE MAGIC MUSIC MOVIE Exclusive Clip
40 Years In The Making: The Magic Music Movie premiered at the Woodstock Film Festival and will be also be playing at the Napa Valley Film Festival on November 9th and 11th. Magic Music is also set to play a follow up reunion show at the Napa Fest on Nov. 11th. Director/Writer: Lee Aronsohn Producers: Fleur Saville, Jeff Jampol, Kyle Vorbach, Jake Siegel, Alicia
40 Years In The Making: The Magic Music Movie premiered at the Woodstock Film Festival and will be also be playing at the Napa Valley Film Festival on November 9th and 11th. Magic Music is also set to play a follow up reunion show at the Napa Fest on Nov. 11th.
Director/Writer: Lee Aronsohn
Producers: Fleur Saville, Jeff Jampol, Kyle Vorbach, Jake Siegel, Alicia Yaffe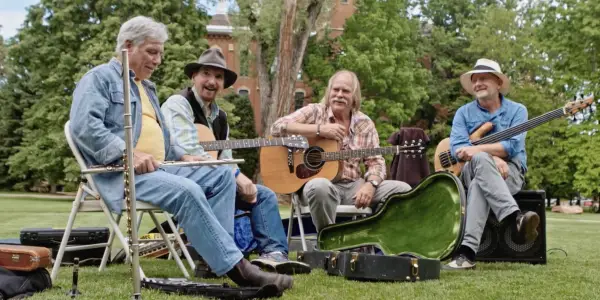 40 Years in the Making: The Magic Music Movie
Television writer/producer Lee Aronsohn (The Big Bang Theory, Two and a Half Men) tries to track down the scattered members of Boulder's most influential and elusive jam band, "Magic Music," in the hopes he can get them to play one last show.
The film is a wild little story about a popular hippie band from the 70's in Boulder, Colorado that reunites for a concert 40 years after their tumultuous breakup. The story follows the band as they relive their touring days and explain how they squandered the opportunity to become the next big jam band (like the Grateful Dead).
Link to exclusive clip – Don't forget to subscribe to our YouTube channel for more exclusive clips and videos from our contributors!
Enjoy the video!
Film Inquiry supports #TimesUp.
"The clock has run out on sexual assault, harassment and inequality in the workplace. It's time to do something about it."
Read the Letter of Solidarity
here
. Make a donation to the legal fund
here
.
Opinions expressed in our articles are those of the authors and not of the Film Inquiry magazine.