The ISA's Top 25 Screenwriters To Watch In 2018: An Interview With Jamie Anderson, Valerie Grant & Lily Mercer
We spoke with Lily Mercer, Jamie Anderson & Valerie Grant, 3 of the ISA's top 25 screenwriters to watch, about their screenwriting endeavors.
The ISA has published its Top 25 Screenwriters To Watch In 2018 list – a very exciting list of promising screenwriters. The writers, according to the ISA, "have gone above and beyond to grow, improve, and get noticed, smashing their goals and achieving incredible success in the past year." Some of the writers' achievements are having a short film selected and presented at the Cannes International Film Festival, receiving an Oscar nomination, placing as a Grand Prize winner in a contest or were chosen as a Fellowship writer. Many of them got representation or landed paid writing assignments over the past year.
We at Film Inquiry are always excited to uncover new talent. We were very happy to be able to talk with three of the 25 screenwriters, Jamie Anderson, Lily Mercer and Valerie Grant and ask them about their screenwriting endeavors.
Jamie Anderson
Jamie Anderson is a comedy writer, director, actress and producer, living in Los Angeles, but she grew up in the American South. Writing, for was a way to get out repressed emotions – for herself, and others. Her comedy is inspired by a surplus of heartbreak, difficult family dynamics, and the paradox of the South. She likes to turn the painful into the absurd.
Can you tell us a little about your short film, Punching Bag?
Jamie Anderson: It's a dark comedy about a lonely romantic man who becomes a literal punching bag at a karate dojo for disillusioned women. In his mind this will right the evils of all other douche-y men, and perhaps he will find love in the process.
I wrote it a year ago, after meeting a talented actor named Jamie Wollrab. We spoke about the idea of a karate dojo and the themes that were provoking both of us, of masculine and feminine, and how much male shaming was happening in society. Feminism to me means honoring both feminine and masculine, respecting all the parts of ourselves and others, and taking responsibility for our own choices… Jamie Wollrab was so talented I couldn't believe he hadn't acted in front of the camera before, only stage. I went home and I wrote him the lead part of Stacy Simms.  I realized in that moment, one of the reasons I work so hard, is to elevate talented people who deserve a shot. Jamie Wollrab did not disappoint. He is absolutely beautiful in the film.
I started prep in June. I had no idea how I was going to get it done, but everyday I put one foot in front of the other. After putting together an incredible team, and having the support of friends, we shot Punching Bag in August. I pushed hard in post, and on Oct 16th we had a cast & crew screening.
What are some of your writing habits? 
Jamie Anderson: Writing habits have to be like going to the gym, or brushing your teeth… Every day! It's not always easy, but it's a lifestyle. If I have other jobs, I make sure to get up super early to write before having to leave the house. It makes me feel successful during my day, knowing I had the discipline to stick to my promise to myself, and actions towards manifesting my dreams.
How did you get involved with the ISA?
Jamie Anderson: I got involved with the ISA because of Max Timm. I had taken a writing class from him many many years ago. He is incredibly talented, a great teacher, and person. When you realize how valuable your time is, you want to work with kind people. It's not always possible, but it's preferred, ha!
Who and what are some of your favorite writers and films?
Jamie Anderson: My favorite writers are John Hughes, Coen Brothers, Danny Zuker, Richard Curtis, Nora Epheron. I love everything from John Hughes. Furthermore, I have watched Love Actually more times than I can count. I once dissected Love Actually, how Richard Curtis worked so many storylines so seamlessly, and I had the entire script strewn across my apartment.
I grew up acting in a few TV shows for Danny Zuker, and I studied his timing. Punching Bag is very much inspired by The Breakfast Club and The Big Lebowski. I know this seems odd, but this is me, I am not one thing, I am many things. My brand is crass humor with a romantic heart. 🙂
What is your dream project?
Jamie Anderson: My dream project is a period comedy feature I wrote called Good Egg. It is inspired by the first woman to become a doctor in the United Sates. It would be a dream come true to direct it. To laugh, provoke emotion, and to empower others, is the ultimate dream come true.
Lily Mercer
Lily Mercer is an actress and screenwriter and has been very successful in screenwriting contests, having won several grand prizes in contests and she also awarded the ISA's Fast Track Fellowship for her TV Pilot, "No More Heroes". She is currently developing a series of TV movies about women entitled, "Lost Women of American History" and is dedicated to changing the status quo for women.
Can you tell us about some of the contests you've participated in, which have been your favorites?
Lily Mercer: First of all, I personally love writing contests. They have quite literally changed my life. When I wrote my first feature film, I didn't really know what I was doing. I had been an actor and theatre director for years, so I basically just used the scripts I had as templates. I entered that script in ten competitions to test the water and get some feedback. (I realize that was overkill, but in this case it worked out.)
I became a finalist (quarter and semi) in six of those competitions, and actually won Best Drama in Screenplay Festival 2008. That gave me the encouragement I needed to change my career path. I used that script as my sample and applied to NYU/Tisch graduate school for an MFA in Dramatic Writing. To be clear, I'm not suggesting everyone needs to go to graduate school to learn how to write, although I think everyone can benefit from classes. Getting into a concentrated program, for me, was about time. I was older, and wanted to kick start my new career.
Currently, when I have a script that I think is ready, I enter it in a contest, and wait to see what happens. If the script doesn't move forward in the competition, I know I have a lot more work to do. If I get to quarterfinalist but not semi, I try to determine what needs to be tweaked. Regardless, I always study the feedback to see how I can make the story stronger.
As for the contests I like, I am forever grateful to the ISA Fast Track Fellowship because winning that competition really changed everything. I met people through that program that I am still in contact with, and they continue to read my new work and give feedback. (One of the producers I met is now considering a passion project I have been working on for years, so keep your fingers crossed.)
I am also grateful to the Vancouver International Women In Film Festival. I entered that contest because I am a supporter of Women in Film, but also because I wanted to do some research on Vancouver Island. I had never been there and I thought if I was lucky enough to become a finalist, that would prompt me to go. Fortunately, my script was chosen as one of the top ten, and I was there at the festival when they announced that I had won Best Screenplay 2017. It was invigorating and inspiring and I couldn't wait to get back and start another film. Sometimes being part of a competition is just the shot of adrenaline you need to start something new – or finish something old. VIWIFF was a wonderful experience and I look forward to going back.
Of course, the Nicholl Felloship is the gold standard of writing competitions, and I was a quarterfinalist this year. Even on that level the organizers send out your logline and give you a few perks for your writing. Just being named among the top 10% of that contest can get you through doors, and at the very least is great validation for your work. In addition, I submit regularly to the Austin Film Festival, The Page Awards, and the Creative World Awards, and I personally feel those names on your resume carry some weight within the industry. That said, I should add there are many highly respected competitions, and everyone has their particular favorites. Those are just a few of mine.
My advice to writers interested in competitions is to do your homework. There are literally hundreds now, so it is up to the writer to figure out what he or she needs. Is it feedback? It is an agent? It is mentoring? If your goal is to get introductions and feedback, do some digging to see if the people you'll be meeting are people who can actually help you. For example, I don't know that a producer of animation or sci-fi action films would be interested in my work, because that's not what I do. Of course, you never know who can open a door for you, but I tend to target people who I think will respond to my work, especially given the cost of entry fees.
Speaking of money, I would never advise anyone to enter a contest for the cash. If that is your goal, better to enter the lottery. Money is always helpful, but it is not what will help to advance your career. The introductions, the doors that can open, the access to people who can support you and help you on your journey – that's probably more helpful in the long run.
What inspires you to write?
Lily Mercer: Writing is the best way I know to try and figure out the Rubik's cube of life. For me, every script I write answers another question, or solves another problem, or sometimes sends me down a road I've never been on before and raises even more questions. It's all valid, and it's all helpful, whether I show it to anyone or not. And going through that process helps me see things from different points of view; that's what I like to read, so that's what I like to write.
What are your writing habits?
Lily Mercer: Right now I am very lucky to be able to write as much as I do, and I have a pretty structured schedule. After I get up, I spend the next couple of hours drinking coffee, eating breakfast, answering emails, and getting ready for the day. Then I sit down at the computer and I tend to get lost in whatever I am writing for the next four hours or so, like Alice falling down the rabbit hole.
After that I'll get up and make lunch, and go about my day. If I'm on a deadline, I'll go back later that evening to work a little more. Most days, time seems to disappear. However, there are always days that I struggle, and that's when I take a coffee break, go for a bike ride, or whatever, to try and spark an idea or answer a story problem.
How did you get involved with the ISA?
Lily Mercer: I entered the ISA Fast Track Fellowship. I liked what the Fast Track offered: mentoring for a year, and introductions to eight industry professionals. Oddly enough, I had never heard of the ISA before that. But once I saw who and what they were, it was very exciting to see that many writing tools in one spot. I still say winning the Fast Track Fellowship changed my life because it came at the perfect time for me in my process as a new writer.  I was ready.
Who and what are some of your favorite writers and films?
Lily Mercer: I write quirky character dramas (with a little social commentary mixed in for flavor), so naturally I love Tom McCarthy, who wrote The Station Agent, The Visitor and Spotlight (with Josh Singer). I also have a soft spot for biopics. Hidden Figures was one of my favorite films last year, so I am a new fan of writer Allison Schroeder.
My secret biopic addiction is Catch Me If You Can. The way the writer, Jeff Nathanson, structured that film was truly masterful. He made a character that could have been despicable, very sympathetic. (I'm sure Leonardo DiCaprio had something to do with that as well, but still.) And I grew up on Nora Ephron, so I watch When Harry Met Sally whenever it plays. That film never fails to make me laugh and make me cry. It's a classic.
What made you want to be a writer?
Lily Mercer: I have been writing since I was in the third grade, but mostly for my own enjoyment. Then in college I wrote a play that got produced, which was very exciting, but was also the most frightening thing I've ever done. My words, my feelings, my opinions were on the stage for all to see. I had never felt so vulnerable and I wasn't ready for it. I kept my writing to myself and became a professional actor and theatre director, which is how I made my living for the next fifteen years.
Then one day I picked up a 99-year-old man hitchhiking. That little old man, Louis Diner, was such a fascinating individual, and I was determined that he not be forgotten. Our relationship became the catalyst for what ultimately became my first feature film script, and as they say, "Now you know the rest of the story."
Valerie Grant
Valerie Grant co-wrote the screenplay for the feature film Legacy, a mafia biopic about a rookie detective (also the son of a disgraced cop) who is working to solve his first major case while under the watchful eye of a ghost-like assassin. It stars Justin Chatwin, Peter Stormare and Yancy Butler and was directed David A. Armstrong and her co-writer on the film is Edward Lee Cornett. Legacy is currently in post-production.
Can you tell us a little about how you got attached to Legacy?
Valerie Grant: It's truly all about networking, relationships, and a ton of "seed-planting" – the director was brought onto the project by the producer, with whom he'd worked on a previous project and had stayed friends. The director had known me for several years and had read several of my scripts, and I'd previously written a couple of spec scripts for him. We initially thought I'd just be doing a polish on the existing script, but the investor's money was conditional upon attaching two specific actors, and the script (by a first-time writer) needed a page-one rewrite to be viable. The director gave me two weeks; I laughed and said no way, but that I'd shoot for six weeks. Which was still plenty crazy.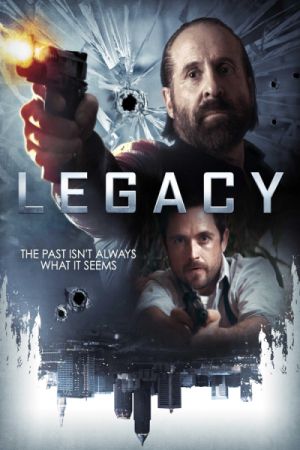 I kept a few story beats and character names, and over the next two weeks created a whole new story and scene outline woven around those pre-existing parameters, then took four more weeks to write the first draft. I set a goal of five pages a day, no matter how long it took – 10-14 hour days, then I'd do my "day-job" in the evenings until 1-2am (I'm self-employed, lucky to have the flexibility). It was intense. I really did it as a favor to get the director a viable project to direct; it wasn't until I'd finished several rewrites with actors attached and a pre-production start date that it dawned on me: huh, this would be my first produced script!
It was a really amazing learning experience, to not only be considering low-budget production – for instance, combining two continuous outside/inside scenes into one interior scene, to eliminate a half-day's worth of exterior camera setups; or turn a restaurant conversation into a phone call, to save a day's shooting and drop a location – but also knowing who some of the actors were going to be as I wrote the script. It was such a great leg-up on making their characters rich and unique, even within a first draft.
I did a second pass with the director's and producer's feedback; then with that we got the investor's desired two lead actors attached. They both jumped on the director's offer to give script notes, which was both challenging and fabulous; their input really helped enrich the kamikaze-written script.
I served as script supervisor during the shoot as well (I'm an experienced scripty), so I was on-set through production. We often kept rewriting up until we shot the scene – we'd rehearse, then clear the set and I'd furiously rewrite as the crew was lighting and laying dolly track; then I'd turn on my mobile phone's hotspot and email the revised scenes to the production office to print, who would then send a PA back to set with the new sides twenty minutes before we'd shoot it. I was always thankful once we wrapped a scene, because I could finally stop rewriting the damned thing! And then I'd hop over to my script-supervisor duties – two full-time jobs crammed into each 12-hour day. (I splurged on massages each weekend.)
And I had the rare fortune to stay involved throughout the editing process. The editor and director did a lot of re-ordering of scenes and kept me in the loop, working together and debating over what to move where and what to cut out, to resolve story issues that just don't appear until you're looking at the footage. I wrote additional dialog for lots of scenes – we even changed the entire topic of what a husband and wife were arguing over in one scene, after the fact! — and I was there for the actors' ADR sessions, writing new lines as they were recording. I even got to offer input on the fantastic score by the brilliant Austin Wintory (he'll be a Hans Zimmer-level name in the next ten years).
It was months of insanity, but so very worth the experience. And it all came about because I'd developed a relationship years in the making with the director, and had already put in lots of time writing for him; so he had faith that I could help him pull this impossible task off. You never know where spec work and a previously-existing relationship will lead you.
What inspires you to write?
Valerie Grant: When it comes to the actual butt-in-the-seat typing, very little inspires me – I'm a terrible procrastinator. I heard another screenwriter say, "you never need to clean out your refrigerator so badly, as when it's writing time." I've had to just develop the discipline of sitting down each morning (or at least, most mornings) and know that my brain will shift into gear when I'm staring at the page. And it always does. You can't wait to be inspired to sit down to write. Butt in seat, and it shows up.
As far as story-idea inspiration, most of my ideas pop into my head during "zoning" moments – in the shower, or washing dishes. Smart phones can be brain-death – creativity kicks in during boredom; but with Facebook and funny cat videos at our fingertips 24/7 we're never bored anymore. I need mental downtime so my brain can wander.
I also continually take classes and read screenwriting books – technically I know the "rules" many times over, but I always get ideas when reviewing character-development and plot guidelines.
I'll also "push" inspiration mechanically; I've come up with some of my favorite ideas by asking, "What if?" – what if that story were about a teenaged girl instead of a grown man, and it was a comedy instead of a drama? Or I'll think of a situation, and think of the kind of person who'd be most transformed by it, and plunk them into the middle of it. Some ideas just come to you; some you have to go fishing for.
What are your writing habits?
Valerie Grant: I try to write every weekday morning. I dread getting started; frankly most of the time my motivation is more about avoiding that self-loathing when I don't write, than it is actually wanting to write. So I make it as pleasant as possible – slouched on the sofa with my laptop and a good cup of Earl Grey, Ocicat laying on legs, fountain gurgling outside the open window. Once I'm sitting there, I disappear into it.
On days when I'm fighting it the whole time, I'll set a mini-deadline before I let myself get up – I have to come up with the three scene sequences for Act One, or scene-outline to story midpoint, or write at least two pages, or finish this one scene, or whatever Faustian bargain I can make with myself. Best thing is an external deadline – class assignment, weekly writing coach phone meeting, contest deadline, draft due for producer/director. Then all procrastination goes out the window, and it's pure fight-or-flight determination.
How did you get involved with the ISA?
Valerie Grant: Max Timm, my friend and Writing Yoda. He was my prof at Writer's Boot Camp, we stayed in touch, and years later he invited me to take an ISA screenwriting class. Now I do weekly private coaching with him. It's awesome — it gives me an external deadline to have to hit, he keeps me on-track and "honest" with all the things I need to remember to accomplish within a story, and he'll suggest something that opens up a whole new batch of ideas and spurs me down a new path. He's like a writing partner, but with fresh objective eyes – and I get to pick the project and do the actual writing.
Who and what are some of your favorite writers and films?
Valerie Grant:  Films – an abbreviated(!) list: Dramas: The Shawshank Redemption, of course. The King's Speech, The Queen, The Wind and the Lion (unbelievable Jerry Goldsmith score as well), Enchanted April, Remains of the Day, Schindler's List, LA Confidential, Dead Poets' Society, The Fugitive, Point Break (don't judge), Out of Sight, Billy Elliott, Erin Brockovich. (Many of these are period films, aren't they.)
Sci-Fi/Horror: The Matrix, The Martian, The Empire Strikes Back, Star Trek (2011 JJ Abrams reboot), Gravity, The Fifth Element, Edge of Tomorrow, E.T., World War Z, The Sixth Sense, Unbreakable
Comedies/Comedy-Dramas: Groundhog Day, The Princess Bride, The Apartment, Bringing Up Baby, Tootsie, When Harry Met Sally, Breakfast at Tiffany's, As Good As It Gets, Under the Tuscan Sun, Waiting for Guffman, It's Complicated
Animated: Toy Story 1-2-3, Monsters Inc, The Incredibles
Writers: Billy Wilder, William Goldman, Aaron Sorkin, Nora Ephron, Lawrence Kasdan, James L. Brooks, The Coen Brothers, Jim Cameron, Richard Curtis, Cameron Crowe, Nancy Meyers, Frank Darabont, John Logan, Susannah Grant, Robin Swicord. (Some aren't covered in my favorite films; but I love their films and especially their "signature" of writing.)
What made you want to be a writer?
Valerie Grant: Nothing; I didn't. I just was, from the time I was a little kid. I'd carefully hand-write little stories on the blue-dotted-line penmanship paper with bad illustrations and no real ending, because I didn't know you had to figure out the end first; and "bind" them by stapling them together between sheets of purple construction paper.
Growing up I wrote poems, essays, letters, and short stories, and little comedy bits. And I loved movies and wanted to work in special effects; but I was from the Midwest and had no idea how to break in. Then after college when I moved to LA as a game designer, a college friend who'd become a screenwriter said, "Val, you're a great writer, and you love movies. Duh." I started taking classes and screenwriting, and never quite stopped.
---
My warmest congratulations to all the screenwriters who made the Top 25 Screenwriters To Watch In 2018 list, and thanks so much to Valerie Grant, Lily Mercer and Jamie Anderson for taking the time out of their busy schedules to answer my questions!
Film Inquiry supports #TimesUp.
"The clock has run out on sexual assault, harassment and inequality in the workplace. It's time to do something about it."
Read the Letter of Solidarity
here
. Make a donation to the legal fund
here
.
Opinions expressed in our articles are those of the authors and not of the Film Inquiry magazine.