The Beginner's Guide: Brit Marling, Actress & Screenwriter
Brit Marling has made a name for herself in movies and TV, playing strong-willed women in captivating roles in addition to writing.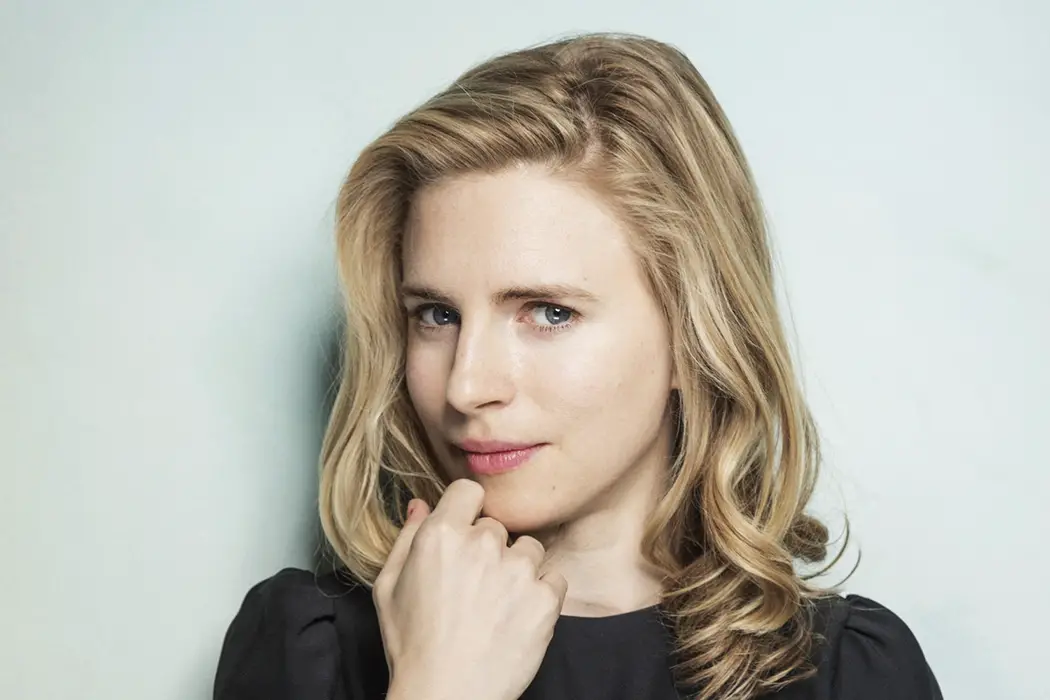 A dream-filled move to Los Angeles is a common part of a filmmaker's backstory, but Brit Marling is not the kind of person you expect to make that move. As a valedictorian of Georgetown University with degrees in economics and studio art, writing and starring in films was not what she had prepared for. However unexpectedly, though, Georgetown proved to be a meeting ground for aspiring filmmakers, and the small group of Marling, Mike Cahill, and Zal Batmanglij made the fateful move together.
With few connections, the group worked for years to write themselves jobs. Marling, as the only actor of the group, auditioned for existing parts but found herself unsatisfied with the roles available to young women. In teaming with Cahill and Batmanglij, she was able to make a career-defining breakout at 2011's Sundance Film Festival, premiering two films that she co-wrote and starred in as complex, intelligent, and baffling women.
She would continue to write and take on these kinds of characters in the years to come, charting a course that is as unexpected as her origins. Her continued collaborations with her Georgetown cohorts and the other roles she's chosen makes for an exemplary model of how to thrive without compromise, not waiting for the right roles but creating and championing them yourself.
Many Hats With Mike Cahill
Before Marling made that definitive move to L.A., she dipped her toes in the cinematic water with the documentary Boxers and Ballerinas. Sure, there had been student films before that, but with Cahill and Batmanglij graduating several years before her, she had to make a big commitment to continue working with them. The opportunity came when fellow Georgetown alum Nick Schumaker had the idea to film young Cubans and Cuban-Americans trying to make it as, you guessed it, boxers and ballerinas.
Marling took a leave of absence from Georgetown and went to Cuba with Cahill and Schumaker, sharing directing, writing, cinematography, and editing duties with Cahill over the film's long production. The resulting fly-on-the-wall documentary screened in several festivals, drawing praise for the unusual lens they applied to the U.S.-Cuba relationship and the film's intimate camerawork.
This, however, was not enough to draw her permanently into filmmaking, and Marling returned to Georgetown to finish her degrees. In fact, it was a prestigious internship at Goldman Sachs that led her to reject the standard life of an Economics valedictorian. When speaking with The Guardian, she said:
"It seemed as if the Type-A life meant you had to be complicit in something. You have to put the blinders on and not ask questions. I felt I was being told: 'This is what it means to be successful. This is what it means to be happy. And this is what it looks like.' I would have been cruising for a mid-life bruising."
Instead, Marling spent years in L.A. rejecting horror movie roles and working with Cahill and Batmanglij to write the kind of films that they enjoyed. Her work with Cahill led to one half of her Sundance breakout, Another Earth, which applied the vérité style of Boxers and Ballerinas to an intimate sci-fi drama.
There is a literal second Earth in Another Earth, which drifts closer to our planet as we follow two characters enveloped in grief. Marling's character, Rhoda, caused a fatal accident on the night the planet appeared, and its presence in the sky serves more as a painful demarcation than any great wonder.
Obviously, it's not at all like the slasher films she was rejecting. The Georgetown group was making thoughtful films, and while directors Cahill and Batmanglij were taking two distinct approaches to capturing the world around them, Marling was feeding off of both.
Cahill's next film, I Origins, came three years later, and while he wrote it solo, he again cast Marling in a crucial role. The film tracks an ardent man of science who is forced to reckon with spirituality, and the film undergoes several unexpected shifts in tone and narrative. Marling plays a fellow scientist who exemplifies the film's unpredictability; the character never behaves like a cliché, and while it's certainly not the lead role, it is still written and performed with nuance and reality.
By the time Marling started filming I Origins, she had worked outside the Georgetown group several times. Doing Cahill's project fit with her trajectory, though, because it's another in a long line of independent-minded characters. Her level of involvement may have receded, but it still gave her the opportunity to portray the kind of women she wanted to see onscreen.
Faith Thrillers With Zal Batmanglij
Marling's collaborations with the other Georgetown alum, Zal Batmanglij, have more distinct threads, with each revolving around a cult or cultish group that elicit questions of faith. Their three projects (all of which they co-wrote together) take on more than just the spiritual side of the word, encompassing broader beliefs in doctrines, institutions, and other people. These are things that intimately define you, and getting them wrong can have disastrous repercussions. Faith, in many ways, is a scary thing to leap into, and Marling and Batmanglij have continuously used that fear to power their thrillers.
Their first film together was the other 2011 Sundance hit Sound of My Voice, where Marling plays a mysterious cult leader being investigated by two skeptical documentarians. Through the duo's eyes, the audience is pushed and pulled by Marling's abrasive magnetism, with the veracity of her claims constantly in question.
The character is a particularly unusual one for a woman, as cult leaders in general and their powers in particular are not typically thought of as feminine. It's a perfect example of the kind of role Marling had to create for herself, as she would be hard-pressed to find the opportunity to show off these skills elsewhere.
The success of Sound of My Voice allowed Marling and Batmanglij to open up their theme in The East, moving from an insular cult to a radical, extremist political group. This time, Marling played the one infiltrating the devotees, and while the questions swirling in her head are similar to that of the documentarians, the ramifications of her character's decisions have worldwide effects.
Religion is more explicitly referenced here, with Marling's character pensively clutching a cross early on. Voice kept religion in the visual milieu, and while it still wasn't Marling and Batmanglij's main avenue into questions of faith, it's right that they increased its presence here. The East deals much more with questioning your basic worldview, and for many people, religion plays a major role in establishing that. Another huge factor is often your upbringing, and boy does that rear its head in the form of unresolved childhood angst.
Most recently, Marling and Batmanglij took an epic deep dive into questions of trust, community, storytelling, and interpretive dance with the Netflix series The OA. While quietly released in December 2016, the series has amassed a cult following, with its labyrinthine mythology being sussed out in minute detail.
Marling again stars as a potentially unreliable narrator, but this time she and Batmanglij weave her character's tale of near-death experiences and captivity into a message of gentle hope. Her listeners, who literally gather around her every night for story time, are in danger of being duped more than anything else, and the trick of the series is just how invested they and the audience become in the story within the story.
It's undoubtedly the most optimistic look at faith that Marling and Batmanglij have offered up, but it still has the ever present potential for devastation. At over seven hours long, its one of those series/movie hybrids, designed not just to be binge-watched but for the episodes to flow into each other with minimal interruption (the title sequence is brief and the credits are automatically skipped). That surplus time allowed Marling and Batmanglij to write about just how far-reaching faith is and how subtly it changes our lives. The danger of losing something so important to you is precisely what makes faith scary, and it's something that Marling and Batmanglij could endlessly explore.
Other Acting Gigs
Before her breakout at Sundance, Marling had only appeared in a bit role in the ultra-low budget drama Political Disasters, but the exposure brought offers for serious roles she didn't have to create herself, including from Sundance founder Robert Redford.
At the time, Redford was gearing up to direct and star in the thriller The Company You Keep, in which members of the radical protest group the Weather Underground were sought for decades-old crimes. The film had a small role for an actress that could quickly communicate intelligence and sly deceit, and Marling jumped at the opportunity. It required her to play off big names like Brendan Gleeson and Shia LaBeouf, and Marling didn't blink. The film garnered middling reviews, but Marling was frequently singled out as a highlight of the film.
In the same year, Marling appeared in a much larger role as Richard Gere's daughter in Arbitrage. The finance thriller might be the only time she applied her economics background to a role, as she plays the chief investment officer of the family hedge fund that Gere's character leads down a shady path. You can probably count on one hand the number of times you've seen a daughter as the successor to a family empire on film, and the matter of fact way the movie handles this is refreshing. It's a meaty supporting role, and in tandem with The Company You Keep, it cemented Marling's reputation for portraying well-rounded, intelligent women.
Marling wouldn't return to other people's material for two years, eventually taking a role in the Terrence Malick-inspired The Better Angels. Malick, in fact, was a producer on the project while occasional Malick editor and first time writer/director A.J. Edwards helmed the dreamy look at Abraham Lincoln's boyhood. As Lincoln's mother, Marling gets a (historical non-spoiler) operatic death from milk sickness fairly early on, but her influence hangs over young Lincoln's every move.
The role is similar to the angelic aesthetic of Jessica Chastain in The Tree of Life, and Marling goes against type to play an uneducated woman. The film is one big artistic risk, and it unsurprisingly proved divisive upon release.
This didn't stop Marling from plunging into another risky project, though, as after I Origins she chose the period home invasion thriller The Keeping Room (click here for the Film Inquiry review). The brutality in this film, which is set in the falling south during the American Civil War, is heightened by swirling themes of a lost culture and an uncertain future.
Marling gets to wield a gun and an ax in the film, leading her sister and a young female slave in grappling with the changing times. With its heavy western influences, the film often slows down for weighted conversations between the three characters, and the film serves as a rare look at what becomes of women left behind after an unsuccessful war.
The change from The Keeping Room to her next film, Posthumous, could hardly be more severe. A satire and a rom-com rolled into one, Posthumous sees Marling play a struggling journalist that finds out about the fake death of an artist. The film is decidedly more light than her usual thrillers and dramas, and her intelligent charm shines even when the script struggles to maintain its tonal balance.
Branching out to other people's work has allowed Marling to show her range without long delays for writing. In quickly capitalizing on her breakout, she established an image that, while not leading to massive fame, has stabilized her career for the near future.
Upcoming Work
After spending two years off-screen producing and writing The OA, Marling is again out selling her original work. If enough interest is stirred, a planned second season will be produced, allowing her and Batmanglij to continue their odd dive into storytelling and belief. Netflix would continue to be their home, and as a platform that lets them bend the narrative rules, there's hardly a better place for Marling to continue her unique course.
Have you kept up with Marling's work? If so, what has been your favorite? If not, what do you look forward to seeing? Let us know in the comments!
---
Opinions expressed in our articles are those of the authors and not of the Film Inquiry magazine.