Directors Annie J. Howell & Lisa Robinson Talk About Their Film CLAIRE IN MOTION Starring Betsy Brandt
We sat down with directors Annie J. Howell & Lisa Robinson to chat about their latest feature CLAIRE IN MOTION starring Betsy Brandt.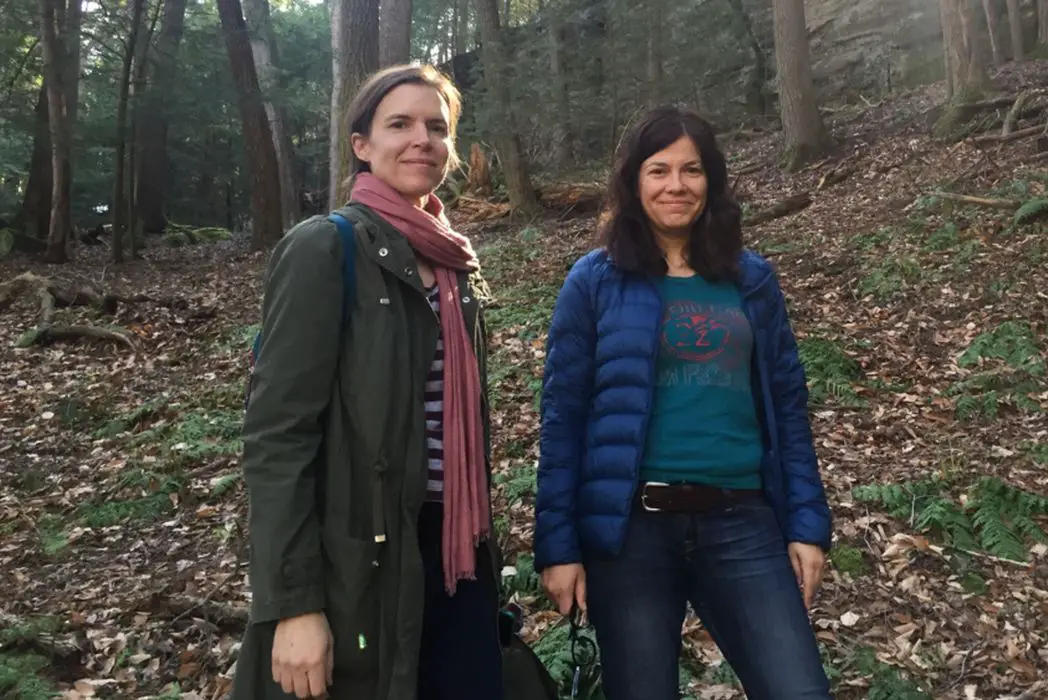 When Claire Hunger's husband disappears, he leaves a trail of secrets behind him with the potential to shatter Claire's world. What would you do?
Claire in Motion premiered at the SXSW Film Festival and has since gone on to screen internationally  and received Official Selection at a number of festivals, including La Costa Film Festival and Seattle International Film Festival.
It is the second feature co-written and co-directed by Annie J. Howell and Lisa Robinson. The psychological thriller explores themes such as identity and relationships through protagonist, depicted by Betsy Brandt, as her journey uncovers unwanted truths. We speak to Annie and Lisa to find out more.
Holly Wyatt for Film Inquiry: The protagonist, Claire Hunger, demonstrates determination and strength when everyone else has given up. As female filmmakers, it's fair to say that these qualities are necessary to succeed in the male dominated field. Was it important to you that these traits transferred into her character?
AJH & LR: To be honest, we didn't think about our own challenges in film making while writing Claire, but were focused on writing a compelling woman living her life and bumping up against obstacles, including herself. But determined women are always necessary!
The role of Claire has been described as a "breakthrough role" for actress Betsy Brandt, who is best known for her portrayal of Marie Schrader in Breaking Bad. What was the casting process, did you have Betsy in mind when writing or was it a more organic process?
AJH & LR: We wrote the script with only the character in mind, but as we were getting close to casting we brainstormed a lot about who was right for the role. Betsy shows such amazing range between Breaking Bad, and also her vulnerable but strong character in Masters of Sex, that we knew she could embody the character in an interesting way. Emer O'Callaghan, our casting director, was also really helpful in getting the script to Betsy, and when she connected so deeply to the script we knew it was going to be a great fit.
In her husband's absence, secrets become unveiled which have the potential to shatter her once seemingly perfect family life. Often women feel unrealistic pressures to attain the perfect family life, with a white picket fence to boot. What affect do you believe these pressures have on women in society today?
AJH & LR: We were really interested in identity and how, at a certain age, you start to feel like you know who you are and who the important people in your life are – and sometimes something happens to upend that. And usually you grow, because otherwise you will probably fall to pieces. This is true for both men and women.  We're not sure Claire was a person who tried particularly hard for a perfect family life, but she certainly wanted to think she understood her family, and that she knew who her husband was, so when that comes apart it's very unsettling.
Women definitely have a lot of pressures in juggling so many identities between working, being a partner, a mother – and it can be confusing. But we were really interested in grappling with a sort of a personal sense of identity in the film rather than her experience of being a woman, although that's of course there all the time.
The film is a thriller, and centres around Claire's husband going missing. However, the film takes a more emotional approach. Why is it important that we have story telling from the woman's gaze in the media?
AJH & LR: We were interested in looking at this missing person story from the perspective of the person left behind.  That's probably not typically considered the "main action" for this type of story, at least as it has been told in the past, but it was interesting for us to explore that, and zero in on her emotional crisis as the center of the story. We think it's important to tell stories from all sorts of vantage points. To have more women in central roles is sorely needed in American film right now.
One of the biggest challenges film making is facing is funding. As Claire in Motion is an independent feature, what advice do you have for film makers with regards to funding?
AJH & LR: We'd be happy to talk about how it worked for us. We received some initial grants, and that got us going, and then we built from there. Often once there's a foundation it's easier to get private equity. It's a little bit crazy to push ahead like that but it's worked for us.
Claire in Motion has screened internationally, as well as receiving multiple awards. What is next for the film?
AJH & LR: We released the film Friday January 13th theatrically in ten cities as well as on VOD. Please spread the word!
Clearly the partnership between you both co-writing and co-directing is a recipe for success. Are there any further projects in the pipeline?
AJH & LR: Yes! We are working on a project that plays with genre again – but it's really early, and we aren't quite ready to talk about it. Back to writing …..
---
Breaking Glass Pictures have released Claire in Motion in theaters and On Demand January 13, 2017!
To follow Claire in Motion's journey check out the Twitter  and check out the trailer:
---
Opinions expressed in our articles are those of the authors and not of the Film Inquiry magazine.