OBEY: A Compellingly Personal Story of Inequality
Obey is a compelling watch anchored by visceral, emotional performances by Rutherford and Miller, and a well-crafted script by Jones.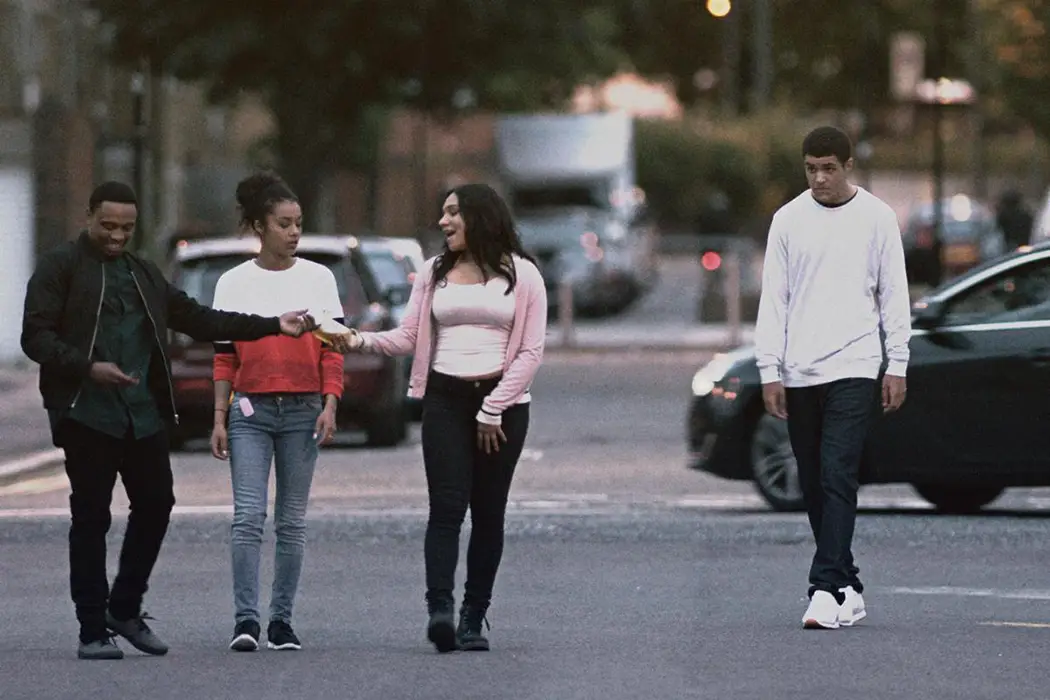 Obey is a powerful debut feature from writer and director, Jamie Jones, set against the simmering backdrop of an East London moving inexorably towards the riots of 2011. Driven by standout performances and an absorbing script that cleverly uses the personal to shine an uncomfortable light on the societal injustice that defines all our lives, one way or another, Obey arcs its searchlight across the broad range of issues that both drive and define inequality, whilst managing to stay taut and impressively focused.
While the riots sparked by the police shooting of a young Black man (inspired by the real-life shooting of Mark Duggan) unfold, creeping ever closer to his home, Leon, played by talented newcomer Marcus Rutherford, is struggling to make sense of a world where everything seems stacked against him.
Leon's world
The film opens with a group of friends walking down the street, reminiscent of Kidulthood. They're talking about nothing in particular, sexual exploits they've heard about, laughing and joking. On a whim they see a purse left in a car and spot an opportunity, as much about the thrill of it, as the money itself. They dare each other but it's Leon that steps forward, quiet up until that point, silently wrapping his sweatshirt around his hand and smashing the car window.
It's a moment that sets up the action to come, defining Leon as the film's main protagonist, and what he may be capable of. His friends do a lot of talking, but it's clear they're not the ones to watch.
Leon is 19 but he's already been through the ringer. He's returned home after a spell in care, to look after his alcoholic mum Chelsea, masterfully portrayed by T'Nia Miller, a role it's clear he's had to suck up throughout his childhood. With no qualifications or work experience, Leon doesn't have a lot of options, hounded by his mum's addiction-enabling, bullying boyfriend and the heavy weight of a future, a sense of something better, thwarted by the reality of his situation.
Power and privilege
Then he meets Twiggy, ably played by Sophie Kennedy Clark, at a party. She's intriguingly wild, beautiful and otherworldly, a glimpse of an alternative to Leon's claustrophobic existence, giving him a sense of lightness and a possible way out.
Twiggy is like a 21st century version of Daisy, from F. Scott Fitzgerald's book The Great Gatsby, alluringly hedonistic and free-spirited, yet with the unmistakable shimmer of wealth and privilege. As events unfold, that shimmer reveals what Fitzgerald calls the carelessness of money, the carelessness that means Twiggy can glide carefree through life, immune from the consequences of her actions, while others bear the brunt.
As the film's title suggests, Jones's script explores a whole range of powerplays, the personal and the societal, driven by gender, race and class.
Often, Leon has no choice but to obey, because the consequences of not obeying are too much to contemplate. If he doesn't put up with Chris, his mum's boyfriend, portrayed by James Atwell, taunting him, it's his mum that will ultimately pay the price.
The rules of the game
One of the most interesting things about Obey is the way it explores obedience and disobedience through the prism of inequality. As the harsh punishments given to many of the real life rioters in 2011 testifies, society often judges our actions from a whole range of agendas – political, social and moral, rather than simply the actions themselves.
Social status is inevitably key. When Twiggy's activist boyfriend Anton, played by Sam Gittins, is arrested by the police, he's out the next morning – Twiggy's Dad is a lawyer and she has the social capital to deal with the system effortlessly. In contrast, when Leon is finally driven to disobey, we know the consequences of that will be brutal and unrelenting.
Jones's script is full of subtle yet devastating moments illustrating the gulf between those, like Twiggy and Anton, that unconsciously know they're part of a comfortable world which simultaneously gives them the space to rebel against it, and a safety net to fall into when they go too far, and Leon's side of the tracks.
There's a painful moment when Leon walks into a trendy co-working space in his gentrifying neighbourhood, to ask for work experience. The guy barely looks up from his laptop to brush him aside. It's a powerful reminder of how hard it is for Leon to 'obey', in terms of following society's norms, simply because he's not the right fit.
Similarly, there's a moment when Twiggy, Anton and Leon escape the relentless noise and tension of the city for the idyllic calm of a country barge ride. Anton's amusement at Leon's daydream that he'd like to have a barge one day says it all. He doesn't think it's ever going to happen.
The contrast between the two landscapes only enhances the contrast between Twiggy and Leon's lives. For Twiggy, the exciting, well-meaning activism of her London life, dropping-out in a squat, is a choice, a place she can escape whenever she wants. For Leon, poverty isn't a lifestyle choice or a statement, it's a crushing reality that shapes his life, a barrier to going to college, or having the social capital to fit effortlessly into the cool millennial world on his doorstep.
Swerving the clichés
Jones also takes the clichés associated with similar films in an interesting direction, something that's echoed in the film's unexpected musical soundtrack, created by Lol Hammond. Leon finds an outlet in the boxing gym he goes to, but boxing isn't going to save him. When he needs it most, there's a sign on the door saying the gym's closed until further notice, because of the impending riots. This is London in 2011, with more and more doors closing on young people.
Some reviews have criticised the way in which Obey fetishizes Twiggy's blonde sexiness, including Peter Bradshaw's review in The Guardian, and I can see their point, but I think Jones's focus is on the white, middle class, affluent privilege Twiggy represents.
There's a moment in the film when Leon reconnects with one of the friends he walks away from for Twiggy, that fleetingly captures the unspoken love, knowing and respect between friends who share the same world, and I wish there'd been more moments like this. Those moments of real connection, also present in scenes between Leon and his mum Chelsea, were, in my view, some of the strongest in the film. Raw and painful yes, but also touching; humanising Leon, and by extension many of those involved in the riots, in the same way as the film The Hard Stop helped to humanise Mark Duggan's story – through his family and friends. Interestingly, Leon witnesses a similar moment between two police officers on riot duty.
Obey: In Conclusion
Overall, Obey is a compelling watch anchored by visceral, emotional performances by Rutherford and Miller, and a well-crafted script by Jones. Balancing simple scenes like Leon playing with his old Scalextric to convey the numbing hurt of his lost childhood; moments out of time and pace, such as the trippy feel of Twiggy and Leon's first meeting at the party; and the escalating violence of the looming riots, cleverly edited using filmed scenes and real news footage by Agnieska Liggett and Emma Gaffney. Cinematographer Albert Salas also deserves credit, for the way he builds and moves between shifting levels of emotion and tension throughout the film, particularly with light – and dark.
It's hard to take away just one thing from Obey, but for me, I think it's the hurt, pain, shame and rage Leon feels at being ignored, over and over, not only by the people he loves, but by the world around him.
As many have asked about the riots, what are people supposed to do if they're repeatedly ignored, expected to obey the rules of a game they're not allowed to play, let alone win?
Obey premiered at the 2018 Tribeca Film Festival in April and will make its UK debut at a major international film festival to be announced on 23 May. A theatrical release is currently in the pipeline.
---
Opinions expressed in our articles are those of the authors and not of the Film Inquiry magazine.