YOU WERE NEVER REALLY HERE: A Hallucinatory, Horrifying Masterpiece
You Were Never Really Here is a rare film that is conclusive proof that a great director can elevate familiar source material.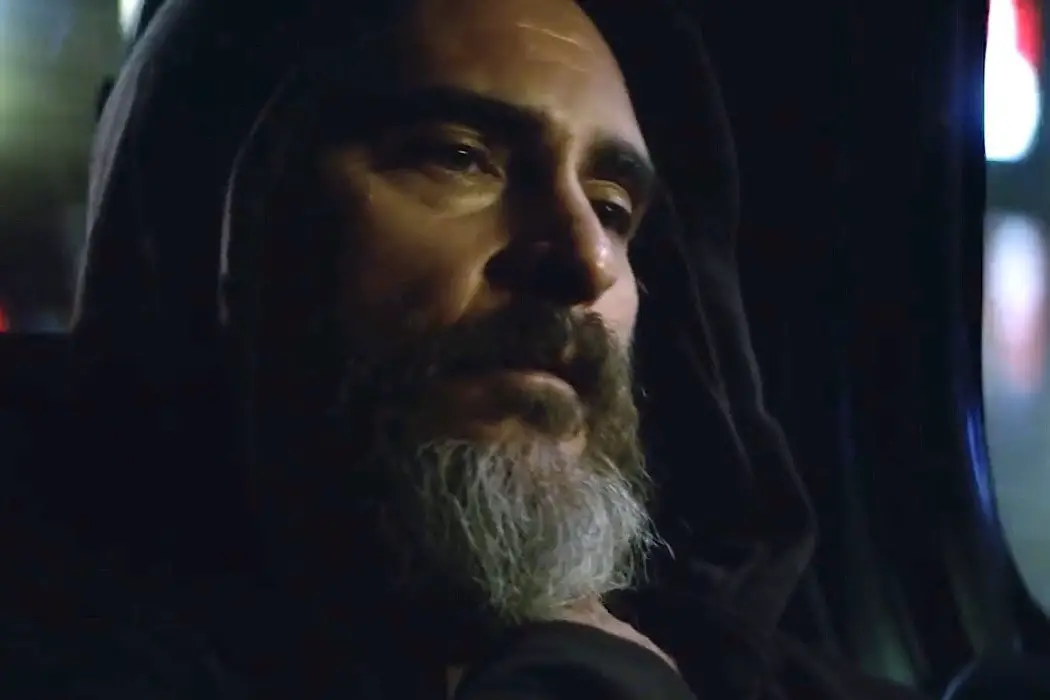 You've definitely heard the story before; violent hitman is sent to rescue the daughter of a senator, who has been taken captive by child sex traffickers, all while he is struggling to conceal the demons of his own tormented childhood. However, you've definitely never seen a film like You Were Never Really Here before, an adaptation of Jonathan Ames' novella that strips away the exposition to create a sensory experience that feels like cinematic storytelling in its purest form.
Director Lynne Ramsay, in only her fourth film across a near-twenty year career, proves herself yet again to be one of the best filmmakers working today – she takes the advice of "show, don't tell" to heart, reinventing the classic crime thriller in her own image. It's a familiar story, told in a way that feels nothing less than revolutionary.
An Unrelenting Nightmare
In the leading role, Joaquin Phoenix once again proves that the folly of creating a hip-hop mockumentary was the best move for his career, as being shunted from the mainstream has allowed him to deliver his best performances with some of the most independently minded directors working. Here, he plays Joe, a hitman with a penchant for ultra violence that has made him infamous in certain circles.
Those who hire him see a psychopath with a love for brutal hammer murders – in actuality, he's a caring son who looks after his aging mother (Judith Roberts), all while suppressing memories of a violent childhood and previous "jobs" that render him more sensitive than first appearances may lead you to assume.
There are very few cast members in Ramsay's film, meaning the entire project rests on Phoenix's bulky shoulders. As you would expect, he yet again delivers a masterful performance that doesn't shy away from showing the paradoxical sensitivity inside an inherently violent soul. Ramsay hasn't made anything as cliché as a focus on "masculinity in crisis", instead looking to expose the tortured humanity in those led to perpetually do inhumane things, even if it's the morally right thing to do.
Her film is likely to be divisive for this very reason – You Were Never Really Here is an aesthetic tour de force, albeit one that aims to show Joe's mind as a hellish landscape, where traumatic memories frequently come to the foreground in a manner that takes the glee out of the depictions of bloody violence elsewhere. Don't expect quippy one liners and stylised kills in Ramsay's film. Expect a character study of such brutality, the protagonist frequently uses suffocation as a means of relaxation, and his surrealist suicidal fantasias end up becoming the most peaceful moments in an otherwise relentless abstract subversion of thriller conventions.
Phoenix has a reputation for performances that seem larger than the film they are contained in. Here, it's a minor revelation to see him shrink inside the minutiae of the film itself – with his character maintaining an empathy due to how Ramsay and her editor Joe Bini (Werner Herzog's recurrent editor) seamlessly weave his past demons in to the narrative tapestry, increasingly making You Were Never Really Here transform into a tortured cry for help.
One redemptive sequence in the film's third act leads to Joe spontaneously ripping off his shirt and devolving into a flood of panicked tears – a sequence that would have been ripe for parody, were it not for the excellence of the editing that make this feel like a logical reaction for a character who clearly believes that closure doesn't necessarily equal happiness.
An Aesthetic Tour de Force
There are few directors today who you can sense have a full, Kubrickian control over every single shot in their film. Ramsay is undoubtedly one of them – working with cinematographer Thomas Townend (in only his second feature film stint as cinematographer, following 2011's Attack the Block), there is a precision and comprehensiveness to her visual aesthetic. You Were Never Really Here's 85 minute running time is no accident.
She has delivered a thorough character study, stripped almost entirely of expository dialogue, using only precise visuals to help make a fully fleshed out narrative feel compact. She tells you everything you need to know about the character of Joe, for example, through everything to the little details she fixates on – a glimpse at the manner in which he eats skittles should feel like a throwaway visual detail, but due to the manner in which it is shot it feels every bit as pivotal as the rest of the sequence it appears in.
Her precise aesthetic choices also ensure the portrayal of violence sharply differentiate from other films in this genre. Tightly edited to feel bloody, even as we rarely see the action unfold. An Oldboy-style sequence, as Joe makes his way through a brothel for underage sex workers, mercilessly murdering those who work there with a hammer, is shown entirely through CCTV footage – playing out in grainy black and white to pitch black silence.
Despite not showing the footage with clarity, this stark, brave visual choice makes it feel brutal nonetheless – and throughout the film, Ramsay equally, effortlessly pulls off a multitude of visual experiments that help elevate the narrative. It feels every bit as bold as Taxi Driver (with which this shares various surface level narrative similarities) did upon its debut over 40 years ago. It's hard to go back to the accepted form of crime storytelling after conventions have been so boldly pulled apart and dissected here.
Ramsay is known for her haunting use of music in films; from her use of The Velvet Underground in Morvern Callar, to a surprisingly horrifying use of Wham!'s Last Christmas in We Need to Talk About Kevin, she is rivalled only by Scorsese and Tarantino in her efforts to marry sound and vision. Although a manner of old RnB tracks fill up the airwaves, it's Jonny Greenwood's score that manages to elevate what we see on screen- even if it does occasionally veer in to a recurring arrangement that sounds distractingly like the opening bass riff from Kenny Loggins' Danger Zone. The soundscape gets increasingly experimental as the film nears its climax, turning from precise arrangements in to Brian Eno-style ambience, playing out over numerous conversations unfolding simultaneously in the background.
Conclusion: You Were Never Really Here
You Were Never Really Here is conclusive proof that a great director can elevate familiar source material. Lynne Ramsay turns what should be a run of the mill hitman thriller in to a boldly experimental work of art, that proves she is one of the best filmmakers working today. It's the rare film that, after the overwhelming first viewing experience, doesn't feel like hyperbole to call a genre redefining masterpiece – and despite the film being so bleak and brutal by design, I can't wait to immerse myself in it once again.
What are the best, and most innovative, hitman thrillers? Tell us your thoughts in the comments below!
You Were Never Really Here will released in the US on February 23, 2018, and in the UK on March 9, 2018. For all international release dates, see here.
---
Opinions expressed in our articles are those of the authors and not of the Film Inquiry magazine.