BEAST OF BURDEN: Daniel Radcliffe Delivers The Goods
Beast of Burden is a schlocky B-movie and, in some ways, that's okay. Daniel Radcliffe exceeds expectations in Beast of Burden, a crime thriller that's as hackneyed as one can be.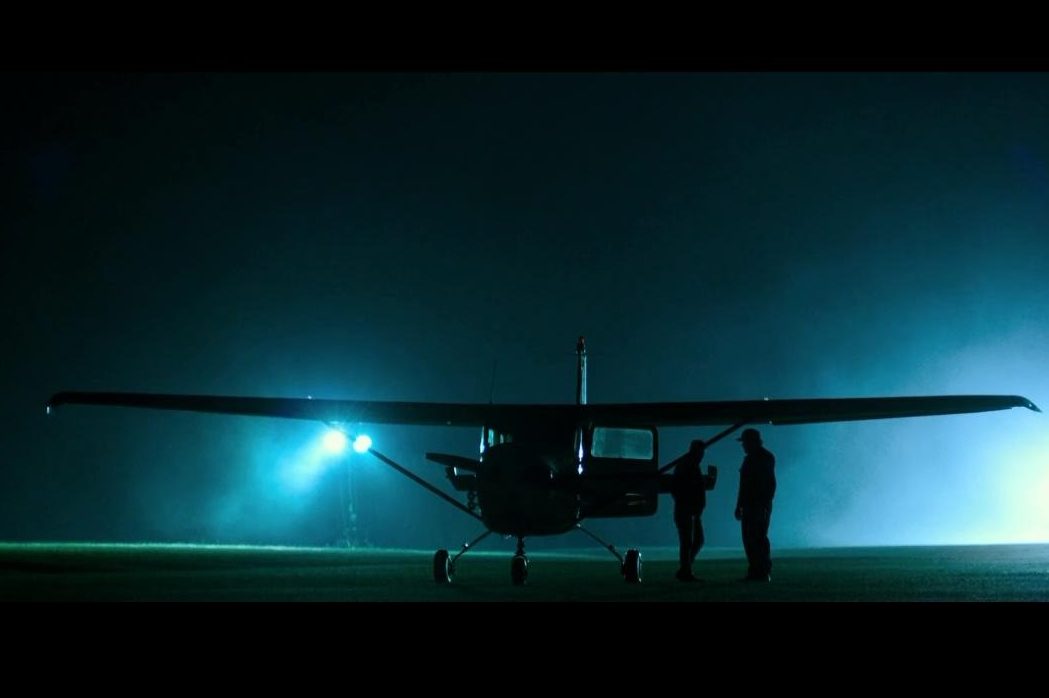 Daniel Radcliffe shed his Harry Potter skin many movies ago. Needless to say, the talented actor's post-Hogwarts career has been fairly hit-and-miss but nonetheless very admirable due to the various types of stories he's helped bring to cinema across a range of genres. From a supernatural anti-hero with horns looking for vengeance, to an FBI flick where he starred as an undercover Neo-Nazi, to, most memorably, a farting corpse in the bromantic delight that was Swiss Army Man.
It's always exciting to see him starring in an original film, like Beast of Burden. This drug smuggler feature, however, is only original in that it's a new IP – it's a crime thriller that's as hackneyed as one can be.
A simple chamber thriller
Beast of Burden has him in the pilot's seat as Sean Haggerty, a guy who needs to drop off illegal cargo within an hour and has a drug cartel, a hitman, the DEA and his wife chasing him during his flight. From a performance standpoint, it's Radcliffe's moment in the same spotlight stepped in by actors such as Ryan Reynolds, Colin Farrell and Tom Hardy (in Buried, Phone Booth, and Locke respectively, the latter film being the most obvious one to compare). He delivers the goods.
In the cockpit of his Cessna, Haggerty suffers a lot of emotional turbulence: the foremost source of stress for him is his strenuous relationship with his wife Jen (Grace Gummer). She calls him and chastises him for his lies, disintegrating their marriage whilst he's still thousands of feet up in the air. He then experiences paranoia when a plane flies parallel and he receives calls from the unknown figure piloting it who threatens aerial warfare if he doesn't drop the cargo in time. There's also the mounting pressure from the DEA who offer him witness protection dependent on successfully completing the mission, and it's revealed that he was recently dishonourably discharged from the Air Force. This is a portrait of a man getting kicked whilst he's down, and it culminates in a scene mid-way through where he just cries out loud to himself for failing at everything.
Radcliffe is far better than the unexceptional script given to him, which doesn't have half the subtle elegance that Locke does, relying on too many terribly on-the-nose passages of dialogue for plot and character development. It's up to the actor to keep us engaged and he uses his versatility to draw us in, convincingly playing the exasperated Haggerty with a vehemence that makes him watchable for the full 90 minutes.
Radcliffe rises above the material
He doesn't strain to the point of melodrama and delivers certain portions of dialogue, that could easily have sounded horrendous due to their hamfistedness, in a wholly natural way. With the lack of a substantial narrative or strong dialogue, it's hard to see why Radcliffe chose this project other than a chance for him to play a different sort of character but Beast of Burden benefits from having a lead who's able to avoid resembling any other character in his career.
It's a shame that director Jesper Ganslandt doesn't seem to entirely trust Radcliffe to step up to the plate, cutting away to other people who we don't need to see, like his wife and the DEA agent. But I guess if you have actors such as Grace Gummer (Mr Robot, The Newsroom) and Pablo Schreiber (Orange is the New Black, Den of Thieves) in those roles, who are talented in their own right, then they must be put to use on screen. There are points in the movie where Gummer and Schreiber remind audiences of their strengths as dramatic performers, but those moments are few and far between.
However, the other way in which it's disappointing to see Ganslandt stray from keeping the camera on Radcliffe is when he uses flashbacks to depict past events in Haggerty's life. The close-ups of his face in anguish as he's triggered by these memories makes these flashbacks redundant.
Beast of Burden suffers by succumbing to using the same clichés that too many other trapped-in-a-corner flicks are guilty of employing: the narrative becomes increasingly ludicrous, confounding twists threaten to kill any suspense, and the villain is an obvious mustache-twirler with a rumbling voice because deep equals evil. The ridiculous, faceless antagonist doesn't capture the same attention that, for example, Kiefer Sutherland did in Phone Booth or the man of a few words in Buried. Perhaps a less ridiculously obvious vocal performance would have helped.
Beast of Burden: Conclusion
Beast of Burden is a schlocky B-movie and, in some ways, that's okay. It doesn't overstay its welcome with a short running time and is quite fleet-footed in getting from point A to B. The brisk pace ensures it doesn't drag and, most importantly, it's certainly an escape from reality – you'll either be held in suspense or thinking about everything that's wrong with Beast of Burden.
A single worthy performance is held back by a substandard script, narrative structure, and just about everything else. Daniel Radcliffe is very good. The film itself, not so much.
What did you think of Beast of Burden? Tell us in the comments.
Beast of Burden is out now in select theaters across the USA as well as VOD and Digital HD. Release dates for other territories are currently unknown.
---
Opinions expressed in our articles are those of the authors and not of the Film Inquiry magazine.