HAVE A NICE DAY: Money Makes the Story Go Round
Set in the gritty underbelly of southern China, Have a Nice Day (Hao ji le) is a dark comedic commentary on greed and materialism and only a small peak into what director Jian Liu has to offer.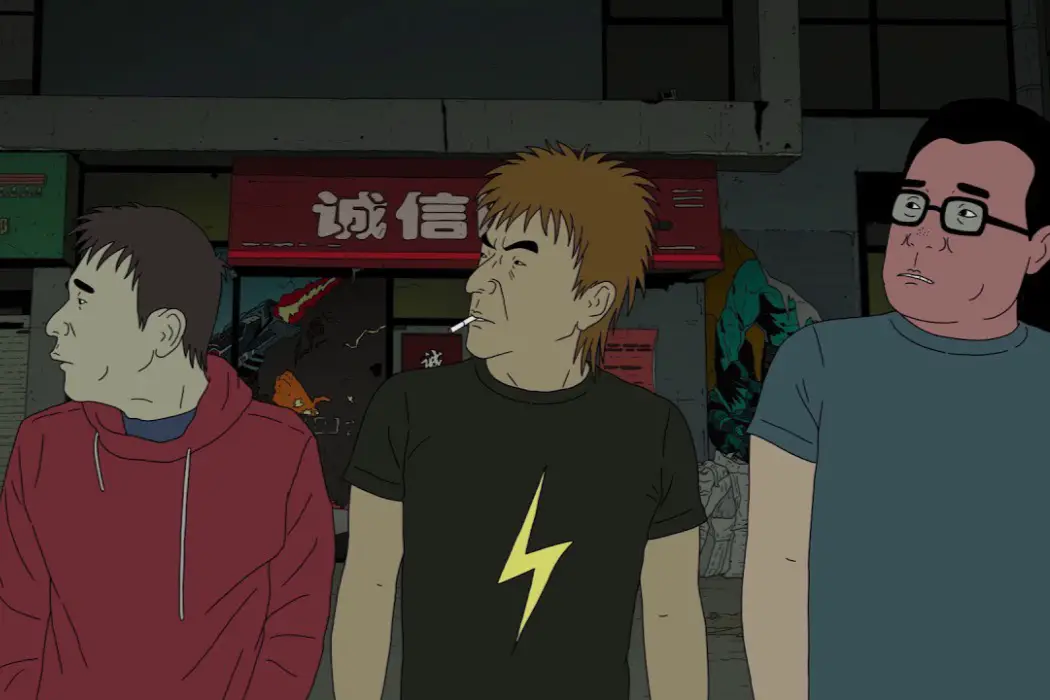 Set in the gritty underbelly of southern China, Have a Nice Day (Hao ji le) is a dark comedic commentary on greed and materialism. In his second feature film, director Jian Liu takes viewers through a day of absolute chaos. After an unassuming Xiao Zhang (Zhu Changlong) steals 1 million RMB ($158,310) from his boss, a wild goose chase ensues for "the goods". While everyone has their own motives for taking the money, no one wins in the end. In fact, no one in this film has a nice day after all. The film gives audiences a taste of China's modern attitudes towards materialism, marriage, and freedom. It leaves audiences pondering: Is all freedom simply derived from the ability to spend?
After an extremely impressive festival run (with appearances at Berlinale, Tokyo International Film Festival, Busan International Film Festival, London Film Festival, AFI Fest, and many more), Have a Nice Day has now opened to a wider audience. As of now, Have a Nice Day is performing pretty well at the specialty box office – proving that adult animation is still en vogue.
Animation Revamps an Old Story
While Have a Nice Day's premise isn't exactly something we haven't seen before, its aesthetically pleasing animation style causes it to stand out against other films in its category. Have a Nice Day draws inspirations from Tarantino and many other gangster films before it.
While this film could have been easily done live action, the animation gives Have a Nice Day a bit of a cool feeling. Perhaps that's the most memorable part of the film – its imagery. The animation perfectly captures its subjects and the essence of small-town China. While China is known to be an immensely populous place, Have a Nice Day is strangely intimate.
What's extremely incredible about this film is the fact that not only did Jian Liu direct this film, but created the majority of the animations, and lent his voice to some of the characters (Fang Yuanjun ,Li Er). The remainder of the characters are voiced by Liu's nonprofessional friends from Nanjing. This adds another dimension to the film – causing us to see the characters as normal people looking for a way out.
Xiao Zhang wants to take his girlfriend to South Korea in order to fix her botched surgery. At multiple points in the film he is described as "honest" or unassuming. He sets the madness into motion as he steals a bag of money belonging to Uncle Liu (Yang Siming), the town's resident crime boss. Eager to get "the goods" back, Uncle Liu sends his hit-man Skinny (Ma Xioafeng) to dispose of Xiao Zhang and retrieve the money. Through a series of events, the money transfers, and eventually makes its way full circle. Each character wants the money for themselves, but on the quest for fortune, they are only met with misfortune.
Freedom Always Comes for a Price
In a strange, but transformative sequence, the different levels of freedom are discussed. According to Have a Nice Day, there are three kinds of freedom. There is "Farmer's Market Freedom," "Supermarket Freedom," and "Online Shopping Freedom." In each level, the shopper is able to buy whatever he wants without having to worry about the price. Now isn't that the kind of freedom we would all like to have?
How do you define freedom? Is it really being able to buy whatever you want without having to worry about the price tag? Or is freedom something more to you? While materialism can't solve everything, we can all agree that money can solve many issues going on today. If you had a large supply of money, wouldn't you have the freedom to do more than whatever you are doing right now? If all your debts and other financial obligations disappeared, what would you do?
The bag of "goods" is each characters' ticket to a better life. However, the money that is the sole driving force of the story causes only harm. So wouldn't that be the antithesis of freedom? If you're so obsessed with having money, would that mean you are imprisoned by it?
What Happens Tomorrow?
Have a Nice Day packs a whole lot of action into it short 77 minute run time, but it could have been so much longer. Each character seems to have the potential for an interesting backstory, but we never learn much besides why they want the money for themselves. Maybe that is all Jian Liu wanted us to know. While each character has their own reasons to take the 1 million RMB, they're not very sympathetic characters. There is no one you're specifically rooting for to win in the end.
At the conclusion of the film, each character has been defeated by their greed, the bag of money left open, exposed to the rain. We're simply left wondering what is going to become of it. So what happens tomorrow after all is said and done?
Have a Nice Day was only a small peak into what Jian Liu has to offer. I'm really hoping he has some more exciting projects coming up in the next couple years.
What did you think of the message behind Have a Nice Day? What do you think should have or would have happened after the ending? Tell us your thoughts in the comments below!
Have a Nice Day will be released in the US on February 6, 2018, and will be released in the UK on March 23, 2018. For all international release dates, see here.
---
Opinions expressed in our articles are those of the authors and not of the Film Inquiry magazine.