BLACK GIRL (1966): Vocal Cinema
One of the first films from Sub-Saharan Africa to make waves on the international stage, Black Girl remains nothing less than masterful.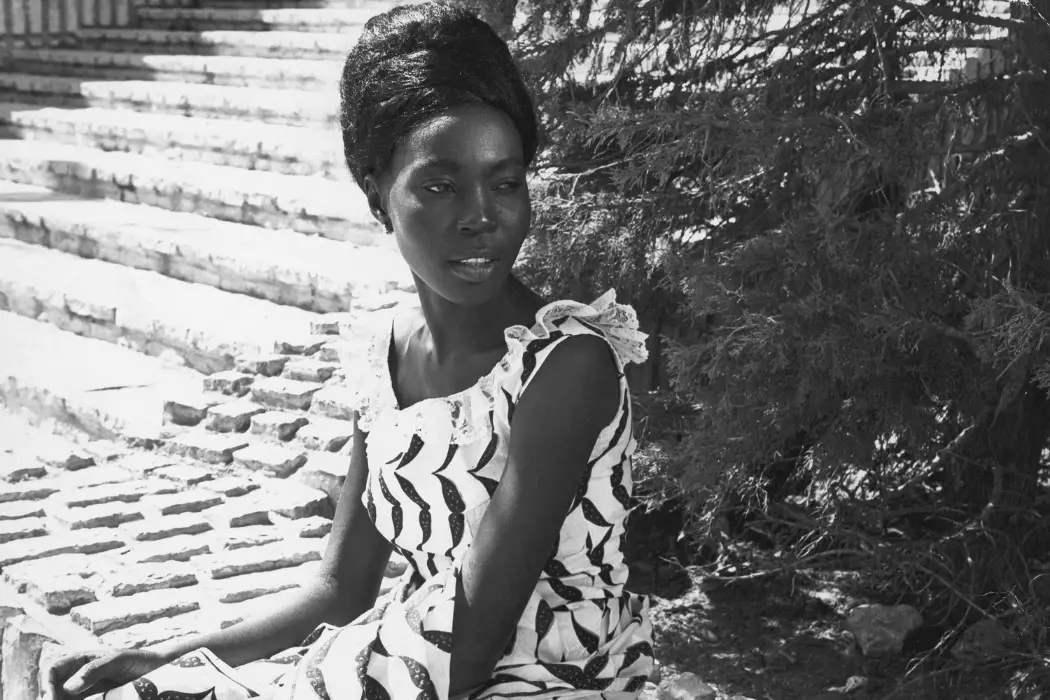 In Ousmane Sembene's Black Girl, a woman named Diouana (Mbissine Thérèse Diop) works as a governess for a French family with whom she traveled from Senegal to the south of France. She hoped that taking a job in France would provide her with the opportunity for a better life. But soon after arriving in Antibes, problems within her employers' household begin to heap ever-heavier burdens on her, and it quickly becomes clear that her potential to attain a better life is out of her hands.
Black Girl was Sembene's first feature film, and the first film from sub-Saharan Africa to leave a mark on the international stage. Its form is simpler than that of Sembene's later work, and it lacks his subtle mastery of color. Even so, the idiosyncrasies of editing, framing, performance, and sound that make his other films so effective are all anticipated here. The result is devastating: a film boiling with frustration and suspense whose climax is like a punch to the gut and whose ending is one of the most chilling, yet wondrous things you're likely to see.
Silenced Words
Sembene was a novelist before he was a filmmaker, and preferred novels as a medium; even so, he realized that he could reach a bigger audience through film. Black Girl is an adaptation of his own writing (as were many of his films), and unsurprisingly, words are at the film's forefront.
Diouana is the main character, but she doesn't speak much. Nevertheless, her voice dominates the film. She has little room to speak or otherwise express discontent, but the film's heavy use of narration demonstrates that her thoughts are racing, and that she feels cheated by her employers. In voice-over, we hear her vexation that her employers are giving her work she wasn't actually hired to do, that they never allow her to leave the household, and that they don't even allow her to dress as she pleases.
All the while, she maintains a stoic expression and says almost nothing. She does the work given to her without hesitation or complaint. The contrast with her bitter narration is so sharp it's almost disorienting. Here, one of the most significant traits of Sembene's later work is heavily pronounced: incongruity between a person's body (especially a woman's body) and their language. In Sembene's films, the bodies of oppressed people are controlled, but their humanity persists in words.
In some of these films, words help the oppressed break free by building solidarity; Diouana, unfortunately, is alone, with no one to hear her grievances. Her employers have no sympathy for her, and the guests they invite over talk about her in racist, patronizing terms.
Layered Structure
Black Girl is Sembene's only black-and-white feature, and it makes the most of the absence of color. Without it, the family apartment that becomes Diouana's prison is appropriately plain and suffocating. It makes the patterns of lines in the set design more pronounced, and consequently, so is the rigidity that surrounds Diouana as she works.
When Diouana arrives in France, the way the film sets her against a colorless environment communicates to us that she's entered a foreign land. Still, it's not uninviting: when Diouana travels through Antibes near the beginning of the film, the tone is set with an amusing tune that seems to welcome her.
We hear this song again more than once, but every time after the first is dripping with irony. By that point, we've seen that this foreign land never gave her a chance to become familiar with it. Her employers' apartment has a view of the whole city out the window, but eventually all we can see is the inky darkness of night.
The structure of the film's narrative also contributes to the idea that there are thoughts and feelings roiling behind Diop's impassive exterior performance. It flashes back periodically from her time in Antibes to her time in Dakar, where we get a look at what her life was like before taking her job as a governess.
When she's among family members and people of her hometown, it's striking how much freer and more energetic her facial expressions and body language are. Then, when we see her again in Antibes, it's all the more heartbreaking when her sedate facade finally crumbles, and she outwardly laments the dead end she spent so much time and effort pursuing.
A Declaration
Black Girl ends with a coda in Dakar. Its final scene centers around a mask, an item Diouana gave to her employers earlier in the film as a gift. This too anticipates something that occurs in later films by Sembene: imbuing objects with significance, not only on a symbolic level, but in a way so profound that they seem to carry supernatural power. Here, that power is directed first at Diouana's employers, and then straight at the audience. It delivers a declaration: that this film embodies an intention to give a voice to the silenced through cinema.
Sembene preserves his words in adaptation, but still embraces a new medium with remarkable insight. If its purpose, from one perspective, was to propagate words, Black Girl does more than accomplish this. It underlines them with context, and ultimately demonstrates that it doesn't even need words to speak loudly and clearly.
What films do you know which use words for effects beyond relaying information?
Black Girl premiered in 1966. It is available for streaming on Filmstruck.com. It's also available for home viewing from the Criterion Collection in the United States, and from BFI Films in the United Kingdom.
---
Opinions expressed in our articles are those of the authors and not of the Film Inquiry magazine.