IN THE SHADOW OF IRIS: The Outline Of A Great Thriller Ultimately Fades With A Whimper
In the Shadow of Iris has inklings of greatness, but it suffers from a muddled plot and some questionable casting and production choices.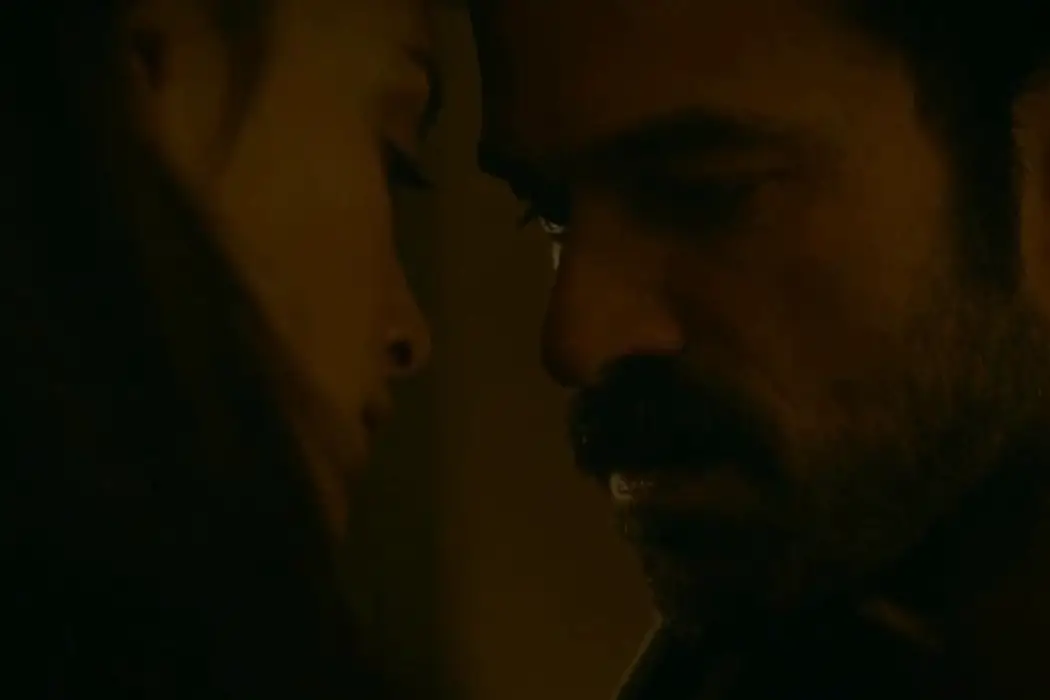 French-language thriller In the Shadow of Iris has all the markings of a great thriller; an impressive cast, gripping premise, and intense opening act lays the foundations for a satisfying and absorbing genre piece. When it all slowly begins to crumble, though, In The Shadow of Iris becomes a shadow of its potential, damaged by a narrative that tries to run before it can walk – ultimately tying itself in a knot it makes hard work of freeing itself from.
Co-writer and director Jalil Lespert also stars in this loose remake of Hideo Nakata's 2000 film Chaos. Initially conceived as an English-language, American-produced remake, it eventually wound up on French territory and pushed on to Netflix as a site original for international audiences to enjoy. It's easy to see why American studios passed on the project, though, as despite many moments that make for a genuinely tense, atmospheric viewing experience, it becomes far too convoluted for general audiences to enjoy. In fact, it sparks a continual frustration, with the filmmakers worsening the flaws of the script and pacing with their own poor casting and production decisions.
Begins On Promising Footing
Iris (Charlotte Le Bon), the wife of a rich banker, Antoine Doriot (Lespert), suddenly disappears in the middle of a lunch in Paris. With the rampant suspicion that Iris was abducted confirmed by a large ransom demand, a young mechanic in debt, Max (Romain Duris), is the first suspect. When the case takes a turn for the worse, detectives begin to question who the crime's real victim is and whether there are far bigger games at play. Never any less than intriguing, the killer premise makes this an interesting watch but not one that can be fully recommended – the flaws are just too glaring for that.
In The Shadow of Iris' direction is decent, with an appropriately gloomy atmosphere looming and heightened intensity established in the film's first and second act. In the table-setting hostage scenario particularly and for the majority of the middle stretch, Lespert utilises shallow focus and various lighting angles particularly well, uncovering an unsettling ambiance that provisionally elevates the thriller. While never especially innovative or special, Lespert knows how to operate around a thriller and subsequently ensures that, even surrounded with its many flaws (more on those coming your way), it remains watchable and partially enjoyable.
Sleek and seductive, In The Shadow of Iris smartly allows its revelations to slow spill out in the opening two acts, gradually surprising and taking its time to revel in every dark twist and shocking turn. Assured in its opening two-thirds, Iris willingly spins a web of conspiracies and suspicion – one that it unfortunately fails to untangle itself from during the final act. Narratively unsteady and hesitant as to whether or not to conform or reject various genre conventions, Iris largely begins to flounder and loses a focus that causes it to collapse in on itself by the limp finale.
An Inability To Differentiate
Most damaging to Iris' simple intentions is its sheer inability to differentiate itself: not from other films so to speak (but maybe an injection of originality would help), but in and of the picture itself. We encounter two different timelines in In The Shadow of Iris; the present-day action-thriller and the intermittent flashbacks furthering the backstory, peppered throughout.
Detrimental and discerning (particularly for non-French speakers reliant on the subtitles), the film refuses to go out of its way to differentiate between the two plot strands, often bleeding into one incoherent muddle. Iris is in desperate need of something to set the two timelines apart – a refreshed palette, directorial flourishes, or even slightly adjusted lighting – because they so often seep together into one completely unidentifiable whole. Alas, it refuses to and In The Shadow of Iris greatly suffers because of it.
In the same vein, male leads Lespert and Duris share a striking visual resemblance, one that – matched with dark, gloomy lighting and a duller colour palette – often makes it difficult to distinguish between the pair. Even with your full concentration and with multiple watches under your belt, there is a difficulty keeping track of these key players because they so often become one, through no fault of the viewer. Again, it is something that could be rectified so simply – a prominent costume distinction or visual clue – but instead, as they tussle for power and the characters change footing so frequently, they remain largely indistinguishable and difficult to trail.
Neither actor is poor enough to demand a recast either; quite the opposite in fact. Lespert and Duris are both compelling in their respective roles, illuminating the power struggles experienced between the two as they jostle for the upper-hand. It would almost have been preferable if one outshone the other, as that way you would be able to separate them. Alas, they both deliver solid turns of similarly-sketched characters with related intentions, leaving Iris mithered in a lack of clarity. Le Bon, likewise, is great – somewhat hypnotizing with her naturally big eyes and aplomb in the face of a middling script that boxes the character into needless stereotype.
Iris, Sadly, Falls Apart
Said middling script, besides its incapability to distinguish, attempts to throw everything at the wall in the final few minutes, only for very little of it to actually stick. Some of the earlier twists and turns are genuinely effective, yet as we descend into the finale, few of them actually stand up to the thrills that came before – or make any sense at all.
One BDSM-inspired sequence threatens to drag the piece kicking and screaming into trashy erotic-thriller territory, thankfully saved only by the interesting chemistry and one final revelation that barely pulls it back from the brink. Fuelling further disappointment is the flicker of sophistication in its theme work: the fragility of masculinity and the feminine ability to dominate and control. Unfortunately, this hinted complexity and power fades as quickly as it is implied.
It is a shame that after an assured opening and effective second act that In The Shadow of Iris drastically plummets into such rocky waters. It lacks an alarming amount of clarity and coherence; its two plot strands are almost indistinguishable, the male leads are difficult to separate, and the script is so desperate to deliver twist after twist that little sticks when all is said and done. Performances are fine, direction is decent, and the atmosphere and intensity are palpable – but there is nothing new on display here and what it does offer plunges into something so disappointing that you can only look at it as an unfortunate misfire.
What is your favourite foreign-language thriller? Where does Iris rank among them?
In The Shadow of Iris is available on Netflix worldwide.
Film Inquiry supports #TimesUp.
"The clock has run out on sexual assault, harassment and inequality in the workplace. It's time to do something about it."
Read the Letter of Solidarity
here
. Make a donation to the legal fund
here
.
Opinions expressed in our articles are those of the authors and not of the Film Inquiry magazine.