TAKE ME: Pat Healy Finds His Calling
With Take Me, actor Pat Healy brings his talent behind the camera, and in the process creates a delightful twist on the kidnapping narrative.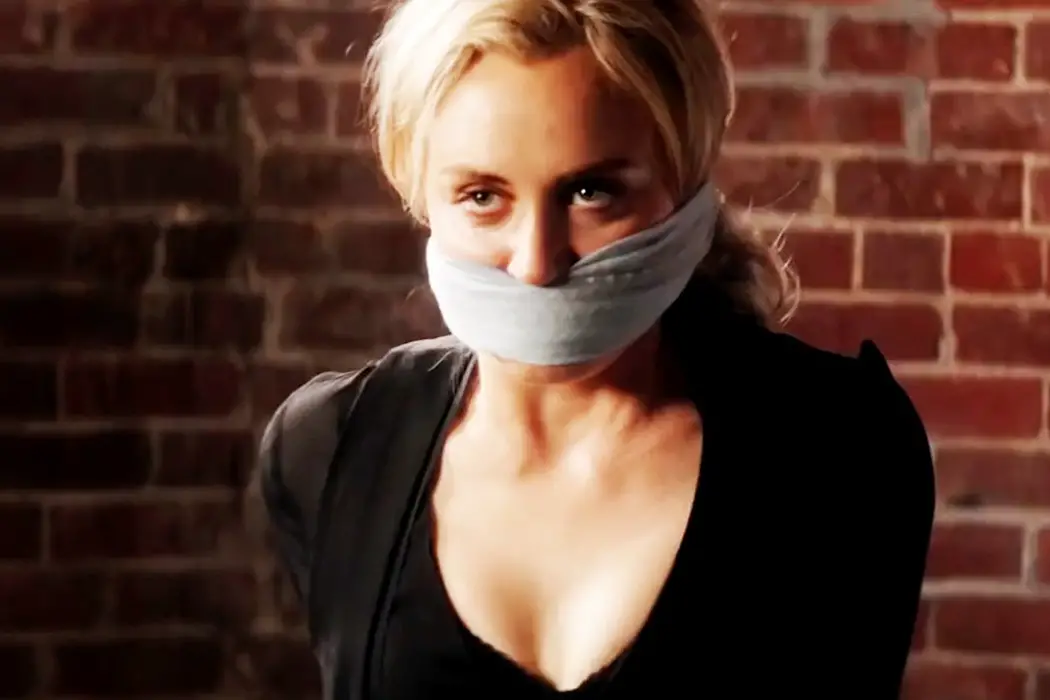 You've seen him everywhere over the past two decades as a character actor. He has one of those recognizable faces. He's one of those character actors that everyone proclaims, "wait, that's the guy from 'so and so' or 'such and such,' he's great." His name is Pat Healy. A staple of small but memorable roles in the late 1990s (Magnolia) and early 2000s (Pearl Harbor, Ghost World), the actor evolved into a leading man in independent cinema, becoming a household name as a chameleon without losing the endless quirks, idiosyncrasies, and nuances that every successful character actor must possess.
Now, after almost 30 years as an actor, Healy is trying on a new hat as a director with the production help of independent cinema geniuses, The Duplass Brothers, and it fits quite well on him. With Take Me, Healy uses a hilarious, intelligent, and self-aware screenplay by Mike Makowsky to provide himself and Taylor Schilling with awards-worthy performances. In this kidnap-for-ransom genre-deconstruction, Schilling, in particular, mesmerizes. Naturally, Healy is an actor's director, and his precision behind the camera in Take Me's predominantly single setting setup creates a near perfect balance between tension and laughs.
The Anti-Torture Porn Film
We've all heard this one before: man (or men) kidnaps woman (or women), woman (or women) endures unspeakable atrocities, trauma ensues (The Last House On The Left, 1972, 2009, The Hills Have Eyes, 1977 and its countless remakes and sequels, I Spit On Your Grave, 1978, 2010, Audition, 1999, the Saw franchise, Captivity, 2007, Martyrs, 2008, 2015, Grotesque, 2009, A Serbian Film, 2010, and countless others). We're approaching five decades of the same, recycled, shock value provocations; when will horror filmmakers, and the film industry, for that matter, learn?
Enter Pat Healy and Mike Makowsky, whose Take Me manages to pave a new path in the genre, one without depicting the subjugation of women as the only means of showing their strength. Healy plays a highly unorthodox entrepreneur named Ray Moody, whose main "skillset" is simulated kidnappings for adrenaline-seeking clients. His methods are clean and supposedly not harmful, as he has a strict contract that prohibits any physical assault of the client.
Healy has an assured hand as a director; his use of uncompromising closeups of the two main characters, lingering from scene to scene throughout the film, most of which takes place in Ray's home, manipulation of camera speed, and emulation of natural first-person head movement adeptly help create and carry the film's tension until the end.
For A Minimalist Dark Satire, Comedy Is Key
Consider Healy (The Innkeepers, Cheap Thrills, Carnage Park) an expert at understanding dark comedy and horror satires. His aptitude for adding eccentricities to his characters with flawless comedic timing is perfect for Ray Moody. From the very beginning, the addition of the most obvious hairpiece other than Donald Trump's will have the audience in stitches as he tries to get a loan for making his kidnapping business legitimate; its about as believable as his loan pitch.
Makowsky could have gone the easy route and make Take Me a male-dominated film disguised as a feminist ode to onscreen female heroism, depicting violence and brutality. Instead, he gives it a proper, 21st century twist.
It should go without saying, music is paramount to a film's success, to say the least. It helps set and carry the tone, provide emotional cues and assistance, add transitions, and tie the film together. Luckily, composer Heather McIntosh (Compliance, Honeymoon, Z For Zachariah), is no stranger to horror films, and she entirely understands Makowsky and Healy's intended comedic overtone. She and everyone else involved are in on the gag.
Moody is a train wreck, and however funny it may be to revel in his delusion of providing his clients a beneficial service, Healy makes sure to keep him partially grounded in reality, albeit barely. A certain character named "Schwanky" and a scene involving a set of keys are two of the more gut-busting, comedic back-and-forths in recent memory, strengthened by the commitment of Healy and Schilling to the source material. The plot of Take Me may be simple, but the characters go a mile deep.
Healy And Schilling Astonish
Healy's Moody and Schilling as his mysterious client, Anna St. Blair, are a delight to watch. Their psychological chemistry, continual transfer of power, and ambiguity build tension and add an element of unpredictability to Take Me that is sorely missed in a lot of mainstream films today. As a man struggling with his past, inner demons, and own cowardice and kindheartedness, Healy is typically strong.
It's Schilling, whose grit and wit have been displayed to magnificent effect in Orange Is The New Black, that is the standout of the film. Anna's motives are unclear throughout the entirety of the film. Is she committing to the simulation? Is she really scared? Does she have other plans or ulterior motives? Schilling plays her as an enigma, and she's a powerhouse cinematic presence in Take Me.
A Promising Debut Indeed
With the help of Makowsky's thoroughly fleshed-out script, Healy's diving headfirst safely and successfully into the realm of directing, and the performances, Take Me succeeds at pleasing the audience until its satisfying ending. It's highly likely we will see more of Healy's double-life as a director, as more talented and unorthodox screenwriters are bound to come knocking at his door.
Schilling is not only one of the queens of television, but the stage of her career as a film actress has been set wonderfully, and audiences should expect to see her in more leading roles in the very-near future. Take Me doesn't beg the audience to think or force it to endure visually horrific imagery. Instead, it's a rather fresh take on the classic battle of the sexes trope.
What is your favorite scene in Take Me? Do you want to see more of Healy and Schilling on the big screen?
Take Me was released in the US on May 5 in theaters and on digital streaming platforms.
---
Opinions expressed in our articles are those of the authors and not of the Film Inquiry magazine.