Reflecting on Woody Allen's Lesser Known Films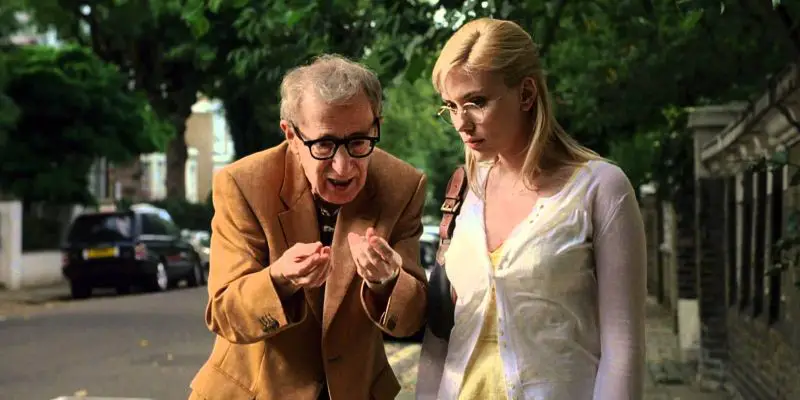 Should you feel like bringing up Woody Allen in conversation there is a good chance you will either be met with a proclamation of love or a snort of disdain. The Brooklyn-born filmmaker, now in his eighth decade, is divisive for a whole range of reasons (not all of which are related to his films), but he has a solid fan-base that has allowed him to become one of the most consistently working directors around.
Averaging out at one film per year, Allen has an extensive back catalogue that is often overlooked. Sure, we all know Annie Hall and Manhattan, but with over four decades worth of material it's inevitable that more than a few great films have slipped through the cracks.
Detractors tend to take issue with the director's distinctive style, and it is the common aspects that run throughout the majority of his work – from jazz to existential angst – that make his films beloved to some and reviled by others.
Through looking at some of his lesser known work, it becomes clear how the quirky director has developed his trademark style. Right from his early comedies, through to his more recent work, Allen has experimented with storytelling in ways that go far beyond the narcissistic schmucks he made his name playing.
Radio Days (1987)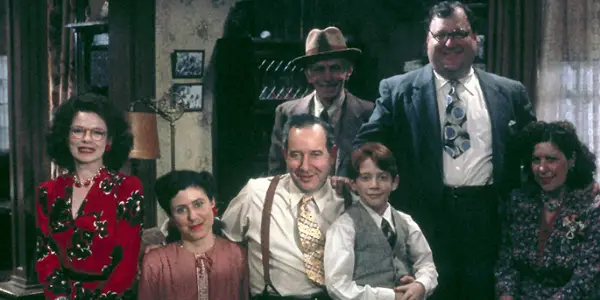 Allen's creativity dates right back to his early comedies, with 1963's What's Up Tiger Lily? seeing the director overdub a Japanese spy film with his own dialogue. The comedies of this era were the birthplace of Allen's distinctive dialogue-based humour, but they also make clear that he was experimenting from the start of his career. One film overlooked by many is Radio Days, a 1987 comedy often forgotten due to its close proximity to the Oscar-winning Hannah and Her Sisters, released the previous year.
By the late 80's Allen had experimented with various comedy styles, from mockumentary (Zelig) to slapstick (Sleeper), but he had also become a household name for Annie Hall and the dry, distinctive humour that came with it. Radio Days marked a culmination of various elements of Allen's humour, bringing together various elements to come up with something different from what he had done before.
Allen does not feature in Radio Days, but instead narrates, and the film is an ode to the Golden Age of Radio told through the story of a Jewish-American family living in Brooklyn. The film is heavily autobiographical, as is much of the director's work, but it stands out due to the fact that it is an ensemble.
Allen went on to become one of the best directors around in terms of piecing together ensembles in his work (more on that later), but Radio Days is an example of him taking the focus off of the typical 'Woody Allen' narcissistic character and placing it instead on an entire family. Better yet, the character based on him is a child, making him distinctively different from Alvy Singer or Isaac Davis.
Allen's narration allows the film to maintain that distinctive sense of humour he is so known for, but the focus on radio gives the film a sense of nostalgia not often seen in his work. Of course, there is the usual dollop of cynicism, but the film is really a loving tribute to the simpler times of radio, with no hidden agendas and an almost rose-tinted glasses approach to the lost era. It also helps that it really is funny, using the radio as a focal point to tell a series of interlocking tales about the family and their neighbours.
The vignette-style of storytelling is nothing new (again Annie Hall shows up as an example) but it is put to great use here. The nostalgic side is not one we see often in him, and it suits him well. Radio Days is a great example of how Allen is much more than the neurotic, cynical narcissistic character he is known for.
Everyone Says I Love You (1996)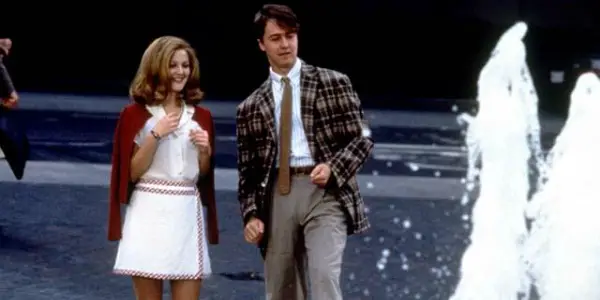 Into the late 80's and early 90's Allen forayed more into dramatic territory, meaning he surprised everyone in 1996 with Everyone Says I Love You. The film is a 'typical' Allen film with a twist – it's also a musical. Roger Ebert cited it as one of Allen's best films, and it was a return to critical praise in spite of the fact that it didn't do well financially.
Much like Radio Days, the film employs an ensemble cast which includes Allen as a supporting player. This is an example of Allen putting together an all-star cast – something he has done more as he has retreated behind the camera in recent years. Julia Roberts, Edward Norton, Natalie Portman and Tim Roth are just some of the stars who play a part in the ensemble, which brings the film a real sense of dynamic.
The musical element is executed brilliantly, using classic songs and fitting them into the narrative. This brings Allen's love of music into the world of his film in a way that he hasn't done before, going beyond his well-documented love of jazz. The use of classic songs means the film maintains a sense of heightened realism that isn't common in musicals – the songs represent feelings more than providing an actual narrative of what is happening. This is furthered by the fact that the songs are sung by the actors themselves (with the exception of Goldie Hawn and Drew Barrymore), none of whom are known for their singing ability, again giving a sense of kooky realism.
Also notable about the film is that it is one of the first to visually showcase the fact that Allen was moving away from New York in his films. New York is as much a character in Allen's best known films as the cast, and the city is one of the best known aspects of his work. However, from the 1990's onward the director began exploring other settings and now generally opts for European cities, with Everyone Says I Love You being an example with New York, Venice and Paris all featuring. Each film is lovingly captured, but it is clear that Paris has his heart by this point, and from this film onward it has become one of the focal points of his work.
Again Allen explores nostalgia, this time through music, to great effect. The warm color palette is another mainstay in the director's work, but here it is further heightened to enhance the feelings of nostalgia at the films heart.  Everyone Says I Love You is an extremely underrated part of Allen's film-making journey, something that can be said for a lot of his 1990's work, especially Deconstructing Harry.
Deconstructing Harry (1997)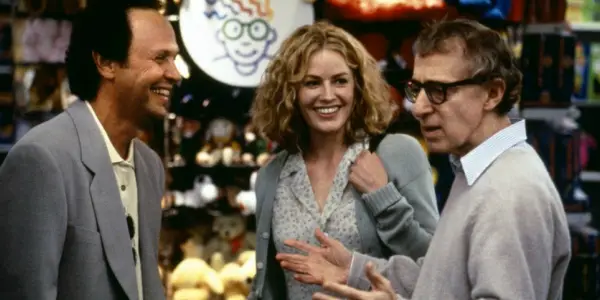 The most criminally underrated of the director's films, what's interesting about Deconstructing Harry is that it is in many ways a quintessential Allen picture, yet it is unknown to anyone other than the most diehard fans. Allen stars as Harry Block, a writer who is experiencing writers block for the first time and has alienated everyone he knows by writing about them in his work. The neurotic and self-obsessed 'protagonist' is a mainstay of Allen's work, and never is he put to better use than here.
One of the most interesting aspects of the film, from a technical standpoint at least, is the editing. Allen makes use of jump cuts to communicate Harry's disassociation with reality. The director is known for his minimalist directing style, having built his name on the dialogue that he allows to carry his scenes, making the jump cuts an interesting and experimental choice.
Deconstructing Harry also stands as one of the most profane in Allen's repertoire. Whilst sex is a constant theme in his work, Allen is not generally known for profanity in his dialogue, but he certainly doesn't hold back in Harry's story. It was the colorful language, in fact, that didn't gel with many critics and audience members at the time of the film's release. It is easy to write it off as cheap, but it actually makes for an interesting new side to what some may argue is a tired character. We've seen the neurotic character many times before, but Harry Block with his constant swearing and alcohol abuse is a fresh perspective. The usual smattering of existential humour also acts as an effective balance to the films cruder moments.
Like Everyone Says I Love You the year before, Deconstructing Harry is made up of a large ensemble cast and is all the better for it. Robin Williams and Billy Crystal are particular highlights, with Williams playing an actor in one of Harry's stories who has literally gone out of focus, whilst Crystal takes on a dual role of Harry's friend Larry and the devil. Allen is known for his distinctive comedic style, but his use of comedy actors who also have their own styles of comedy is a stroke of genius that allows the film to blend different talents into something that feels fresh.
Another enjoyable aspect of Deconstructing Harry is the way Allen plays with elements of fantasy, pushing it to further limits with Harry literally descending to hell in an elevator. Many of his films have played with fantastical elements, but this film is an example of him taking it much further. It feels like a natural evolution of his style that he has continued to explore in his work since (Midnight in Paris is perhaps the most recent example). Straight out fantasy is not something that the director is well known for, but he has experimented with it in his films more than you would expect.
Allen's work has almost always played with the broad theme of life as comically tragic – think of the bittersweet tone of Annie Hall's ending. This is never better conveyed than in Deconstructing Harry, where we are faced with a character that cannot function in the real world, but only through his art. Thus we have the tragedy of his inability to function, paired with the happier notion that he is gifted with his writing talent. It is a theme that the director has gravitated to again and again, until he finally went the whole hog and made an entire film based on the concept with Melinda and Melinda.
Melinda and Melinda (2004)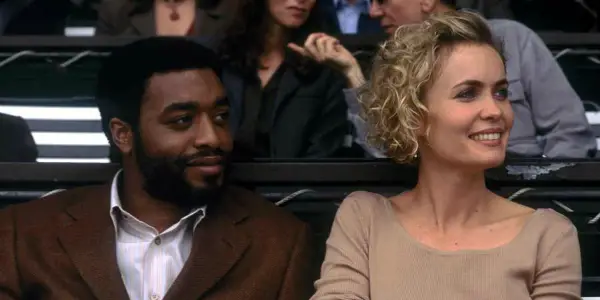 Much of Allen's work in the 00's was negatively received, until he made a critical comeback with Midnight in Paris in 2011, but there are some instances where creativity has been overlooked, namely Melinda and Melinda. Allen's favourite question – is life comic or tragic? – is taken and used as a narrative device, with a dinner between two playwrights (Wallace Shawn and Larry Pine) leading to parallel stories following Melinda (Radha Mitchell), with one taking a comic trajectory and the other tragic.
It's a simple yet effective idea which is successful mostly due to a great dual performance from Radha Mitchell in the title role, which was originally intended from Winona Ryder after he worked with her in 1998 on Celebrity.
Yet again Allen has assembled a fantastic cast that includes Will Ferrell in the typical 'Woody Allen' role. It is hilarious to see comedy legend Ferrell take on Allen dialogue with lines such as "if you're somebody who's nobody, it's not fun to be around anybody who's everybody." Much like with Deconstructing Harry, Melinda and Melinda sees a merging of comic talent that strengthens the final product, though it is not perhaps faithful to 'classic' Allen comedy.
By this point in his career Allen had explored comedy and drama numerous times and Melinda and Melinda is a fabulous culmination of everything he learned across this work. Love is also a common theme, but using the comedy/tragedy device Allen explores it in a unique way, highlighting the way that love and romance is, by its very nature, both comic and tragic.
Melinda and Melinda is a great example of Allen's hugely underrated later work, showcasing how far the director has come over his long career and his ability to blend drama and comedy to explore big philosophical ideas. It is this that is at the heart of the majority of his work, but in recent years the director has at times retreated back to the style of his earlier comedies, such as in Scoop.
Scoop (2006)
Scoop gets a lot of criticism, and whilst it's more light-hearted than a lot of the director's work, it is far from the disaster some claim it to be. Allen delivers one of his best performances in years as supporting character Sid 'Splendini' Waterman. Whilst generally known for his leading performances, there are plenty of lesser known examples that show how effective the director can be in a secondary role. Sid's wisecracking is quintessential Allen, but he allows latest muse Scarlett Johansson to take center stage as a budding reporter who receives a story tip from beyond the grave.
Scoop sees Allen fully embrace fantasy to hilarious effect and he also moves the setting to London, a city unexplored in his work. The British setting is a great backdrop for the caper, which is more of a callback to his earlier comedies. There isn't the substance behind the laughs, but that doesn't mean you can't enjoy the screwball ride. It also shows that the director knows comedy – he doesn't need the philosophical ideas to make something funny.
Allen and Johansson make a great comedic double act and the director makes a different choice by making them platonic and focusing the romance elsewhere. Allen has proven controversial for his use of younger women in films (Manhattan, for example), but here is proves that he can find just as much comedy in friendship and an odd-couple dynamic.
The film is also much more visually appealing than it is given credit for, with bright and confident shots of contemporary London. Sid's magician trade also allows for some great sequences, and Allen's minimalist direction is put to great use here. Scoop may not be a bonafide classic, but it is a fun entry into Allen's later filmography.
Conclusion
To truly appreciate a great director you not only must delve behind the classics –  we already know how good they are – but also navigate lesser known films. In the case of Woody Allen, his wealth of lesser known material stands as proof that he is much more dynamic and experimental than he is ever given credit for.
Due to the great muses of his life, from Diane Keaton to Mia Farrow, it often goes unnoticed that Allen is capable of effectively bringing together dynamic ensembles. Known more for his writing, his experimentation as a director is never talked about. His love affair with New York is so well documented that it is often forgotten that he has made films in other great cities. Through looking at the numerous underrated films the director has made (a list which extends far beyond those discussed here), it paints a much more detailed tapestry that goes far beyond the neurotic Woody Allen character.
Have you seen any of Woody Allen's lesser known movies? What do you think of them? Please share your thoughts in the comments! 
Does content like this matter to you?
---
Become a Member and support film journalism. Unlock access to all of Film Inquiry`s great articles. Join a community of like-minded readers who are passionate about cinema - get access to our private members Network, give back to independent filmmakers, and more.
Lauren Fraser
Lauren is 20 years old and is a Multimedia Journalism student based in Glasgow, Scotland. She is originally from the Shetland Isles and has held a lifelong interest in film, which she documents on her blog apeerieyarn.wordpress.com. She loves Back to the Future and wishes people would stop paying to see Michael Bay movies.