BLAME: A Tour De Force From Quinn Shephard
Quinn Shephard's Blame is an admirable debut feature, utilizing the framework of The Crucible to delve into themes of adolescent angst, social politics, and high school drama.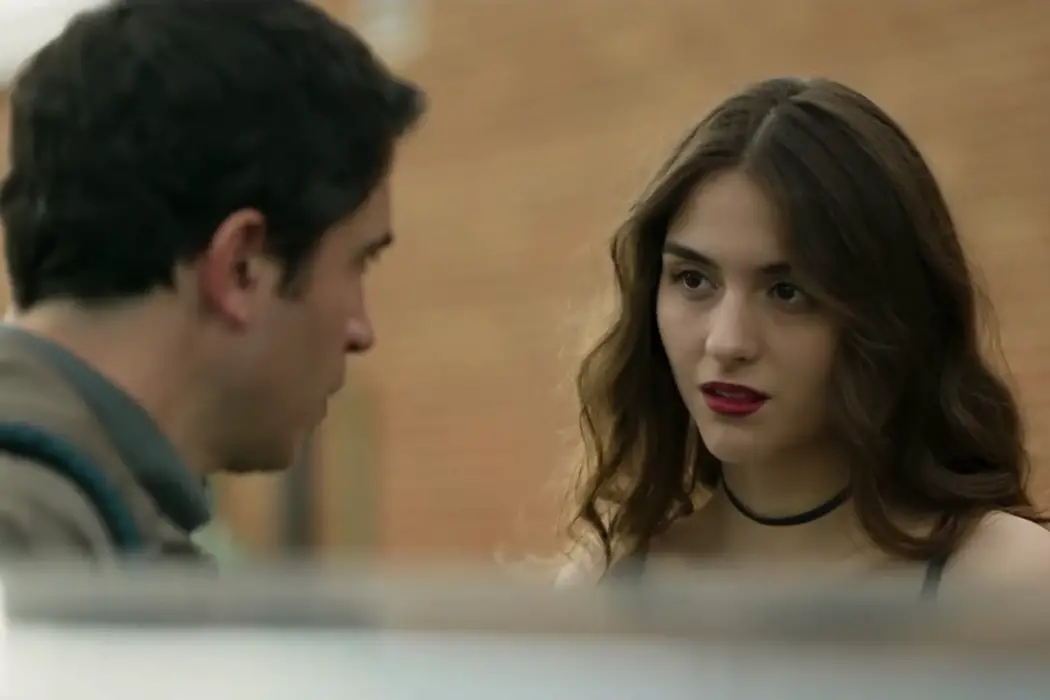 Teenage angst movies are seemingly a dime a dozen. The idea of finding oneself during this critical transitional period before adulthood is ripe for fiction, seen in novels, plays, and films alike. Yet, every once in awhile, a film comes along that stands out among the masses. Written, directed, produced by, edited, and starring Quinn Shephard, Blame is that film.
The Crucible meets high school dynamics
Blame consists of three interrelated stories. The first focuses on Abigail Grey (Shephard), a shy recluse student who is just starting to go back to high school after an unexplained period of absence. The next is about Melissa Bowman (Nadia Alexander), the leader of the popular click at school who bullies Abigail, and is also in the same class as her. The final story focuses on Jeremy Woods (Chris Messina), a long term substitute who comes to teach the girls' drama class. His first act as substitute is to start them reading Arthur Miller's The Crucible, which they will be rehearsing scenes from in preparation for an upcoming showcase.
Jeremy, a confident, good-looking man, is idolized by both Abigail and Melissa, whose rival is only intensified when he chooses Abigail over Melissa for the integral role of the villainous Abigail in the play. Further conflict arises when Jeremy and Abigail start to become closer through their rehearsing of the play, provoking a spiteful jealousy from Melissa.
Similar to Easy A structure-wise, Blame also uses a classic work of literature as a framing device for its story of high school politics. Jeremy, for example, is meant to represent John Proctor in Miller's play, and even ends up playing him in the school's version. In his personal life he also has a somewhat stable relationship with a woman named Jennifer (Trieste Kelly Dunn), who comes to represent John's wife Elizabeth in the play.
Not fully dependent on it, though, the film also plays around with some of its characters and how they relate to those from The Crucible. The role of Abigail, for example, who is one of the accusers of witchcraft in The Crucible, is seen at various points in Blame through the characters of both Melissa and Abigail. Melissa is typically seen as the film's antagonist, using her social ranking in order to pick on and manipulate her friends into hating Abigail. While Abigail, who appears innocent and pure, soon shows her fiery side, especially during one particularly effective moment when she accuses Melissa in class of bullying her even though it was Abigail who had initiated it.
The Emergence of a Rising Talent
Blame is partially indebted to its influences, but it's also very much its own entity. And this is in part thanks to both the performances and Quinn Shephard's guiding hand behind the camera. Shephard and Alexander's characters are multilayered creations, both becoming much more than simply the archetypal shy girl or mean-natured bully. And both Shephard and Alexander play off of this with aplomb, showing that their actions are very much influenced by more than just high school dynamics. They each have a ruptured past, which influences their current choices, and they each deal with these insecurities in their own distinct ways.
Abigail's outlet, for example, is through acting. The first scene where we see her come out of her shell while performing a scene from The Crucible alongside Jeremy is electric. Her power as a performer (and of Shephard's own acting talent) comes to front and center, and the camera focuses in on her determined and fierce demeanor, making her almost unrecognizable from that prior quiet girl sitting in the corner. This is also the beginning spark of her romantic interest in Jeremy, which from here will progress to something decidedly more inappropriate.
Shephard's film doesn't necessarily go in the direction that you would expect, though, showing that, though Jeremy and Abigail's connection is problematic, it never gets out of hand in the manner of a film such as American Beauty, and is instead much more nuanced. Abigail is a young girl who is still developing both sexually and emotionally, and she at first naively thinks of Jeremy as someone who will bring that out of her. But Shephard as a director never exploits that naivety in an unsympathetic way. In addition, the character of Jeremy, who is warmly played by Messina, is also seen as congenial despite his clear attraction to the young Abigail.
The character of Melissa, played by Nadia Alexander, should also be highly praised given her role in the story. In any other film she might have simply been the one we are supposed to hate as a result of her bullying, yet the developed background for her and the individual focus on her life outside the social dynamics of high school makes her likable despite that.
During one of the film's most effective sequences, both Melissa and her friend Sophie are partying with some local boys, and at one point provocatively dance in front of them. Later, Melissa asks the boy she is kissing if he thinks she is hot, and he insists that she's the hottest girl in school. Such a moment shows the underlying insecurity of why she makes the choices that she does, which shows a vulnerability to the character that we wouldn't have seen otherwise. It's yet another small detail that makes Shephard's film work as well as it does.
Technical Efficiency
With its darker focus on teenage social dynamics, there is much to praise about Blame's visual flourishes as well. Shephard, who as mentioned also edited the film, wonderfully juxtaposes the two central stories of the film, at times cutting between the current actions of both Abigail and Melissa.
One of its more effective sequences is seemingly a take on the cheerleading scene from American Beauty, showing a slow motion sequence of Melissa and the cheerleading team doing a session out on the school's field while also cutting to Abigail's frenzied contact of Jeremy, who is dodging her calls. The scene uses the haunting vocals of Jamie Decker, in a song also written by Shephard, and it further emphasizes the deeper alienation that each character feels.
Underdeveloped Subplots
Though mostly working as a cohesive whole, there are a few points where Blame feels disjointed. An example is a subplot between two of the girls in Melissa's group. One of them, named Ellie (Tessa Albertson), is notably not on board with much of Melissa's bullying, at various points leaving their group when the drama gets too heavy. While the other, Sophie (Sarah Mezzanotte), appears sympathetic to Ellie but we soon find out her true agenda. This plot is admirable given its presentation of the idea that individuality is still a factor when it comes to group dynamics, yet it doesn't feel developed as a whole in relation to the remainder of the film. In actuality, it seems to be there simply to setup the film's final conflict.
Another underdeveloped plot consists of Jeremy's girlfriend Jennifer, whose connection to the story is as a semi-moral compass for his career. It does provide some background to Jeremy's character, yet it also feels jarring to the film's central story. Thankfully, these subplots are not terribly distracting to the film's overall impact, and are but minor speed bumps in a film mostly filled to the brim with praiseworthy aspects.
Blame: Conclusion
To conclude, Quinn Shephard's Blame is a celebratory achievement. It utilizes The Crucible in an inventive way, focusing on high school dynamics and the angst that comes with finding one's identity early in life while also avoiding the cliches that typically come with that subject. Further, through its use of a haunting soundtrack and visuals, it establishes Shephard's emerging talent as a director. At only 22-years-old, Shephard, like John Proctor in Miller's play, has already clearly established her name.
What are your thoughts on Blame? What are some of the best recent directorial debuts?
Blame is now available on VOD services. 
---
Opinions expressed in our articles are those of the authors and not of the Film Inquiry magazine.