Dinner With Dames #12, With Osnat Shurer (Recap)
Dinner with Dames Case File Who: Osnat Shurer, producer of Moana, & Cinefemme board, fiscal sponsorees, and referrals – Kathryn Brillhart, Jeannette Deron, Beverley Gordon, Michelle Kantor, Jordan Mann, Kristen Murtha, and myself, Melinda Fox What: Dinner 2.2 - a casual discussion on industry issues facing women & ways to excel in their careers over dinner & drinks When: Wednesday, October 18, 2017 Where: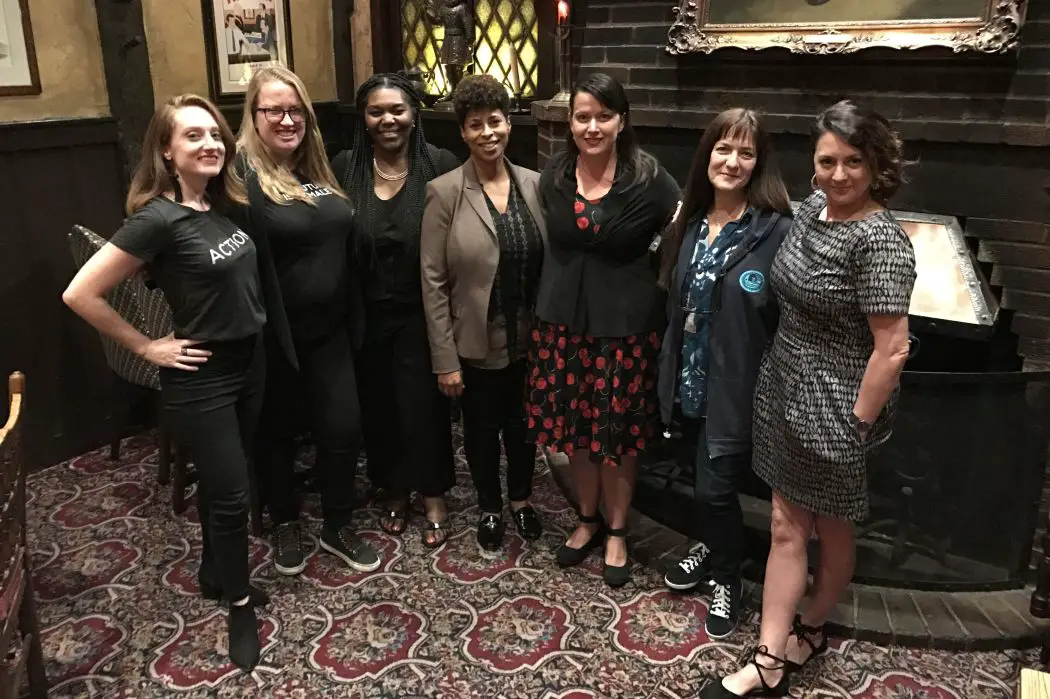 Dinner with Dames Case File
Who: Osnat Shurer, producer of Moana, & Cinefemme board, fiscal sponsorees, and referrals – Kathryn Brillhart, Jeannette Deron, Beverley Gordon, Michelle Kantor, Jordan Mann, Kristen Murtha, and myself, Melinda Fox
What: Dinner 2.2 – a casual discussion on industry issues facing women & ways to excel in their careers over dinner & drinks
When: Wednesday, October 18, 2017
Where: Tam O'Shanter
Why: To propel women to bigger and better career opportunities within studios and networks
I was an unconventional guest at Dinner with Dames. Surrounded by women in film, at various stages in their careers, is always a great way to spend an evening. As a fan and passionate audience member, I'm building the first mobile ticketing app connecting audiences to women-centric content (directed by, written by and with women at the center) in theaters and online. Creators have been open minded and hearted from the first whisper of my startup, Tanji. So, it was no surprise, but a delight to be invited this round.
To start, we were greeted by our server (also a Melinda), who shared that she "loved when DWD events were happening, and seeing women in film at the Tam". And, with special guest, Osnat Shurer, one of the leading producers at Walt Disney Animation Studios, dining at Tam O'Shanter, one of the oldest restaurants in L.A. — a staple of Walt Disney himself back in the day — sharing plates of deviled eggs with classic drinks like Moscow Mules and gigantic martinis set the tone.
The beauty of an intimate setting is that you can learn much more about the breadth of who you're dining with. Despite radically different backgrounds, all the women came from prestigious educations ranging from Howard, NYU, Harvard, Tulane, AFI, Ithaca, Emerson, SF State & Universities of FL & Colorado. Their love of film stemmed from childhood experiences with film and television, and now expands through their work creating docs, shorts, features, VR, visual effects, animation, producing and writing – many with current and/or past experience at Sony, Warner Bros., DreamWorks, and Disney.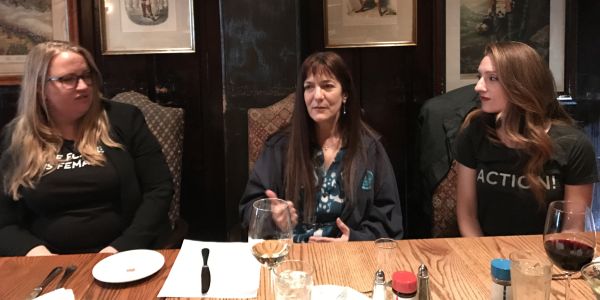 Osnat had a relaxed, straightforward way of sharing her journey in animation. She produced one of the most successful films of all time, Moana. Prior to Moana, Osnat was VP of Development at Disney Animation, but when personally tapped by animation icon, John Lasseter, she jumped at the opportunity to jump back into the producing trenches.
She was an integral part of the leadership team travelling throughout Polynesia, deeply connecting with cultural stakeholders, bringing one of the most iconic and beloved characters to life, who is grounded in her own inner strength, and resonating with audiences of all ages. Osnat's pride was obvious and endearing, including sporting branded Moana garb in layers! The fact that all of us at the table were fans, is a testament to its inclusiveness. She shared how she thinks of her career as "before Moana and after Moana", while emphasizing there's "no resting on laurels" heading into the next project.
Both Kristen Murtha and Jordan Mann are working in animation, and it was important to make space for their questions in particular. One of the goals of DWD is mentorship, and when Jordan asked Osnat which path in production would be best for her, Osnat was sure to inquire about what her own end goal might be. Jordan asserted that she wanted to bring her own projects to the screen while taking advantage of training and opportunity within Sony. Osnat offered some sage advice specifically tailored to Jordan. It's moments like these where real-world career sharing is vital for women shaping their own media destinies.
Having so many writer/producers at the table was interesting. Osnat was adamant that character development is central to animation – not only because of audience reach, but to bottom lines driving merchandising — which is why animated films typically see the highest ROI's.
Other take away aspects of the conversation were centered around what is top of mind for women in film: who were some the champions within the industry that were building relationships with creators and encouraging opportunities? Hannah Minghella at TriStar/Sony and Pam Lifford at Warner Bros. were both were touted as being "strategic, confident, and kind" in their leadership.
Every woman at the table began sharing varying degrees of bias, whether conscious or not, they have experienced while pushing for their place in film. Osnat said "being at the table is not enough – it's being sure that your voice and point of view is heard while you're there." Kathryn Brillhart is not only a director, but also specializes in VFX, and spoke about the importance of representing in professional associations. She recently joined the board of Visual Effects Society, and has made it a personal mandate to advocate for more women to join its membership and step into board roles, citing Victoria Alonso as an example for women in VFX.
Days before our dinner, news of Harvey Weinstein's predatory behavior was front page news. It was clear that while no one was "surprised." All were processing their own experiences and what was reverberating through their community. Michelle Kantor, Executive Director of Cinefemme and director in her own right, made a conscious point checking in with everyone, opening conversation to what we needed and wanted from the evening. Organically, we focused on the opportunity at hand with each other at the table, versus the crack in the damn, which in the following weeks has become a watershed cultural moment calling out harassment and assault.
Sadly, as I write this recap, news broke that John Lasseter has been put on leave due to inappropriate behavior and "missteps" with female colleagues. I'm left thinking of the words written by renowned playwright and screenwriter Alice Childress, "A hero ain't nothin' but a sandwich."
Video by Jeannette Deron.
About Cinefemme:
Cinefemme is a 501(c)(3) non-profit organization founded by women filmmakers, for women filmmakers in 2002.  Cinefemme provides fiscal sponsorship to women filmmakers and artists, as well as peer-to-peer networking, mentorship, and strategy for project fundraising.  By advancing women's careers in film and the arts, we empower women's voices to create gender parity in the arts and equal representation in the media.
About Melinda Fox: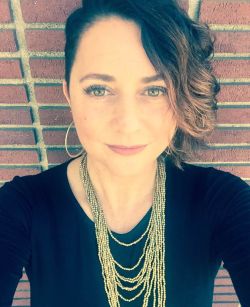 Melinda Fox is a seasoned organizer and campaigner who cut her teeth on several winning state ballot initiatives and Barack Obama's run for President in 2008. She honed her advocacy skills as a fundraising executive for The Humane Society of the United States, including forming their political arm, and served as Vice President of the National Breast Cancer Coalition before joining a startup in business development for the world's fastest growing social action platform – Change.org.
She has served on several boards including the International Girls Rock Camp Alliance and Reel Grrls, the first media arts center in the U.S. States training girls in media production. She's now Co-Founder & CEO of Tanji – the first app mobilizing audiences for women in film, TV & online content. She's been featured at the Portland Film Festival, Citizen Jane, POWFest, and ClexaCon.
Tanji app previewed this year at Tribeca Film Festival and was media partner for the 40th Mill Valley Film Festival's 'Mind The Gap' program. In June, Cannes Lions chose Tanji in its first group of startups "changing entertainment media." Additionally, she runs social media for film icon Ellen Burstyn, who is making her directorial debut in 2018 at age 85!
Sign up for beta invite now: http://tanji.mobi & follow on social @TanjiMobi
---
Opinions expressed in our articles are those of the authors and not of the Film Inquiry magazine.