Dinner With Dames: Dinner #9, With Lawrence Kopeikin (Recap)
For Dinner With Dames #9, Cinefemme gathered a group of women filmmakers to dine with Lawrence Kopeikin, entertainment attorney at Morris Yorn.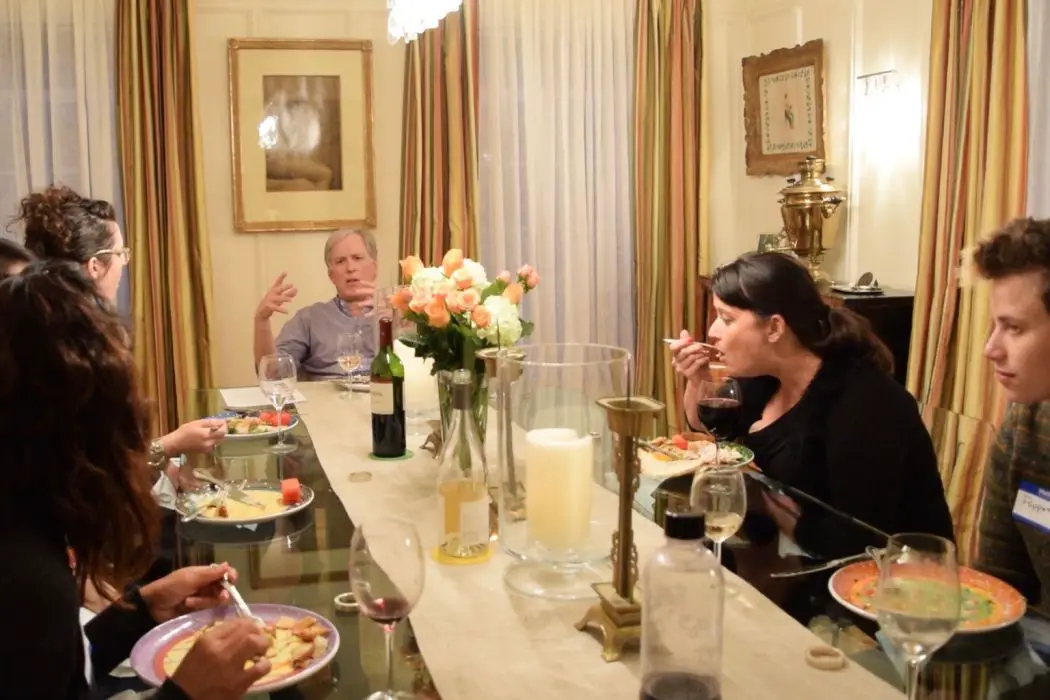 Dinner with Dames Case File
Who: Lawrence Kopeikin, Entertainment Attorney at Morris Yorn & Cinefemme board, sponsorees, and volunteers – Gretchen Ash, Liz Hinlein, Michelle Kantor, Jenna Payne, Puppett, and Wei-Ning Yu, and myself, Christianna Carmine
What: Dinner 1.9 – a casual discussion on industry issues facing women & ways to excel in their careers over dinner & drinks
When: Monday, June 7th, 2017
Where: A house in Beverly Hills
Why: To propel women to bigger and better career opportunities within studios and networks
My name is Christianna Carmine. I moved to Los Angeles to work in film and television as an actor; and while I had spent much of my life performing on the stage in NY, I realized quickly that I was attempting to work on the wrong side of the (stage) camera all along.
Since I directed my first short, To Live and Try in LA shot on 16mm in 2011, I have never looked back. I shot my second short, Darryl, starring three daytime Emmy winner Michael E. Knight in 2014. The film enjoyed a healthy festival run and was recently licensed by Vet StreamTV. Since Darryl, I have been hired to direct three more shorts, one of which just wrapped principal photography. I am thrilled to say that by the end of 2017 I will have helmed five short films and be ready to enter the world of features!
Cinefemme's Dinner with Dames program invites a group of 6-8 members of Cinefemme to an informal dinner with a Hollywood heavyweight. It's an opportunity to share experiences and discuss ways to push the needle towards gender equality within the film industry. This particular Dinner with Dames event was hosted by Lawrence (Larry) Kopeikin who graciously offered to hold the event at his Beverly Hills home.
In attendance were some incredible women who are paving the way for future generations of female filmmakers including writer/director Jenna Payne, director/cinematographer Liz Hinlein, Cinefemme founder Michelle Kantor, the multi-talented Puppett, and Oscar short list nominee writer Wei-Ning Yu.
After introductions and small talk, the group gathered in the den to chat more about ourselves, past and current projects, and what our plans are for the near future. Larry was attentive, asked questions, and seemed genuinely interested in what each of us had to say.
There is no doubt that Larry is a heavy hitter in this business. It was clear from the gate that he loves his work and has been a champion for women and people of color working in the industry since his start nearly 35 years ago. That, and he loves to tell a good story. The evening was filled with wonderful tales of forgotten Hollywood and the stars that lived in Beverly Hills who graced the screen decades ago. As an attorney and producer, Larry has worked with some of Hollywood's biggest names and had a tremendous amount of insight to offer.
During dinner, it was time to get down to the nitty gritty and discuss the issues that all filmmakers face, particularly ones that hit women hard. It seemed fitting that the evening was scheduled right after the release of Wonder Woman to incredible reviews and impressive box office numbers. Larry was cautiously optimistic that the positivity surrounding the superhero film helmed by Patty Jenkins would boost more female filmmakers to employment within the industry.
Larry explained that he considers his highest paying clients an opportunity to underwrite up and coming filmmakers, especially women and minorities, and guide them through their early careers with his extensive knowledge and years of experience. Although Larry lobbies for representatives to use their connections and expertise to support filmmakers in the industry working to level up, he doesn't always succeed. He admits that some in the industry are mostly interested in money. Jenna Payne mused that women have a "hell of a Catch-22," explaining that it is difficult for women to obtain representation without a profitable track record, but women are unable to secure jobs to build their track record without solid representation.
If I were to take away one important message from the evening, it would be that no matter who you are, you have to work exceptionally hard to make a dent in the world of filmmaking, and that not only do the strong survive, but those who maintain a stellar work ethic are those who rise to the top. Larry was not shy about admitting that the industry has changed a great deal over the years, and while the platforms for which consumption has grown, the amount of jobs for women hasn't kept pace. We discussed the issues regarding gender parity and ways he believed issues women face could be addressed.
We closed the evening with a lovely dessert and the feeling that although we are just beginning the fight towards gender parity within the entertainment industry, we also have some incredible male backers, including Mr. Kopeikin.
Video credit: Gretchen Ash
About Cinefemme:
Cinefemme is a 501(c)(3) non-profit organization founded by women filmmakers, for women filmmakers in 2002. Cinefemme provides fiscal sponsorship to women filmmakers and artists, as well as peer-to-peer networking, mentorship, and strategy for project fundraising. By advancing women's careers in film and the arts, we empower women's voices to create gender parity in the arts and equal representation in the media.
About Christianna Carmine
Born and raised in New York, Christianna Carmine had spent much of her early life as a stage actor, with a strong interest in the human condition. As she began to amass a body of stage credits, her fascination with human nature continued to grow, influencing her work as a performer, and lead her to study psychology at the graduate level.
After completing her Master's Degree in Psychology with a focus on criminal sociopathy, Carmine continued to pursue a career in film. While working with professionals on network television shows and feature films as an actor, Christianna's attention became drawn towards the art of filmmaking. In 2011, she wrote and directed her first short, To Live and Try in LA, shot on 16mm.
Shortly thereafter, Christianna wrote, directed and produced her second short film, Darryl which premiered at the GI Film Festival in 2016 and has had additional screenings at several other film festivals to date, winning awards for Best Female Director and Best International Drama. She is presently in post-production on the short film Solstice Ranch starring The Real O'Neals' Matt Shively, Clipped's Ryan Pinkston, and Marlon star, Essence Atkins. She is also in pre-production on the film About Face, a comedy dealing with race and gender issues, which shoots in July 2017.
Christianna continues to create original content with a focus on socially and culturally relevant themes and subject matter.
---
Opinions expressed in our articles are those of the authors and not of the Film Inquiry magazine.