FLOWERS OF SHANGHAI Criterion Review: A Vibrant Reverie
Since his debut in the early 1980s, Taiwanese filmmaker Hou Hsiao-hsien has made a name for himself as one of the finest of his time, winning the Golden Lion at the 1989 Venice Film Festival for his film A City of Sadness and going on to further direct highly revered works such as The Puppetmaster, Millennium Mambo, and most recently The Assassin, for which he was awarded the Best Director award at Cannes Film Festival in 2015.
His 1998 feature Flowers of Shanghai, which was nominated for the Palme d'Or at that year's edition of the Cannes Film Festival, remains one of his most tantalizing films, a powerhouse of intrigue amongst cascading interior landscapes that are as physically gorgeous as they are texturally rich with vibrant emotion. Starring Tony Leung Chiu-wai, Carina Lau, and Michelle Reis, Hou's striking portrait of decadence and betrayal is one of insurmountable beauty and grandeur, an experience that relies heavily on a unique invocation of atmosphere that both ravishes the soul and transcends it.
As part of their May lineup for 2021, the Criterion Collection has prepared a new edition of Flowers of Shanghai for release. It's a great addition to Criterion's library, but fans of the film may be disappointed by its new presentation, which is a sharp contrast to previously available versions. Inside the clear case packaging, a booklet can be found, as is traditional for Criterion releases. Within the pages is a selection of unique additions, including an essay by film scholar Jean Ma titled "Inside the Dream" and an interview with Hou Hsiao-hsien conducted in 2009 by scholar Michael Berry.
Video: 3.5/5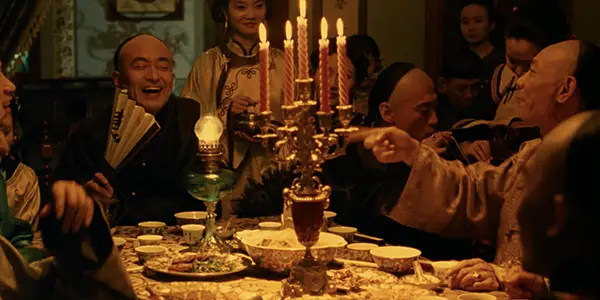 As noted in the booklet's "About the Transfer" section, Flowers of Shanghai is presented here in its original aspect ratio of 1:85:1. The new 4K digital restoration from which this Blu-Ray is sourced was undertaken at L'Immagine Ritrovata in Bologna, Italy, from a 35mm negative by Shochiku, in collaboration with the Shanghai International Film Festival and with funding provided by Jaeger-LeCoultre.
The first thing veteran viewers of Flowers of Shanghai will notice about this new disc is the color grading, which is visibly altered from previous releases. Cinematographer Mark Lee Ping-bing was a color grading consultant for this restoration and there is certainly a lot to like about it, but those positives are outweighed by specific negatives, which aren't completely detrimental to the restoration as a whole, but do somewhat work against its favor. Flowers of Shanghai was shot on film and the restoration was sourced from a 35mm negative, but it's obvious that the work done at L'Immagine Ritrovata resulted in a substantial upheaval of the film's prominent grain structure, which in and of itself is virtually nonexistent in the remaster. As such, the film feels like it's missing a key piece of its composition, and the DNR that was evidently applied often creates an overly smooth and glossy texture that clearly wasn't a part of the original vision.
While the colorwork is undeniably beautiful, it may prove divisive for fans of the film who are used to its past look, which leaned heavily into orange hues, while this new restoration is more dynamic with vivid greens and yellows. It looks good more often than not, but there are instances where the new color applications somewhat "erase" previously visible colors and wash them over with the new hues. This doesn't ruin the viewing experience by any means, but there are points where the new grading is a bit too dominant.
Audio: 4/5
Criterion's edition of Flowers of Shanghai comes with a new 5.1 surround soundtrack, which was created by sound designer Tu Duu-chih from digital audio master files. It's a lovely audio track that exquisitely stabilizes the aura of the film's scenery. Dialogue is clean and precisely mastered, while the music is equally balanced as an eminent force of auditory splendor.
Conversations make up much of the film's atmosphere and the audio does right by them, providing ample breathing room for speech within the vast interiors that occupy much of Flowers of Shanghai's atmosphere. A scene where Tony Leung's character demolishes various objects in a violent rage feels especially heavy (both physically and thematically) and this new remaster absolutely delivers on that emphasis.
Special Features: 3.5/5
In regards to Special Features, Criterion has provided a solid assortment of them on this release, but nothing too huge. Like every Criterion supplement, each is noteworthy in its own right, but I was left a smidge underwhelmed coming off the heels of their recent releases of Fast Times at Ridgemont High, Irma Vep, and Memories of Murder, all of which had extraordinary amounts of extra material. All descriptions below are taken directly from the disc itself.
Tony Rayns: This introduction to Flowers of Shanghai by film scholar Tony Rayns was recorded remotely in London in 2021 for the Criterion Collection.
Hou Hsiao-hsien: The following program is composed of segments from an interview with director Hou Hsiao-hsien recorded in 2015 in Los Angeles for the Academy of Motion Picture Arts and Sciences' Visual History Program Collection, administered by the Academy Oral History Projects department.
Beautified Realism: This documentary by Daniel Raim and Eugene Suen on the making of Flowers of Shanghai features behind-the-scenes footage and interviews with the director of photography Mark Lee Ping-bing, producer and editor Liao Ching-sung, production designer Hwarng Wern-ying, and sound recordist Tu Due-chih. It was created for the Criterion Collection in 2021.
Trailer
Overall Score: 4/5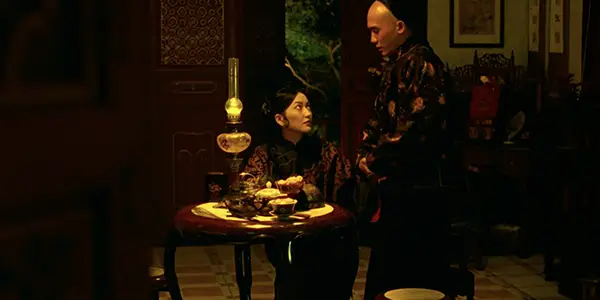 Flowers of Shanghai is irrefutably a challenging watch, but a rewarding one nevertheless. Hou Hsiao-hsien's ability to place definite weight on atmosphere while at the same time balancing effective characterization and tone is staggering.
For those who have been waiting for a film by Hou Hsiao-hsien to enter the Criterion Collection for an extended period of time, the distributor's edition of Flowers of Shanghai is a mostly impressive release, if not a bit lightweight on the supplemental side. The new restoration has its faults but they aren't exceedingly detrimental to any appreciation found in the film by both new and returning viewers. Overall, it's a recommended release, one worth watching and returning to in order to more concisely unpack it.
Flowers of Shanghai will be released on Blu-Ray on May 18, courtesy of Criterion.
Does content like this matter to you?
---
Owen Butler
Born & raised in the Chicagoland area, I've been watching films for as long as I can remember.