"Most People Don't Realise The Growing Extent Of Our Water Crisis": Interview With Orlando Von Einsiedel & Sudha Bhuchar, Director & Star of INTO DUST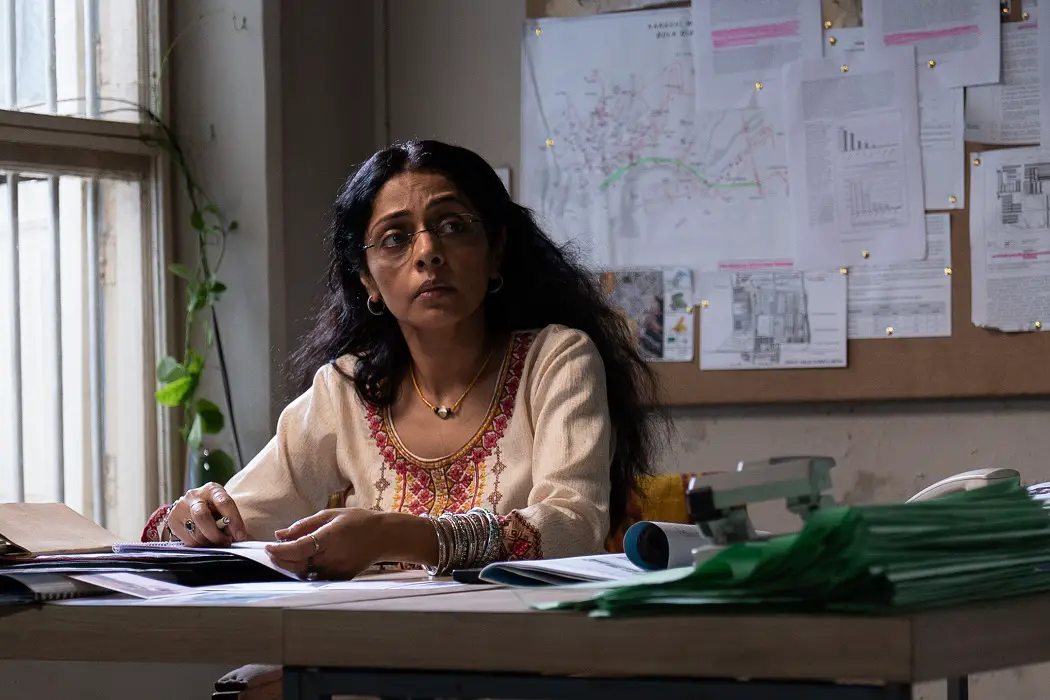 Before the end credits of Into Dust start rolling, viewers are shown an infographic of a world in 2050 in which many of the world's cities will be facing water scarcity. Whilst many of us are privileged to enjoy access to clean water for free, the issue of a global water crisis may not be one we realise we will confront in our lifetime. For citizens in other parts of the world, like Karachi, shortages are already depressingly common.
It was when she realised that H20 was being stolen from tankers by gangs – referred to as the water mafia – that social activist Perween Rehman began her quest for justice, seeking to protect the health of the city's impoverished residents by developing ways to improve sewage treatment systems and accessible sanitation as the director of the Orangi Pilot Project (OPP), an NGO centred in Orangi Town, Karachi, and founded in 1980 by fellow activist Akhtar Hameed Khan.
Following her efforts in impacting the lives of the less fortunate, Perween Rehman's commitment to exposing corruption saw the end of her life when she was murdered in 2013. For Perween's sister Aquila, the road to justice was obstructed by dishonest authorities. It only makes sense that Orlando Von Einsiedel and Sudha Bhuchar, the director and co-leading star of Into Dust, a new docudrama based on Perween's activist life and Aquila's continuation of the OPP's legacy, tell Film Inquiry that they were barely familiar with the story before they began making this short film.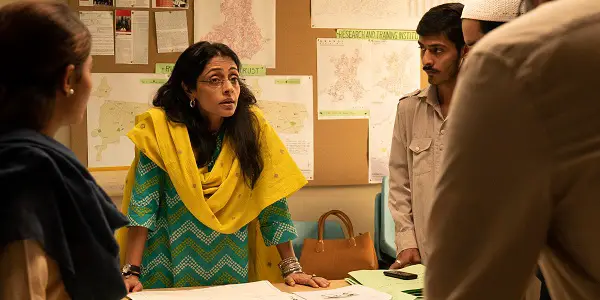 Speaking on the catalyst of this project, Von Einsiedel (Virunga, The White Helmets) says, "I was drawn to the sisters' bravery to fight for the rights of Karachi's most vulnerable citizens despite continuous threats to their lives. I've been fortunate in my career to spend a lot of time sharing stories of people who put themselves at the service of an idea or an ideal that's bigger than themselves. Aquila and Perween's dedication to their work epitomises this idea." Likewise, Bhuchar describes them Perween and Aquila as role models and as "inspiring women who have been so courageous in their persistence to do the right thing."
As personal as it is political, Into Dust has an effective parallel structure of storytelling in which we follow two intertwined narratives: Perween's (Indu Sharma) investigative inquiry into the water shortages of Orangi and Aquila's (Sudha Bhuchar) pursuit for justice and extension of her sister's work. Speaking about working directly with Aquila for the film, the director speaks of his own familial loss, which was reflected in his previous feature Evelyn, an affecting tribute to his late brother.
"I lost a brother far too young in my life. I know what a life-changing event this type of loss can be. It can be hugely destructive for the people left behind, for the siblings left behind. It can also be something which makes you want to change your own life in a positive way. I could see in Aquila's case that it was the latter," says the filmmaker. "She's an exec producer on the project and worked very carefully with us to get the story right. Having her on board propelled the film forward and partnered us with the Grundfos Foundation, who do a lot of work around access to clean water."
For the actress playing Aquila, there was a more traditional process of coming on board. As with her director, it was equally shocking for Bhuchar to learn about the issue at hand. She says, "It never occurred to me that the tankers that some Pakistanis get water from is actually stolen water. The idea that half a city's water is stolen, resold and the people who it's meant to be for aren't seeing water flow through their pipelines for more than 20 days is truly shocking." The bigger implications of this point worry the director, who says, "The growing threat of a world running out of water has left a mark on me. All of us rely on this resource to survive each day. I'll admit that I wasn't that aware of a global water crisis before making this film but now knowing that in the next few decades, five billion people, according to UN reports, will suffer from water scarcity – that's extremely worrying."
Following a successful round of auditions, Bhuchar watched Pakistani filmmaker Mahera Omar's exemplary documentary Perween Rehman: The Rebel Optimist to learn more about the late aid worker and her sister but "There wasn't really the opportunity to meet Aquila until towards the end of the filming. You actually see in the film when we meet." It's true that Into Dust certainly captures the moment of transition from the actress to the real subject as it eventually moves to documentary footage. But for the majority of its 40-minute runtime, it's a dramatisation.
Scripted was new territory for Von Einsiedel but there were some tools he could transfer from his documentary skill set, which is refined enough to have landed him an Oscar (and a separate nomination). "When it came to the research for this project, we very much approached it the same way as for any documentary project. That's doing things slowly, it's doing things collaboratively with the people that the film is about, and making sure we're fact-checking everything and, in this case, very much looking to Aquila and her team at the OPP for guidance as well as Perween Rahman's friends."
Inevitably, the more intimidating part was working with actors for the first time. "I have to say going into it, I found it quite scary and daunting but I was blessed with working with people that were very experienced. They were brilliant actors and they made me feel comfortable and I'd like to think I made them feel comfortable. I learned an enormous amount from them, they were very generous. They knew that I didn't come with huge amounts of experience and I think that helped create an open dialogue on the set to encourage everyone to do their best work."
Certainly, casting Bhuchar in the role of Aquila must have greatly helped. A veteran of both the stage and the screen, the actress is known for her characters across long-running soaps EastEnders and Coronation Street in addition to founding the venerable Tamasha Theatre Company and Bhuchar Boulevard. As daunting as it may have been for a director making his first scripted film, it felt natural for Bhuchar, who could sympathise with the dedication to reality as a writer who creates verbatim theatre.
She says of Von Einsiedel's process, "He brought that documentary sensitivity of wanting to tell something truthfully. It was very important for me to have that language, talking in and out of English and Urdu [as Aquila does] without compromising meaning. It's great that we've been able to maintain that authenticity. I read a lot of stuff that Aquila had written and suggested where I could tweak the script and use her real words. I felt listened to and it was a lovely atmosphere."
She continues, "Orlando had a natural affinity for truthful performances. In a sense, I think documentary makers have a real sensitivity about realism because they can always identify it. He was painstaking about everything looking real and being real. He had a process which was instinctive but also very open for us actors too." Whilst working together on set was wonderful by all accounts, one has to wonder, though, considering the film was shot partly in Karachi but mostly in Mumbai, were there any security concerns for the crew around adapting this tragic story in the vicinity where it was mishandled by local officials?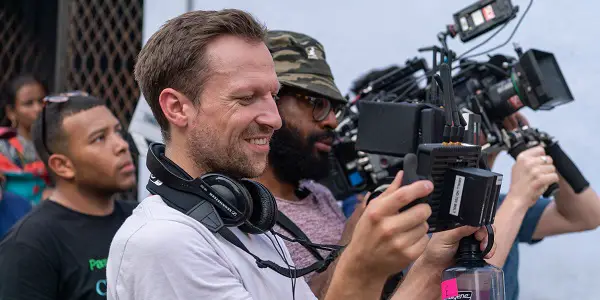 "Originally, the plan was to shoot the entire film in Karachi. We had plans for how we wanted to do it," states the director. "As we started to explore the realities of that, two things happened. Firstly, Aquila has worked with documentary teams in the past. Small, nimble units which could come with a few people and quickly change plans depending on the fluidity of the security situation. With a dramatic project, it's much bigger teams who are on the ground for a longer time."
"Therefore, Aquila, from a security point of view, didn't feel comfortable. Similarly, our own independent assessment of the security situation came to the exact same conclusion. For that reason, we didn't shoot a lot of the film in Karachi. We shot it in India. However, we did film a few scenes in Karachi with a much smaller team including Aquila. When doing that, we followed security protocols to minimize any risks to the crew and, of course, to Aquila and the OPP team."
Into Dust feels like a natural progression for Von Einsiedel's career, whose previous documentaries Virunga and The White Helmets similarly saw passionate activists campaigning for change, taking matters into their own hands to combat social, political and environmental injustices. The power of cinema enables the filmmaker to give these voices a huge public platform – the aforementioned documentaries went out to the world via Netflix and Into Dust will premiere on Prime Video – but what does it mean to him to share their stories?
"The short answer is it's always an incredible privilege to be able to share the stories of people that are doing extraordinary work to change the world. I feel very lucky that I get to do this as a job. With every project, I'm personally changed. When we feel that we're telling a story that we believe passionately in and focusing on the people who the story centers on, it makes me think about my own life and the things I need to change in my own behaviour to make the world better." Films inspire people and the filmmaker speaks of being galvanised to raise awareness of the global water crisis after knowing the sacrifices made by the unsung heroes of Into Dust to improve the quality of life in Pakistan.
Accessibility is key to maximising the film's potential impact. Fortunately, Von Einsiedel's shingle Grain Media has good relationships with the most essential distributors of today – the streamers. "I think what's important for us is to be on a platform which is available globally. Being on Amazon, I can't remember the exact figure, but I think there are almost 180 million people around the world that can watch the film. They'll have an Amazon Prime account so they can watch the film for free and then anyone else can watch it for a very nominal price as well. This film has to be available in as many places as possible because it speaks about a worldwide issue."
Elsewhere, Bhuchar's decades of contributions to the visual arts have inspired more South Asians to share their own stories. For instance, two acclaimed recent films centred on diaspora characters in which she starred in – After Love and Mogul Mowgli – were made by directors of Pakistani heritage, respectively Aleem Khan and Bassam Tariq. With a sobering perspective, Bhuchar explains that there's still work to be done. "You keep hearing about how we're at a moment of unprecedented change but I don't see it happening overnight and especially for people of a certain age like myself. For younger people, maybe there is more access to wider opportunities that weren't there before. But I've often focused on making my own work for myself and the communities I represent."
"I've been working on Tara Arts' Final Farewell, a project based on real people's accounts of the loved ones they lost to COVID. I worked a lot from research and talking to people in verbatim. I get a lot of agency out of telling these stories but I don't feel like overnight you're suddenly going to see Asian women my age at the heart of stories." Another show the multi-hyphenate artist recently wrote and performed is called Evening Conversations, a one-woman monologue inspired by conversations with her son which ran at London's Jermyn Street Theatre. It's in her own shows that the playwright has created strong roles for diaspora performers that otherwise are uncommonly presented in the industry.
Like Von Einsiedel's films, Bhuchar's work also explicitly serves an activist purpose. She wrote monologues for the Theatre of Debate's production COVID and Me, which she says were "very much to do with highlighting the issue of [South Asian] communities not coming forward to take part in vaccine research trials yet being overrepresented in the victims of COVID." As artists, shining a spotlight on issues and putting a human face to them opens up the space for audiences to empathise. She admits there can be a feeling of helplessness sometimes, stating, "I think as an artist you just simply hope that these kinds of stories will open up a conversation and engage debate so people can understand what needs to change."
In the case of Into Dust, there's an impact campaign attached to the film, the details of which can be found on the official website. Elaborating on what he hopes for viewers to take away from the film, Von Einsiedel says, "We want to support Perween's legacy and the work of other community advocates like CARE around the world. We want people to think about water insecurity. In the first instance to recognize that this is a growing problem. People are aware of the climate emergency but, when it comes to water, most people don't realise the growing extent of our global crisis."
"In terms of concrete steps that we'd like people to actually do, on a very simple level, we'd like people to watch and share the film. Go to the film's website and read all information about what they can do. We'd love for people to donate to the Orangi Pilot Project, Perween, and Aquila's organization. This is a decades-old NGO. In fact, it's one of the world's most successful community-owned, community-managed low-cost infrastructure programs. They do extraordinary, life-changing work."
"We'd also like people to take individual action. Obviously, this will differ depending on where they are, but the first thing is understanding what the water situation is in their own community and then what they can do to possibly better it, whether that's changing personal behavior or writing to government representatives about this issue. Frankly, we need people to educate themselves about water as a whole."
Film Inquiry thanks Orlando Von Einsiedel and Sudha Bhuchar for taking the time to speak with us.
Into Dust will premiere globally on Amazon Prime Video on August 24th, 2021.
For more information on the film and how to support the Orangi Pilot Project, visit the film's official website here.
For more information on Sudha Bhuchar's ongoing work in theatre, visit Bhuchar Boulevard's website.
For more information on the films made by Grain Media, visit their website here.
Does content like this matter to you?
---
Become a Member and support film journalism. Unlock access to all of Film Inquiry`s great articles. Join a community of like-minded readers who are passionate about cinema - get access to our private members Network, give back to independent filmmakers, and more.
Musanna Ahmed
Musanna Ahmed is a freelance film critic writing for Film Inquiry, The Movie Waffler and The Upcoming. His taste in film knows no boundaries.