THE OTHER SIDE OF HOPE: An Arthouse Immigration Drama That's All Style, No Substance
Kaurismaki's latest, The Other Side Of Hope, an intriguing take on the immigration crisis, keeps its important subject at arm's length.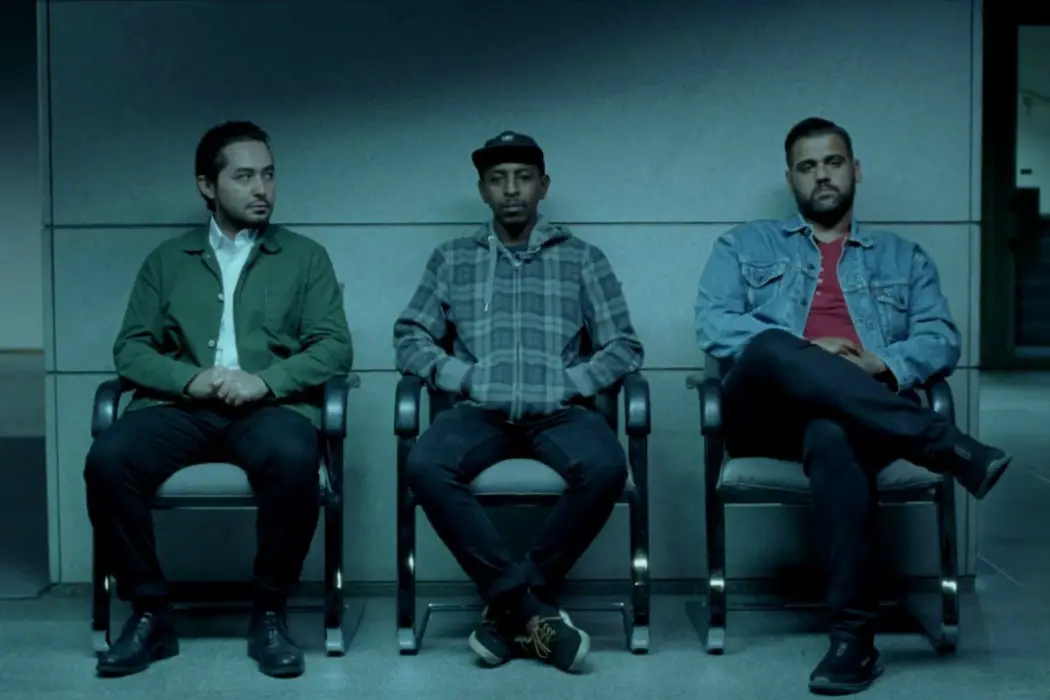 The Syrian refugee crisis is one of the most harrowing news stories of modern times, a disaster of human proportions that can easily be transformed into a moving character study.  Finnish director Aki Kaurismäki definitely believes so, as his latest film The Other Side of Hope is his second film in a row (and the second of a planned trilogy, no less) aiming to come to terms with the heart wrenching effects of immigration: in this case, dealing with the Syrian crisis head on.
Having a director who is famed for his dry, deadpan and frequently surrealist humour, tackle bleak subject matter like immigration is a masterstroke, on paper. It can potentially ask the audience to look past their own views on immigration to focus on the universal humanity of the characters, without relying on an overbearing, emotionally manipulative approach.
Deadpan Hyper-Realism
In its best moments, The Other Side of Hope offers a window into the lives of characters struggling to integrate in to a society that wants to keep them on the margins; looking for work and companionship, only to be treated with indifference and racial abuse. However, Kaurismäki's trademark style frequently gets in the way of offering anything more than a fleeting rush of empathy – his films usually take place in a detached hyper-reality. However, when dealing with more important subject matter, it feels more pronounced, distracting from the humanism by offering something that feels deliberately detached from, for example, the bureaucratic struggle the main character is going through.
Our protagonist is Khaled (Sherwan Haji), a Syrian refugee who ended up in Finland by mistake – he originally intended to emigrate to Poland, but racial abuse at the harbour port led him to stow away on the nearest ship as fast as possible. Upon arriving in Helsinki, he heads straight to a police station to apply for asylum, where he befriends a fellow Middle Eastern expat and aims to raise enough money to help his sister flee from Syria. Regardless of whether the authorities permit him to stay in Finland. Meanwhile, failing businessman Wikström (Sakari Kuosmanen) splits up with his wife and dedicates his life to playing poker, eventually buying a restaurant with the winnings. Here, he crosses paths with Khaled, who he swiftly hires – despite Khaled being ordered back to Syria.
Offbeat Humanism or Emotionally Detached?
There are numerous issues with The Other Side of Hope that haven't been addressed, in part because of the now familiar style of the director. Any flaws that have been called to attention have been attributed to his calculated, emotionless style – an aesthetic choice that, in earlier works in his filmography, acted as an accurate reflection of the lack of hope deeply engrained in the characters. Here, it acts as an artificial tool to keep the characters at arms length.
No matter how serious their struggles, be it dealing with judicial courts who are seeking to deport, or encounters with knife wielding racist gangs, they are dealt with nothing more than a shrug. Using the same deadpan manner that frequently makes it difficult to ascertain what is intended as a joke and what is designed to be harrowing. As a Brit, deadpan humour is my forte, but it turns out we have nothing on the Finnish when it comes to droll comedy – everything here is played so straight, the supposed comical moments seldom seem farcial and barely elicit a chuckle even at their most ridiculous.
However, you could make the argument that Kaurismäki's hyper realist style has been exaggerated here to put the audience in the shoes of a Middle Eastern immigrant arriving in the Western world for the first time. Sherwan Haji's performance is key to this reading; defined by its restraint, frequently reacting passively to the overwhelmingly strange society Khaled has fallen in to. Even if the tone of The Other Side of Hope isn't calibrated to the needs of the subject matter, Haji's performance is. Successfully delivering a deadpan performance (a necessity in a Kaurismäki film), while embedding it with genuine humanism, instead of merely opting for a series of quirks.
Strip away a quietly commanding lead performance, and the film's remains are pure artifice. The result is a film beautiful to look at, due to subtly transforming dull suburban reality into a borderline dream fantasia. Where every drab street corner feels like it could be home to a rockabilly guitarist ready to soundtrack your woes (another offbeat stylistic tic present in numerous Kaurismäki films). But, as a narrative work, it comes up sorely lacking, relying on the director's previously established aesthetic choices to make a film that doesn't prove satisfying to audiences outside of his fanbase.
The Other Side of Hope: Conclusion
It's not that the film is inaccessible because of this aesthetic – in fact, it is arguably the most crowd pleasing and least pessimistic of Kaurismäki's works, even if it doesn't necessarily possess a newfound sunny disposition. It just doesn't care to explore the refugee crisis that gives the film a contemporary relevance, nor does it care to examine these characters at a deeper rate than the bare bones narrative allows them to be explored. Instead, it's a quirky arthouse curio that frequently feels cold due to its style, never allowing the heart of its characters to truly flourish.
What are the best films about immigration?
The Other Side of Hope is on DVD/Blu-Ray in the UK now, but is awaiting a US release date. All international release dates are here. 
---
Opinions expressed in our articles are those of the authors and not of the Film Inquiry magazine.