ONLY LOVERS LEFT ALIVE: A Vampire's Melancholic Observation of Humanity
Last weekend I attended a screening of Jim Jarmusch's latest production, Only Lovers Left Alive, at the Luna Leederville Cinema here in Perth (which, by the way, is a beautiful original 20's art deco cinema). While I've only seen two of Jim Jarmusch's movies (Coffee and Cigarettes and Dead Man), Only Lovers Left Alive has Jarmusch's distinctly recognizable style: it's dark, pretty, it's gritty, and very witty (how's that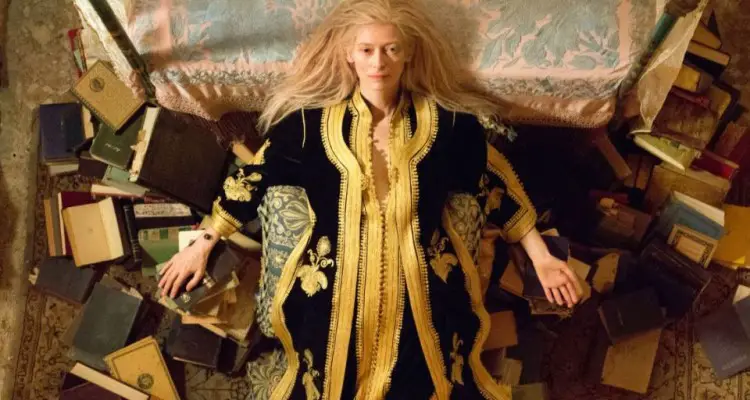 Last weekend I attended a screening of Jim Jarmusch's latest production, Only Lovers Left Alive, at the Luna Leederville Cinema here in Perth (which, by the way, is a beautiful original 20's art deco cinema). While I've only seen two of Jim Jarmusch's movies (Coffee and Cigarettes and Dead Man), Only Lovers Left Alive has Jarmusch's distinctly recognizable style: it's dark, pretty, it's gritty, and very witty (how's that for rhyming?).
Only Lovers Left Alive is an observation of the lonely lives of two vampires who have been together for centuries. Their lives are remarkably similar mundane, despite the fact they live at night and feed on blood. The movie features Tilda Swinton as Eve and Tom Hiddleston as Adam (and that pun was definitely intended).
Adam and Eve, Glamorous Vampires
Adam is a cynical, melancholic, reclusive musician. He sticks to 60's technology because he believes it's better quality and frequently laments the modern world and modern humanity, convinced they're doomed. He lives in Detroit, which perfectly suits his melancholy. Eve lives in Tangier – we're never told why. She's a huge contrast to the Middle East: she's always dressed in whites, has white hair and walks through town sashaying in a purely, unabashed feminine way. They have lived an unknown part of their lives apart until Eve videocalls Adam with her iPhone (and he picks up with the interesting 60s webcam/TV installation he built). They reunite when Eve decides to fly to Detroit to put a stop to Adam's suicidal plans.
Both are old, but we're never told how old they are. Jarmusch saw no point in mentioning it, as they would already know of each other how old they are, which makes sense. More writers should take note of this – we're too often fed background information when it makes no sense for a character to mention it. Furthermore, at first, I wasn't sure in which era the film was set, it became clear only when Eve took out her iPhone to call Adam. However, in their eternal lives, the date and chronology doesn't and shouldn't matter in the sense it does to us, which I thought was a brilliant touch.
Together, Adam and Eve live a calm and mundane life, sipping from their tiny glasses of blood, driving through desolate Detroit and playing the occasional game of chess. They live from one feed to the next, arranging for "pure" blood through hospitals and pharmacies, because in the modern world, our blood is contaminated. Our blood has deteriorated to the level where they cannot drink it without falling sick or even dying. While Adam, in his melancholy, calls us humans "zombies" and is convinced all is doomed, Eve displays a special appreciation of the world, often exclaiming the latin name of a plant or creature when she spots it.
Jarmusch apparently has little faith in humanity – his portrayal of us through Adam's eyes in particular is highly cynical. We're plagues, we're sickening and we're doomed. Not a happy picture, and it must be rough to live with for other creatures, which I think is exactly the point he tried to get across.
Jarmusch's Unconventionality
Swinton and Hiddleston are absolutely great together, she in her unconventionally pretty looks, he in his more conventionally pretty looks. They are each other's black and white, yin and yang – which is very clear from the way they dress and how they occasionally lie entangled in bed. They had a true on-screen spark and I applaud Jarmusch for his daring choice of pairing them together.
The humor in this film is both unexpected and darkly witty. It's subtle and often takes you by surprise; sometimes I even had the idea certain scenes were funny by accident, which undoubtedly wasn't the case (as Jarmusch is too smart a writer for that). Furthermore, Only Lovers Left Alive is beautifully shot – the setting is dark (not in the least because we don't see a ray of sunshine throughout the movie), the shots are highly saturated and occasionally remind of Darren Aronofsky's cinematographic style – unusual and very pretty. The costumes are great, the wigs, sunglasses and gloves were great touches, and the sets too were gorgeous, Adam's house being a giant museum of musical history.
Finally, I'd like to mention the music, which in the movie is Adam's, but in reality is Jarmusch's, or really, his band SQÜRL's.  The soundtrack for Only Lovers Left Alive matches the atmosphere perfectly, its slow, feedback-laced guitar soundtrack befitting Adam's melancholy and their slow lifestyle. It deepened the sense of timelessness, and when they are in Tangier, is interwoven with Middle Eastern music, but still true to the rest of the soundtrack. The music is part of what makes this movie so brilliant.
A Brave Choice to Remove Action Sequences
This movie was great, and there's very little I can think of that was bad – except the movie's pacing. During hour two of the movie I felt like the movie was infinite – that the end would never come. While before the editing stages the movie did contain some action, when Jarmusch was asked to increase the amount of action, he simply removed it all. While it befits the movie's atmosphere, I think it hurt the overall flow of the movie.
Perhaps this is just proof that I've become one of those 21st century folks that only has the attention span of one explosion to another, spoiled by the action-infused blockbusters, and I've just become desensitized to the power of timelessness in film. I can appreciate it but I can't help but be just a tad bored by it, especially when it starts to feel like it's dragging on forever.
A Piece of Cinematic Art
All in all, Only Lovers Left Alive is a piece of art, with both the most glamorous and mundane vampires I've ever seen. They're captivating and enthralling and they'll stick with you.Despite its slow pace, however, I did still greatly enjoy the movie, and to date this movie is getting the highest rating I've ever given a movie on FilmInquiry, because it's simply irresistible in its beauty. For all intents and purposes, Only Lovers Left Alive is a reevaluation of the vampire sub-genre. However, it's hard to categorize – it can hardly be placed in the horror genre as there are no horror elements present, but it's not a comedy, either, because the comedic content is too subtle. It's a different movie in many ways.
The movie is highly unconventional and I commend Jarmusch for his courage to create a movie that's this different, in this fast-moving era.  If you don't enjoy a slower movie that observes life and humanity with considerable wit and melancholy, this isn't the movie for you. However, if that does appeal to you, and you don't mind a non-blockbuster movie, you may just love this. I sure did, and I'm already looking forward to seeing it again and discover even more if its subtleties.
Does Only Lovers Left Alive sound appealing to you? If you've already seen the movie, do you agree with me, or not?
Please share this article with your family, (imaginary) friends and other humans! We would be ever so thankful.
---
Opinions expressed in our articles are those of the authors and not of the Film Inquiry magazine.