SANCTUARY: How A Small Film Affected A Big Change In Irish Disability Law
What Sanctuary shows is that a film can come from humble beginnings and a small budget but can have a big outcome on society. It also shows that film should and can be ready to show more diverse stories from the people who have experienced it and who still experience it.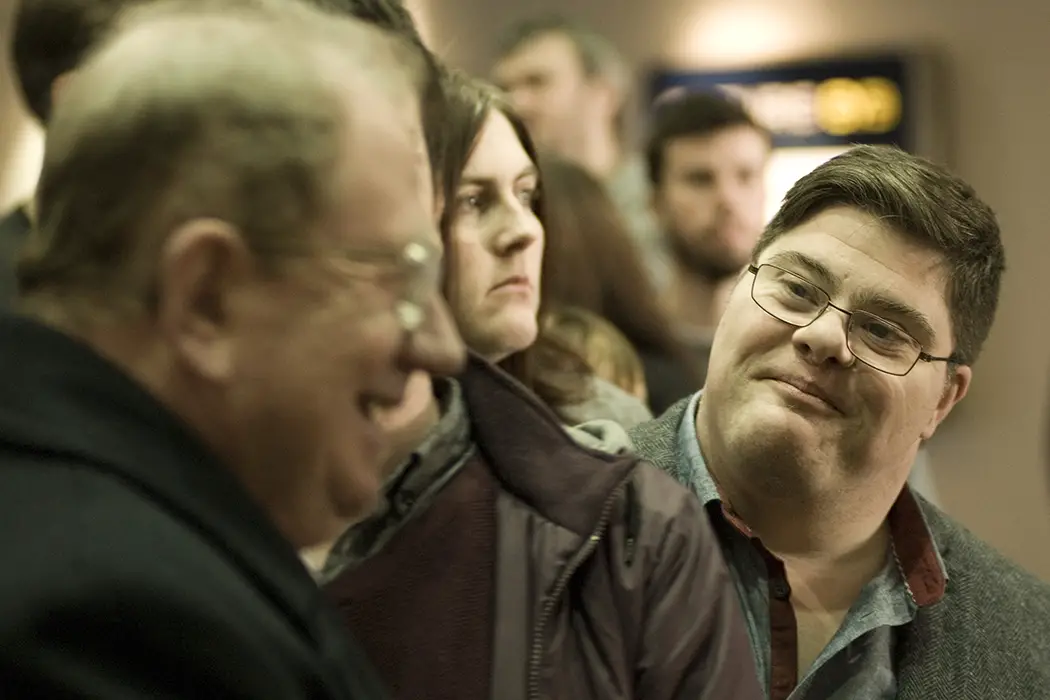 Cinema appears to be on the brink of a well overdue reformation, a reflection of society and a time where people are becoming more 'woke'. Those who have been marginalised behind and in front of the camera have come into the consciousness and proved that they can hold their own and produce stories that engage and inspire audiences.
Into this cinematic landscape shift comes Sanctuary, a small Irish film that features a cast mostly composed of actors with intellectual disabilities and which has a lot to say about the attitudes and perceptions surrounding them. It also gives the audience a view into a world we do not often see and opens our eyes to a law most of us were not even aware of.
A day trip of miscommunications and misadventures  
Sanctuary begins by introducing us to Larry (Kieran Coppinger) a young man with Down's syndrome who lives at home and Sophie (Charlene Kelly) a young woman with epilepsy and tremors who lives in an assisted care home. The pair are part of a group of intellectually disabled individuals who attend a care centre, and who are all going on a day trip to the cinema in Galway, Ireland with their softhearted care worker Tom (Robert Doherty). However, Larry and Sophie have their own agenda, and as soon as the group are seated in the cinema, they begin their plan for some time alone together in a nearby hotel, aided by Tom and the contents of Larry's piggy bank.
Tom's best intention of treating them as individuals, however, leads to the threat of repercussions, as the couple would be in breach of Section 5 of the Criminal Law (Sexual Offences) Act, 1993. This prohibits sexual relations between people with developmental disabilities unless they are married; something Tom only comes to realise is part of their plan once they are at the hotel. Whilst he is dealing with this situation, Tom's absence from the cinema causes the group to become fractured and wander off on their own adventures, causing comedic chaos as he tries to get everyone back together before their bus returns to take them back to the care centre.
Striking the right balance         
Director Len Collin's first feature is based on a 2012 play by Christian O'Reilly and performed by the Blue Teapot Theatre Company (who also play the characters in the film), and you can feel the warmth and compassion on the screen that has been produced by this collaboration. Sanctuary is a film full of humour that is balanced beautifully; it never veers into slapstick or feels manipulated but rather genuine and honest, performed by a wonderful cast.
As Larry and Sophie embark on their illegal tryst, two of the group remain in the cinema and engage in an amusing courtship of their own, while the likely lads of the group end up in an Irish pub, swapping Liam Neeson quotes and taking little jovial swipes at each other. In fact, each character gets their moment to shine and brings a new dimension to the film; it feels like a true ensemble piece showcasing personalities beyond disabilities.
Collin's direction and O'Reilly's script blends comedy and pathos subtly but effectively, keeping the comedy moments afloat while peppering the scenes with unsentimental honesty, particularly those involving Larry and Sophie. It shows the stigma surrounding intellectual disability and how we see them as children, (one character on hearing about Larry and Sophie's plan remarks 'I thought they just liked hugs'), but they crave intimacy and love just like anyone else. This is captured by the charming, naturalistic performances by Coppinger and Kelly; their tentative romance is one you will be rooting for.        
A passion project citing change in the system
Since Sanctuary's release and prominence on the Irish film festival circuit, the film has helped change the law so that it is no longer illegal for an unmarried couple with intellectual disabilities to be intimate.  What film can do is take a situation, in this case a law that affects two people in love and, although the characters are fictitious, it shows the humans affected by it and brings it into the public consciousness. It allows us to be educated to something we had not considered, with Sanctuary shining a light on a subject that we would not have been aware of.
Though instrumental in a law change, the film has had a limited release, particularly in the UK with only a handful of screenings at Independent cinemas. One of the cinemas that championed Sanctuary is the Hebden Bridge Picture House in West Yorkshire, where director Len Collin was in attendance for its screening and who also took part in a Q&A session after the screening. Below is a transcript of some of the discussion that took place after the film, which gives a further insight into how the film was developed and its effect on the laws around disability.
Len, to contextualise the film, can you explain the position that the film was in, due to the law that was in force in Ireland at the time?
Len Collin: Section 5 of the criminal law act 1993 prohibited two people with Intellectual disabilities (referred to as learning disabilities in the UK) to be alone like they are in the film if they were unmarried. If the carer had arranged for them to be alone, the people concerned would be arrested and could face jail time. It was a law brought in 1993 after a case where a disabled person was abused by staff and became pregnant.
Though this case would fall under the act of rape, which there is already a law against, the Irish government brought in this new law. However, it curbed human rights as we are all entitled to intimacy. I was working for the Blue Teapot Theatre Company when I saw the play in 2012 and I wasn't aware of the law, but when I saw the play, I just thought it had to be a film. When we made Sanctuary and won the award for best first feature at the Galway Film Festival, the film began to start getting recognition and by February the following year the law had changed, so what happened in the film was no longer illegal.
Can you talk us through any challenges you had getting fundraising?
Len Collin: Funding was always going to be a challenge, but we were lucky in so far as the Irish Film Board ran a scheme called Catalyst, a low budget filmmaking scheme in 2013/2014. We filmed a scene on a DSL camera and a mic, as if it were a class (at the Blue Teapot) and got shortlisted from 100 projects on the scheme where there would be three films made for €350,000 each. We went to the interview and they said 'You have done a great job but we think you need more money' which was the best kiss off for a filmmaker.
Because we didn't achieve the budget through the scheme, we applied to the BAI (Broadcasting Authority Ireland) who gave us €350,000 and the Irish Film Board who gave us close to €300,000 and then through Section 481 funding and RTE, it boosted it to about €750,000 which doesn't sound it but is cheap for a film.
Did the cast bring any of their own experience to the script?
Len Collin: A lot of what's in there is true, shall we say. We worked very closely with the cast; the stories came from them, some from experience, and some from suggestion. A lot of their reference points are from popular television. I wanted to make sure everything they said and did in the film, they understood the consequences of. For us it was very important that they themselves were an integral part of the whole thing and they genuinely were and genuinely are.
How closely does the film stick to the original play?
Len Collin: We went through many drafts, as the first half of the play was set in the cinema and the second half was set in the hotel room, where everyone piles in at the end. The advantages of film meant that everyone got a story. The ending of the play was more upbeat but that wasn't going to work with the reality of the camera lens.
The law may have changed but do you feel the attitude barriers are still as strong?
Len Collin: That's a good point and I think the evidence of that is our limited release and we are grateful to places such as the Picture House who have allowed it to be shown in wonderful cinemas like this. The big chains won't go near us; it seems they don't want a film about disability unless it is played by Eddie Redmayne. There is a long way to go to attitude changes, in fact when the film played in Sydney, a woman came up to me sobbing and saying 'I didn't know, I had no idea'.
I calmed her down and said 'Why would you?' We don't get this on our TV; we don't get this on our cinema screens or at least not enough. What's good about this film is when people do see it, it does change people's minds and attitudes and I often say, if you don't think this film is for you, you are wrong, it's for everyone'.
Conclusion: Sanctuary
What Sanctuary shows is that a film can come from humble beginnings and a small budget but can have a big outcome on society. It also shows that film should and can be ready to show more diverse stories from the people who have experienced it and who still experience it.
The hope is that the film will continue to be seen by more people, to reach a wider audience and affect more change in the laws to those whose lives it impacts and the dictation it can impose upon them.
Do you agree that film has the power to change attitudes and perceptions? Which films have made you feel differently about an issue or opened your eyes to something you didn't know about?
Sanctuary had a limited release in Ireland in July 2017 and in the UK in December 2017. For more information about the film, check here.
---
Opinions expressed in our articles are those of the authors and not of the Film Inquiry magazine.