Sundance London, Day One: A Critic's Diary
Film Inquiry writer Alistair Ryder shares his experiences of his first day at Sundance London, and the four films he was able to see.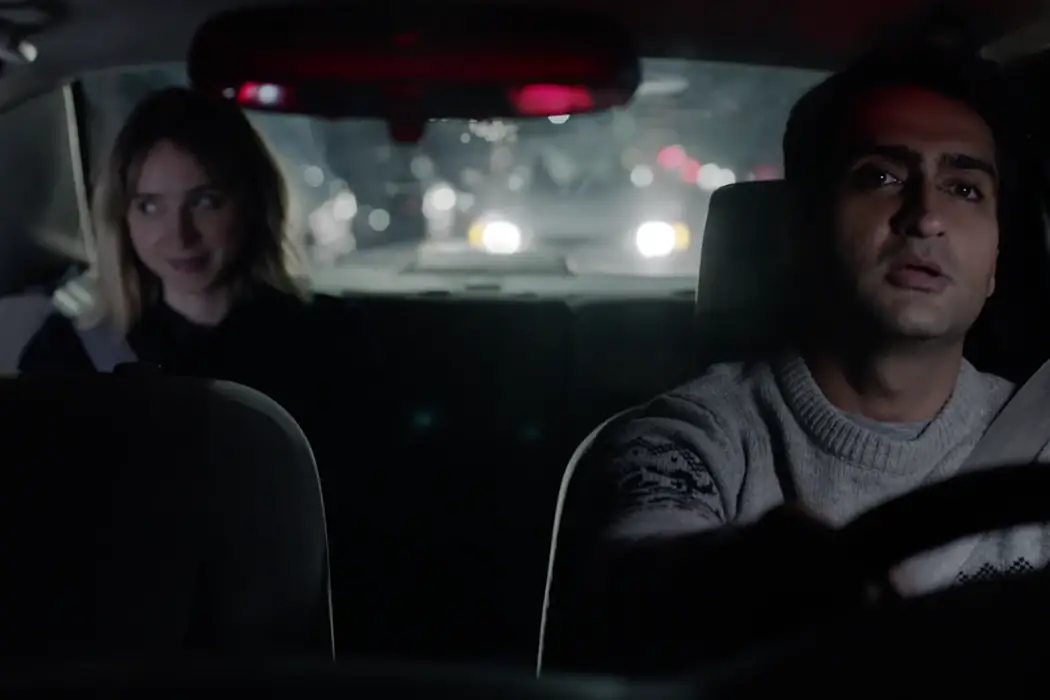 Moving across the Atlantic from the midwestern heights of Park City to the urban glamour of London's West End, the Sundance London festival has once again returned for another showcase of the year's best independent films in England's capital city. This latest handpicked selection aims to show the very best of the best that premiered at the Sundance Festival earlier this year, in only a fraction of the time. If I were to sample every film screening for critics over the next two days, I would be submerged into a banquet of fifteen eclectic films, ranging from impressionistic documentaries to romantic comedies and everything in-between.
I don't have that much stamina to spend the best part of two days hiding in the darkness, only surfacing to pick up complimentary pastries and caffeine from the critic's bar. However, I have tried to check out as much as possible – here's what I've seen on day one.
Dina
After a long bank holiday weekend, the Sundance  London organisers made a wise decision to begin their series of screenings with a gentle documentary to ease us into the days ahead. At first, Dina appears to be nothing more than a charming character study of a couple with learning disabilities; 48 year old Dina, a woman with Asperger's syndrome in Pennsylvania, is preparing to marry her autistic fiancee Scott, after a surprising proposal the previous summer at a Red Robin, of all places.
Initially starting as a charming portrayal of American eccentrics in the vein of Grey Gardens, with a dose of Woody Allen-esque humour riddled by anxiety and neuroses, the film eventually grows more depth as it soon explores a topic rarely discussed in society – the sex life of a learning disabled couple. Although the frank discussions surrounding specific fetishes are initially addressed in a manner so nonchalant it borders on the comical (casually watching an episode of Sex and the City soon transforms into a discussion about foot fetishism), directors Antonio Santini and Dan Sickles quickly realise that this should be the focal point.
Dina and Scott both have conditions that lie on the autistic spectrum, but the differences lead to a different approach to sexuality. Dina is outgoing and has continuously tried to prompt Scott into finally consummating their relationship, eventually driving her to the brink of despair as he doesn't appear to be able to connect with her physically. The movie for the most part addresses this dilemma in an uncynical manner, as both parties open their heart about both their desires and fears when it comes to intimacy. It adds depth to the relationship, as you can't help but want the couple to overcome the obstacles between them.
However, during the final fifteen minutes, events take such a drastic left turn that I felt physically wounded watching them unfold. A pivotal event, which I will not disclose, takes place off screen and seemingly out of the blue, appearing to end the film on a bum note literally seconds after a moving declaration of love. Of course, the documentary couldn't exist without this knowledge being included, as it is integral to the story of this troubled relationship – but being ushered in without a moment's notice, before a sunny epilogue that instantly forgets the bombshell revelation we've just been told, feels like a deeply problematic filmmaking decision.
For a genre that relies on pure truth, here facts have been disclosed in a manner designed to emotionally manipulate. It makes the emotional complexities of the film even harder to navigate – and also, significantly less easy to recommend as a result. Due to everything that came before this climax, it is still the strongest of the films screened on this first day.
Walking Out
After the unexpected gut punch that triggered the end of Dina, a lighthearted romp was needed immediately afterwards. That did not materialise with Walking Out, a bleak survival drama that has proved instantly forgettable, sandwiched in-between two more memorable films with way more to reflect upon after viewing. The film's central theme is that of learning to "be a man", as a father/son hunting trip goes mightily wrong, leaving the pair fighting for survival in an unforgiving landscape.
Despite a synopsis that sounds like a B-movie for the post-Revenant world, the film suffers from the same fatal flaw that made Alejandro González Iñárritu's film such a dull slog – it takes itself way too seriously, despite not developing characters who are more than mere stereotypes for different male ideals. Directors Alex Smith and Andrew J. Smith do manage to help create a brutal, evocative landscape. The only issue is, that like The Revenant, it is easy to become more engrossed in the visual surroundings than the story happening in the foreground, despite some pretty fun, yet all too brief, moments of brutality.
Walking Out is a textbook "boy learning to become a man" movie, that attempts to make its tropes feel fresh by presenting them as self seriously as possible – which it never feels like they are close to pulling off. It is also painfully obvious that this is an adaptation of a short story – the inclusion of some Bill Pulman-starring flashbacks add nothing but padding to the already meagre running time.
The Big Sick
Then, the most high profile film playing on the first day of my screening marathon, the Judd Apatow produced dramedy The Big Sick, which is shaping up to be one of the most critically acclaimed comedies of the year. This is somewhat surprising, considering how it never veers from the textbook Apatow comedy template, despite the fact he is only named as a producer in this project.
Director Michael Showalter capably adapts Kumail Nanjiani and Emily Gordon's autobiographical screenplay as to how their relationship began – a true life story that lends itself perfectly to the screen, due to how it innately subverts romcom conventions, all the while building up to a beautifully lovelorn climax that made me briefly overlook the film's flaws.
The interesting thing about The Big Sick is how it is the opposite of other drama-comedies from the seemingly endless Apatow stable. In those films, the lapses into sincere sentimentality felt cloying and completely at odds with the joyous infantile humour. In The Big Sick, the laughs are surprisingly the least interesting element; as the film acts as a "Kumail and Emily" origin story of sorts, many of the gags in the first half hour feel like watered down versions of Nanjiani's old stand-up routines.
This isn't to say the film is badly written, as the screenplay feels emotionally honest – and the device of having Emily in a coma for the majority of the film lends a refreshing twist on the romcom formula. It's rare for a romcom to sideline one half of the central couple – and its even rarer that this deviation from the initial plot actually helps the film kick fully into gear.
More time in the film is spent with Kumail forming a relationship with Emily's parents, played with utter charm by Holly Hunter and a surprisingly brilliant Ray Romano. More so than overcoming the cultural differences with his own family, with an arranged marriage subplot that feels oddly outdated in its conception despite still being a prevalent practice, trying to form a meaningful relationship with the parents of a woman he just broke up with rings true.
It sounds like a hokey screenwriting conception in order to bring mismatched characters together – but instead, it generates the most emotionally honest moments in the movie, as well as setting up some of the funniest gags too, including a 9/11 one-liner worth the price of admission.
I left The Big Sick feeling charmed, even though I could probably count the amount of times I laughed on one hand. It may be the best romcom of the year due to having an autobiographical truth as opposed to dewy eyed romanticism, but I hope there are comedies that make me laugh harder than this in the months to come.
Crown Heights
The Big Sick could be detrimentally described as a typical Sundance movie due to its crowd pleasing, feel good formula (which is nothing to be sneered at if the result is as joyous as Showalter's film), but the term "Sundance movie" doesn't really have a concrete definition. If the festival was set up to give voices to those previously unheard in cinema, films as varied as Dina and The Big Sick can both be wholeheartedly described as "Sundance movies"- and so can Crown Heights, the second of two Amazon Studios offerings screened on my first day.
Picking up the audience award back in Park City earlier this year, Crown Heights is a biopic of the real life injustice of Colin Warner, a Brooklyn man wrongly imprisoned for 21 years for a murder he didn't commit. Despite spanning two decades, the film is a whisker under 90 minutes long, and it's a rare example of a film that would work better if it were longer. Writer/Director Matt Ruskin never lets the audience get a sense of the characters outside the mechanics of the injustice they are currently suffering through, which he often skims over as fast as possible like he's trying to race to get to the end credits.
He pulls out every trick in the book to get the audience angry at the justice system, including a very hackneyed attempt to differentiate between different time periods by including Reagan, Bush and Clinton all waxing lyrical about their condemnations of crime. In all actuality, the film would have succeeded if he actually spent more time building his characters up to more than bare bones representations of real life figures.
This is no fault of the cast, who all do their best with the material. Keith Stanfield plays the lead role with an increased sense of anguish, while Nnamdi Asomugha actually gives the film its only dose of nuance as Carl King, Warner's best friend who spends two decades searching for justice.
But there's only so much they can do with material this thin; a film that rushes through character development and a decades-spanning narrative for no discernible reason. I can easily imagine Ava DuVernay making an angry epic out of this material, which like her documentary 13th, would be a perfect illustration of the flaws in America's justice system. Instead, we have Ruskin's film, which fails to fully communicate the enormity of this case and the countless others like it.
This may sound cynical, but I highly suspect the only reason this picked up the audience award was due to Sundance coinciding with Trump's inauguration, and that this was merely the most #Woke film on the lineup. Like Birth of a Nation and the "#OscarsSoWhite" scandal in 2016, choosing a film that coincides with anger at news events seems to have overshadowed choosing a film worthy of being called the best of the fest.
Stay tuned for coverage of my second day at Sundance London! What are your most anticipated films of the fest?
---
Opinions expressed in our articles are those of the authors and not of the Film Inquiry magazine.