SXSW Film Festival 2023: PEAK SEASON: A Lost In Translation Tale In Jackson Hole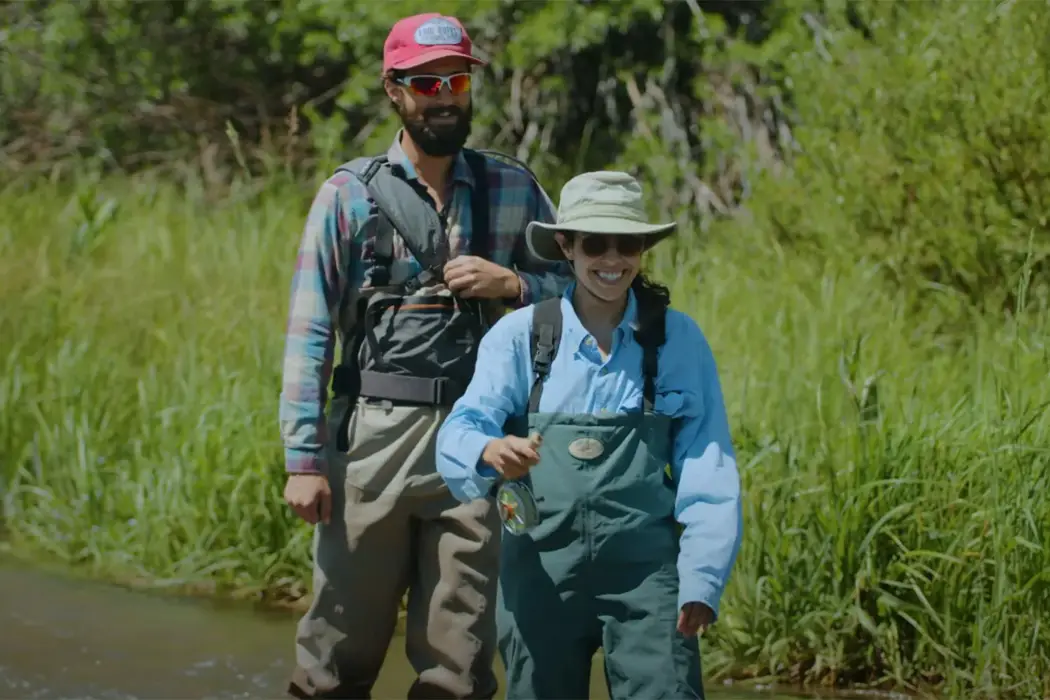 I was drawn to Peak Season because it was set in Jackson Hole, Wyoming. I remember spending a summer day there about a decade ago en route to another destination. It's the kind of locale that leaves an indelible impression. I'm sure I'm not the only one who's had its character emblazoned on my mind's eye after only one day.
However, I came to realize it's people like me who come to epitomize "Peak Season." We are drawn in by the antler arches, the resplendence of the Tetons, and what we see as the rusticness of the place. But for a whole section of society, this is their home and surely they have a far different view of Jackson than we do. It's not a stop on the road to somewhere else. This is their place and their livelihood. It's the kind of place that starts teasing out your priorities and potentially your insecurities in life. Especially with the cost of living continuing to rise.
In Henry Loevner and Steven Kanter's sophomore effort Peak Season, Loren (Derrick Joseph DeBlasis) is a bearded 30-something who lives out of his car with his dog Dorothy. To the outside observer, he almost feels homeless, but like Fern in Nomadland, Loren seems to gain exhilarating freedom in this lifestyle. He's mostly self-sufficient working odd jobs and also subjecting himself to teaching fly-fishing. His clients are always wealthy out-of-towners, who have all the toys and all the lingo and none of the grace it takes to be any good.
Enter Amy and Max
Amy (Claudia Restrepo) and Max (Ben Coleman) are also part of this yuppie world perhaps best signified by their selfie in front of the aforementioned antlers. She wants to enjoy and take advantage of what the Tetons and the adjoining spaces have to offer, but you get a sense all the other travelers want their insulated New York lifestyles with the semblance of being in nature. It's about the utility of living the fantasy for a few days, getting away for tax purposes, or maybe supplying some stellar Instagram posts to reassure the friends back home you're living your best life.
With our primary players in place, it becomes obvious from the outset we are dealing with A Lost in Translation narrative. Although we've transplanted from Tokyo to Jackson Hole, there are some of the same recognizable beats.
Amy and Max have a classic disconnect. Part of us wonders why they are together. However, the primary difference between Scarlett Johansson and Giovanni Ribisi's relationship and these two is that Amy and Max are not married yet. They meet up with some family friends (Stephanie Courtney and Fred Melamed), a pair of snowbirds, who pick up and go to Jackson every year for the genuine lifestyle (and also the tax perks).
Max gushes about how he's trying to pull some strings since he knows someone related to Dave Matthews. Imagine "Ants Marching" for the wedding — it's like a kind of bragging right to hold up in front of work friends for perpetuity. It has nothing to do with personal sentimentality. This is only something Amy seems to care about.
While Max is self-assured about most things — though his work life is a hectic grind — Amy is in the midst of reevaluating everything. There are wedding venues and registries to finalize, and she recently decided to step away from a lucrative job at Deloitte. There's a sense she's looking for something or someone to fill the void.
They run into a foil — an Anna Faris character — this time Caroline Kwan plays an extroverted childhood friend of Max. They go way back, and there's some sense of romantic chemistry there. Just enough to make it slightly awkward for Amy.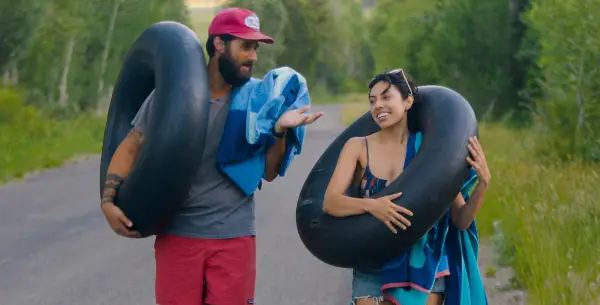 Since Max has work responsibilities, Amy goes off alone and gets her own personal fly-fishing experience. She strikes up an easy friendship with Loren because he is authentic and there is something about his lifestyle that appeals to her. She can do activities and talk about things that would never even be considered in the circles she normally runs in. Think of him as her younger, outdoorsman Bill Murray.
Thematically they're very different, but I could not help but also recall Leave No Trace, another film with a deep appreciation for the verdant great outdoors. Often in our modernized lifestyles, we find so many ways in which to mediate our interactions with nature. But all the flora and fauna are right out there for us to appreciate.
Somewhere out on one of their adventures together, Loren chides Amy, "Don't be so results-oriented." She responds, "Being results-oriented is literally the basis of my entire life." It's hard to rewrite everything you've learned, but she's trying.
There's no doubt an entire backstory to how Amy got where she did, thanks to the hard work of her immigrant parents, and striving to become a self-made success in modern America. We hear her converse in broken Spanish with her mother on Facetime and there's mention of how she and Max met in business school.
But still, she feels like a creature caught between two worlds; at the very least she recognizes along with Loren (and the audience), how myopic the world around her can be. Most of this unease exists at the periphery. Regardless, it provides some explanation for how she and Loren strike up a friendship. I need not say more so you may have the benefit of experiencing it for yourself.
Conclusion: Peak Season
Peak Season is not a new story. There's no reinvention of the wheel here, but between the candid nature of the performances and the environs in and around Jackson Hole, there are things to recommend. It's at its best allowing the organic sights and sounds around it to shine.
It makes me want to return to the Tetons and Jackson, not just to pass through, snap some photos, and get a quick dopamine rush of peak season. Sometimes the road less traveled or the off-season can tell you just as much about a place, and sometimes you get to know it even better. What's more, it can teach you a lot more about yourself.
Because let's face it. Most of us, myself included dread silence and solitude. We keep ourselves busy, constantly striving after the next accolade. Whereas a hike in nature itself can reorientate us and remind us that there is so much more to life than the next promotion, wanderlust, or even chasing an experiential high. Sometimes it is enough to be present and to connect with other human beings and the world around us.
---
Watch Peak Season
Does content like this matter to you?
---
Become a Member and support film journalism. Unlock access to all of Film Inquiry`s great articles. Join a community of like-minded readers who are passionate about cinema - get access to our private members Network, give back to independent filmmakers, and more.
Tynan Yanaga
Tynan loves nagging all his friends to watch classic movies with him. Follow his frequent musings at Film Inquiry and on his blog 4 Star Films. Soli Deo Gloria.