Toronto International Film Festival 2017 Report Part 5: From Churchill To Cannibals
In his fifth report from Toronto International Film Festival, Tomas Trussow shares his thoughts about Breathe, Darkest Hour, Caniba and more.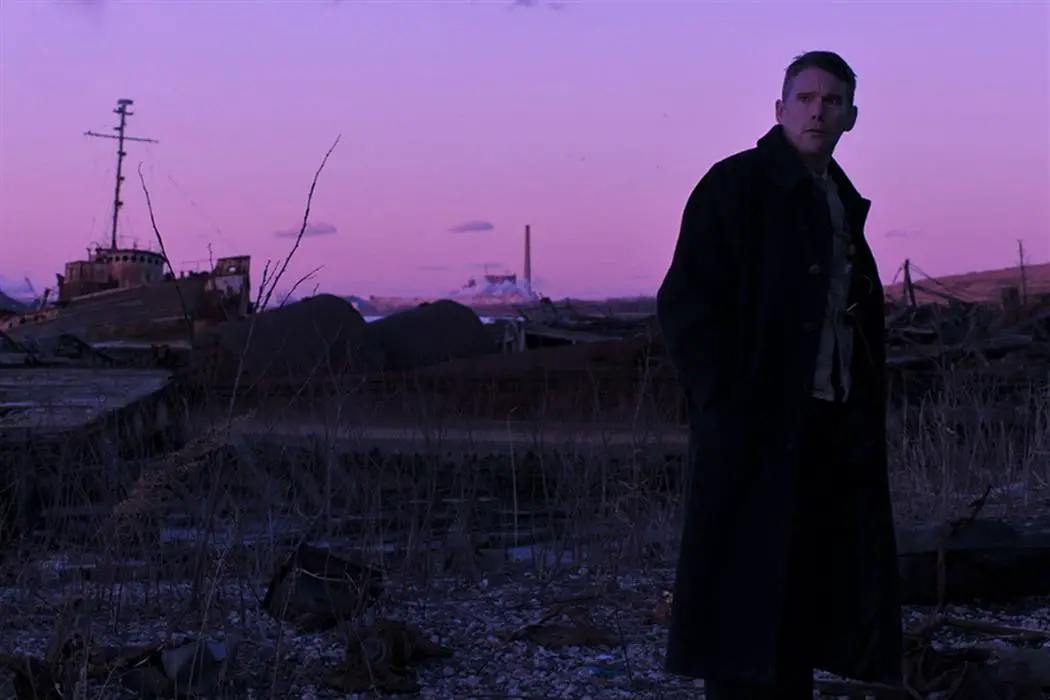 Day Eight of Toronto International Film Festival was the last full day of press screenings on my end. I had one more on Day Nine, and everything else was at public venues because no press screenings are held during the final weekend. Since most films had already premiered, the press screenings on this day and Friday (Day Nine) were for critics who couldn't make it to those first screenings. And what with most international critics already gone, Scotiabank was now blissfully free of long lines and winding stanchions, so I had no trouble walking right up to the theater doors to have my badge scanned in. If only we had this luxury the entire festival!
Despite this, I was missing the public shows after attending them for the past five years. I had fun rolling my eyes after seeing the same commercials over and over again. I liked lining up forty or so minutes in advance and listening in on conversations about films people had seen. I liked having programmers introduce the films, not to mention the Q&As (cringeworthy questions and all). Sure, the P&I crowd is much more well-behaved, and the Scotiabank theaters have better sound and picture quality than converted venues like Roy Thomson Hall and the Elgin. But the festival, good and bad, cannot be contained in one space.
There's also a lot to be said about walking out of a film and seeing how it has transformed the everyday filmgoer. Seasoned critics have seen it all, and it takes a lot to get them excited. But someone who only goes to the movies once in a while, and sees a title that's truly life-affirming? That's something else entirely.
First Reformed (Paul Schrader)
If you've been a lifelong Paul Schrader fan, then I feel confident in saying First Reformed will be one of your favorite films of 2018. And even if you're only partial to some of his earlier works (written and/or directed), then you'll be pleased to know that his latest film is a true return to form. It may even be his final curtain call, and if it is, it's one heck of an achievement—though I hope he has enough ideas left in him to keep going.
As always, Schrader foregrounds another brooding male protagonist caught up in a psychological upheaval, this time a former military chaplain named Reverend Ernst Toller (Ethan Hawke) who works as a pastor for a centuries-old miniature Calvinist church in upstate New York. Compared to the local Evangelical megachurch, Abundant Life, however, Toller's First Reformed attracts a more modest congregation (though as a former way-station of the Underground Railroad, it also sees its share of school groups and passing tourists looking for enlightenment and the occasional photo op).
After Mass one Sunday, Toller receives a visit from pregnant parishioner Mary Mensana (Amanda Seyfried), whose husband Michael (Philip Ettinger) wants her to undergo an abortion. A zealous environmental activist, he is convinced it's unethical to bring new life onto a planet doomed to implode from the ravages of climate change, so Mary asks Toller to talk to him about his decision. And he does. The moralities of both the spiritual and earthly realms come face-to-face, one no less important than the other, and the pressing question soon emerges: which dilemma will be the hardest to shake from one's conscience?
A practitioner of his self-styled transcendental cinema (which was refined to pure grade cinema during the epoch of Carl Theodor Dreyer, Yasujirō Ozu and Robert Bresson), Schrader leans into the mastery of his forebears with a subdued reverence. The film exhibits the finesse of a film like Dreyer's Ordet, marrying the quiet reverberations of daily existence with tight juxtapositions of space and movement. It echoes the way in which emotion acts as an undercurrent in Ozu's Tokyo Story, climaxing in short bursts of undeniable power, and the basic outline of its story makes it a spiritual successor to Bresson's Diary of a Country Priest.
At this stage of his career, though, Schrader is not merely paying tribute to his idols. He has learned from them all his life, and now he is continuing their legacy, making a film that be easily slotted into the transcendental canon just as easily as it can be called a Paul Schrader film through and through. Other filmmakers who have influenced the canon, such as Terrence Malick and Martin Scorsese, have done the same with works like The Tree of Life and Silence, and their deeply personal plumbing of religiosity and faith has yielded some of the best examples of modern masterworks in recent years.
First Reformed is not quite on that level. It occupies its own ascetic landscape, temperamentally dwelling on its gnosis as Hawke's Toller scrawls in his diary and imbibes shot after shot of whisky. It does not aspire to a kind of ecstatic visual reverence, apart from one small dream sequence that, compared to Malick, looks restrained. Instead, it seeks to reward its audience with a substantive investment in contemporary issues, probing the corporatization of religious institutions, their particular hypocrisies, and the debilitating contradictions that arise when people are asked to be both custodians of the earth and the Word of God at the same time.
What results is a fierce and gratifying modern parable that only someone with the religious and philosophical import like Schrader could pull off. It may also be one of the first essential works of film tied to the Trump era, speaking truths we've been needing to hear. And, in its own mercurial way, it offers a modicum of hope to those in desperate need of it (and any film that ends with a half-ironic, half-sinister rendition of "Leaning on the Everlasting Arms" will be sure to keep an ounce of doubt festering in the consciousness, too).
Darkest Hour (Joe Wright)
If you're suffering from Churchill fatigue, I don't blame you. Just this year we've already had a Churchill film starring Brian Cox called Churchill (naturally). John Lithgow recently won an Emmy for playing him on Netflix's The Crown, and last year, veteran actor Michael Gambon received praise for playing the statesman in his declining years in the TV film Churchill's Secret. That's on top of acclaimed portrayals by beloved actors like Brendan Gleeson (Into the Storm) and Albert Finney (The Gathering Storm), both of whom handily won Emmys of their own. And did you know that Timothy Spall, Rod Taylor and Christian Slater have played him, too?
Next in line to don the pinstripes, Homburg hat, spotted bow-tie and Cuban cigar is Gary Oldman, one of the great character actors still in our midst. A natural fit, really. Oldman is famous for his flamboyant acting style, always quick to leave everything on the table, and wasn't Winston Churchill the same? Gruffly extroverted, with an oratorical genius that few have ever been able to match, he was the larger than life figure that someone like Oldman would surely do justice to.
And he does. If Joe Wright made Darkest Hour solely to give Oldman one more chance to wow the world, then he can sit back with the knowledge that it's a job well done. Much like Daniel Day-Lewis in Steven Spielberg's Lincoln, Oldman is the film front to back, taking center stage and never leaving it until the final bow. Covered in prosthetics and getting that iconic lisp down pat, he steps into Churchill's shoes as though the late leader had been reincarnated before our very eyes. He's all blustery determination and good humor, ready to throw down the gauntlet and challenge the forces that oppose him. He's a lion in front of his enemies, and a pussycat before his wife (Kristin Scott Thomas) and sovereign (Ben Mendelsohn). It's lucky that Scott Thomas and Mendelsohn are so good in their small parts that they almost refuse to be outshone (Lily James, sadly, is less successful in that regard).
There's so much energy and tenacity to Oldman's performance that the kind of subtlety that marked, say, Lithgow's performance is relegated to a few short scenes—and only when Churchill feels that he's met his match. One of them, for instance, is a telephone call Churchill makes to President Roosevelt, looking for military aircraft to bolster his fleets and being met with a dithering refusal. And so viewers wishing for a slice of nuance will probably have to check out the other titles in the canon of Churchill films, because Oldman's version is as grandiose as they come. Your mileage may vary.
The film itself is a fine affair, directed by Wright with a fitting urgency as it chronicles Churchill's first few weeks as Prime Minister in May of 1940, particularly his handling of the Dunkirk evacuation (memorably depicted earlier this year in Christopher Nolan's Dunkirk). Churchill is portrayed less as an exalted hero than a brilliant tactician; the skeletons in his closet and the deeply-felt distrust of him by his fellow Conservatives are important focal points that screenwriter Anthony McCarten does not gloss over. Regaining that trust and convincing his naysayers that peace talks with Hitler are a lost cause become Churchill's personal quest. We know how it plays out, yet it's invigorating watching those chess pieces move all the same.
My only wish is that Wright's vision matched Oldman's vim, because there's a strange comedown in the second half. The breathless aura that envelopes the beginning, punctuated by Dario Marianelli's intense, trotting score and bustling power plays in Parliament, slowly deflates as Wright moves the action to the government's underground war rooms. What begins as a brisk foray (and even exposition) into the mechanics of political and oratorical maneuvering turns into a talky chamber piece ensconced in stuffy, unlit, smoke-laden rooms. The maneuvering is literalized, the speechifying becomes louder, and the excitement drains away as Churchill's first political triumph is depicted as unimaginatively as you can get. I'm all for chamber pieces, but if you're going to do one, it's best to go the whole hog, you know?
Darkest Hour ends on a bit of a thud, though Oldman carries on until the last minute, his look still steely and his jowls still a-quivering as he delivers that immortal "We shall fight on the beaches" speech. I don't think this film will have quite as much longevity, despite the fact that I can see many viewers lauding Oldman as the definitive Churchill. Me? I'd rather wait and see how many other Churchills we'll be getting in the coming years. Oldman certainly makes a formidable first impression, though.
Breathe (Andy Serkis)
I wouldn't have expected the man who played Gollum and Caesar the ape to take on a feel-good biopic as his directorial debut. Andy Serkis has portrayed such an array of fascinating characters that helming a conventional love story seems like a copout. Yet here we are. The first film that he's ever made is about a polio survivor with a heart of gold, flanked by a loving set of family and friends who kept up his spirits until the very end. In other words: exactly the kind of film that will put people in theater seats and extract copious amounts of tears from their eyes.
Forgive my glibness. If the material is difficult to associate with Serkis, Breathe still shows a surprising savviness in his first outing behind the camera. The compositions he produces are postcard-perfect, vibrant in hue and redolent of the natural beauty that makes the earth such a splendid specimen for our artistic inspiration. In the overhead shots of wild countryside, whether in Britain or in Africa, there is a small taste of the sublime. An awe for the magnitude of endless space. And when Robin Cavendish (Andrew Garfield) contracts polio and is paralyzed at the young age of 28, we can readily sympathize with the horrific realization that he may never see those stunning landscapes again.
This film exists because, at the end of the day, he could. Forever at the mercy of a mechanical respirator that could stop working at any moment, true. Bound to a cumbersome wheelchair, yes. But determined not to stay locked away in sterile hospital rooms for the remainder of his days. Determined to resume living a decent life with his wife (Claire Foy) and child. Determined to give other polio survivors a chance to regain a sliver of their personal independence. Breathe is about returning to the fresh air just as it is about the physical action of getting oxygen into one's lungs, and by making the outside world such an important piece of the tapestry that was Robin's life, Serkis helps honor his subject in that regard.
The problem the film runs into is its latent superficiality, preferring to play out like a highlight reel of Cavendish's major trials and accomplishments instead of probing its subjects with psychological astuteness. Disability here is merely a barrier to be overcome, nothing more. Robin may struggle to accept the harsh reality of his condition, but this is mostly offscreen; after a short while, his affable personality returns and he gets to leave the hospital after a secretive "rescue" operation. As long as his loved ones are near, praising him for his courage, all sense of bitterness and despair is shunted off to the side. What counts are the happy times, because that's what the audience clamors for.
As Robin, Garfield grins and gurns, chokes and rasps on cue. His face is the only thing he can move, and apart from a few unintentionally comic moments that result from his facial thespianism, he soldiers through by making the most of it. Foy is solid as his resilient wife, Diana, but her character's inner life is only too briefly glimpsed at in a handful of scenes. The film zooms through decades and time periods with such an insistence to carry the narrative forward that neither Robin nor Diana are given the kind of introspection their characters warrant, and so Garfield and Foy must duet on their outer edges.
The most frustrating thing is that the film has the capacity to probe the precariousness of Robin's condition. Late in the film, Diana wakes to find Robin's sheets covered in blood because the respirator has begun to irritate his lungs. Then, in his final years, Robin begins suffering from depression, one day telling his wife that he can no longer go on. In these moments are hints of what this film could have been. It could have taken the time to let us see Robin come to terms with his disability in his own way. It could have taken the time to detail the ugly truths and unimaginable challenges he had to face. It could have presented us with a complete portrait of the man, rather than a hasty sketch of the legacy he left behind.
It's sad that this is the kind of formula we've fallen for. Smoothing the complexities out of these narratives for a quick shot of cathartic pleasure does little justice to the subjects and the communities they belong to. Breathe may hold glimmers of potential here and there, but its rote preoccupation with timelines and triumphs rather than the disabled subject's individual consciousness is too black a mark to ignore.
Caniba (Lucien Castaing-Taylor & Véréna Paravel)
Hypothetical scenario: two film critics walk into a bar after seeing Caniba, the latest documentary from Harvard-based filmmakers Lucien Castaing-Taylor and Véréna Paravel. One slams it as morally repugnant and exploitative; the other claims it to be a bracing piece of ethnographic media, as vital as it is difficult to stomach. The question of who is right remains fraught with uncertainty. Does giving more exposure to a base criminal at the expense of the woman he killed and cannibalized automatically make the said exposure irredeemable? Do we continue to hold him to account by ensuring he doesn't fade from the public eye? Do we fetishize him? Demonize him? Or simply see him for what he is: a human being immersed in the most taboo desires imaginable?
Caniba seeks to answer nothing. It condones nothing. That's not its intent. There are countless documentaries and essays out there about Issei Sagawa, and even a simple Google search will provide more than enough information about him and his crime (though, trust me, it's better if you don't do that if you're easily offended). The filmmakers fill in the gaps if you choose to go in blind, and then they pull in and observe. In the quietude of Sagawa's home, as the ailing man is cared for by his brother Jun, they pull in on that unnervingly unattractive face and silently ask the question we all have in the back of our heads: How do we reconcile the cannibal and the human—the flesh-eater and the flesh-maker?
Again: no easy answers can be found. It is up to us to think for ourselves, and so we are free to rise up and walk out of the theater in disgust, or choose to continue observing Sagawa as he flips through a self-authored manga that shows, in graphic detail, how he murdered and began consuming Renée Hartevelt. Castaing-Taylor and Paravel don't judge us for feeling ill at ease at such an intense moment. At the same time, as Sagawa matter-of-factly narrates his thought processes, we are implicitly asked to understand the reason for this emotional reaction. After all, Sagawa could easily be a time traveler from a different, more primitive age, so wouldn't his anthropophagous tendencies warrant anthropological study?
What is so invigorating about Caniba is how relentlessly it checks our emotions at every turn, provided that we don't let them get the best of us. It dares us to be repulsed by its images and horrors, and then forces us to examine why. And as it slowly ticks up the shock gradient, the test becomes more and more difficult to endure. For instance, the film trails off to explore Jun's perspective for a while, and reveals that he, too, has his own queasy fixation. I'd rather not say what it is, but if you do watch this film, I guarantee you'll be struggling to look at the screen during Jun's "demonstration."
Confrontational cinema is an understatement when it comes to Caniba. Even the idea of enjoying it seems antithetical to its concerns, and I'd say it's more disturbing than any run-of-the-mill documentary about Sagawa to date. Castaing-Taylor and Paravel do nothing more than linger on Sagawa's face, at times partially obscuring it and never showing his entire body. All they do is hone in on their subject and allow us to tabulate the data, both within their film and our own physiologies. If we never want to endure it again, at least there is little doubt that its profound effects have been felt. Keenly.
Toronto International Film Festival
In my final dispatch, I will wrap up my coverage of this year's festival with my thoughts on films by Agnès Varda, Lucrecia Martel, Alexander Payne and Armando Iannucci, as well as a final reflection on the state of the festival going into next year.
What is the grossest, most uncomfortable film experience that you can remember? Let us know in the comments below!
The Toronto International Film Festival ran from September 7th to the 17th.
---
Opinions expressed in our articles are those of the authors and not of the Film Inquiry magazine.