WELCOME TO HAPPINESS: A Children's Story For Adults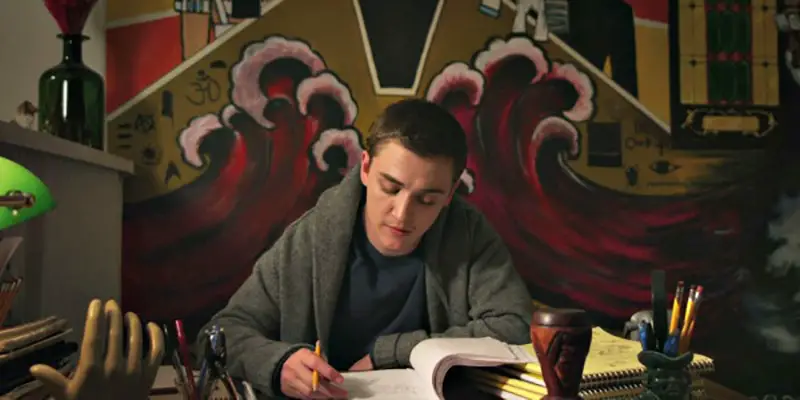 So many of life's lessons can be attributed to children's literature. Authors from Dr. Seuss to Shel Silverstein shaped the way young minds perceived the world and prepared them for what lie ahead. Welcome To Happiness, the debut film from writer/director Oliver Thompson, spins a fanatical tale in a similar vein. Aimed at the grown-ups we've ripened into, this clever comedy draws upon the "whys" we inevitably ask ourselves as we press on through to adulthood.
The Slow Build
Dropping the viewer directly into the world he built, Thomson keeps a close rein on the goings on and rules set forth by his script, only answering so much before adding on more mysteries. The opening scene sets the tone of the film, quirky and playful yet not lacking real raw emotion.
Woody (Kyle Gallner) is a children's book author who has a door inside his closet that grants a chosen few the chance to change a wrongdoing from their past. Normally a content individual, Woody begins to wonder why he is never allowed to enter the door. Obsession with wanting to know more begins to strain both his personal and professional relationships, unraveling Woody's once calm existence. Intertwined with parallel stories of those guided to visit Woody and the door, the film tells an original tale in an oddly fun way.
The film stars strong comedic talents in Nick Offerman as the uber-composed Moses and Keegan-Michael Key playing perky eccentric Proctor. The cast rounds out solidly with brilliant performances from Brendan Sexton III, Paget Brewster, Molly C. Quinn, Olivia Thirlby and the always amazing Frances Conroy at her character acting best. Likable characters, an original screenplay and intriguing directing make Welcome To Happiness a very effective film. It's definitely a journey worth taking for anyone looking for an offbeat story with an upbeat tone. That's not to say it is not without some issues, albeit minor infractions in the grand scheme of its satisfying endgame.
Just A Trim
Well paced in the first two acts, the moderate tempo allows for excellent reveals when the time comes. However, the third act structure plays a bit too long after the major resolution was reached. A couple of tweaks here and there would trim down some of the filler, enhancing an already rewarding conclusion to the tale. Packed with pertinent and entertaining subplots, Welcome To Happiness already runs a minute shy of two hours. The loss of a few moments during what felt like cast and crew bonfire would not be missed. A piddly complaint, but the only really sore thumb sticking out of this otherwise entertaining concept.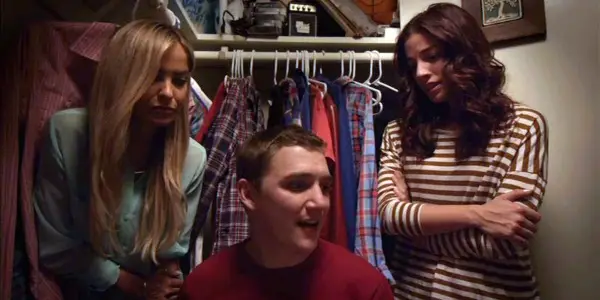 A pleasant blend of drama and comedy, the director does a wonderful job of allowing the viewer to wonder what will come next as he dangles clues wrapped up in zany character interactions. No shortage on strange, this method of storytelling adds that air of wonder found in children's tomes without losing the deeper emotion of the screenplay. That being said and all things considered, this is a fine film in need of a tighter crescendo. Nothing egregious, merely a suggestion.
Conclusion
With the easy to produce fodder lurking in every movie house around the globe, the idea of creatives trying to put a bit of originality back into the mix is always a welcome change. Oliver Thomson spins a yarn not seen enough in cinema these days. Straying away from the norm, he leaves the audience captivated and questioning well into the film's intriguing, yet logically simple conclusion. The handling of the darker elements throughout the story was thoughtful without altering the feel of the overall narrative.
A wonderful starting off point in his career as a filmmaker, I look forward to finding out what Thomson has in store with his next venture. Reminiscent of a Terry Gilliam or Spike Jonze film, Welcome to Happiness is outlandish, heartfelt, flaky and profound. It's a smart piece of filmmaking with minimal hang-ups; this is a definite recommend.
What films have stood out from the crowd for you over the years? We're always up for a good discussion at Film Inquiry so why not share your favorite fantastical flick in the comments section and get the ball rolling.
Welcome to Happiness will be released in select theaters and On Demand platforms on Friday, May 20, 2016.
Does content like this matter to you?
---
Become a Member and support film journalism. Unlock access to all of Film Inquiry`s great articles. Join a community of like-minded readers who are passionate about cinema - get access to our private members Network, give back to independent filmmakers, and more.
Adam Mock
Spent most of my life watching and discussing movies. Writing is a way to keeping the conversation going with the rest of the world.