WHITNEY: CAN I BE ME: The Crisis Of Pop Star Identity
Whitney: Can I Be Me focuses more on the context and hidden traumas of Whitney's life than the music itself, but that's no bad thing.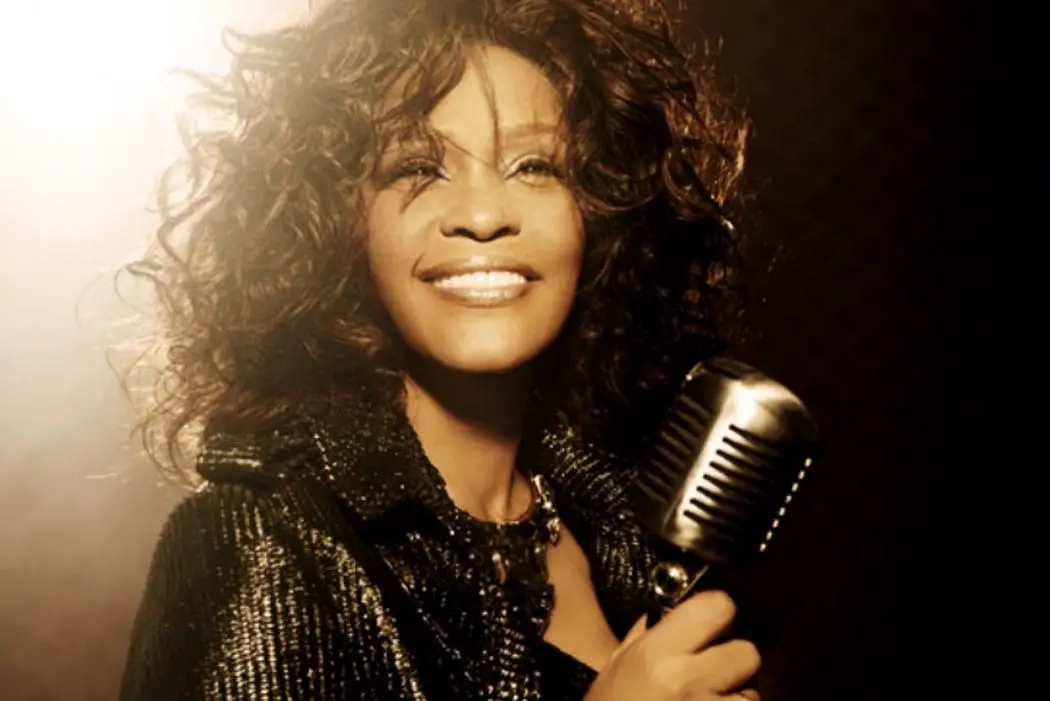 Every pop icon is defined by their image, the overinflated public persona that differentiates themselves from every other artist in the game. The 1980's were the peak period for creating larger than life pop stars; from the theatrical makeovers of Michael Jackson and Freddie Mercury to the sexually charged personas of Madonna and Prince, you had a feeling of every artist's identity without the need to listen to a single note of their music. After all, it was the MTV era, when music videos transformed quickly from being a brand new art form to miniature brand extensions.
Into this generation of pop stars fell Whitney Houston, whose image was defined by an everywoman quality that led her to feel equal parts relatable, yet equal parts mysterious. In the early stages of her career, she was presented as a pop princess with no backstage trauma to keep her in the press as much as she was at the top of the charts. This was all by design. In Whitney: Can I Be Me, the revealing and surprisingly underrated new documentary from Nick Broomfield (featuring footage from an unreleased tour documentary by Rudi Dolezal), we are told that her public persona was carved deliberately to make her appear as a tangible pop icon to white America.
Identity Crisis
Her songs were written specifically to sound "white", forgoing her own personality in favour of something that would find mainstream acceptance fast. This post-racial line of thinking paid off by turning her in to a world renowned icon, but it was also a precursor to wrestling with her own personal demons on a very public stage, to audiences completely alien to her inner traumas due to the polished portrayal they were presented with. In this context, the subtitle of the documentary, Can I Be Me, feels like a cry for help as much as it does a need to make the RnB music she loved above everything else.
Broomfield's documentary offers comparison with Asif Kapadia's recent documentary Amy, due to the documentation of a pop icon battling with her own troubles in front of an unforgiving tabloid media. Although not as formally inventive as Amy, which was built entirely around archive footage with new interviews appearing only in voiceover, Whitney: Can I Be Me is significantly less problematic.
Whereas Amy tended to document press intrusion by repeatedly showing footage of the most harmful occasions of press intrusion (and unintentionally adding rubbing salt in the wound by depicting it at its most troublesome), Broomfield shows restraint when dealing with Houston's personal life. The end result is revealing, but without resorting to cheap tactics in order to mine these revelations, like those he used himself if controversial earlier documentaries such as 1998's Kurt and Courtney, where he tried to insert himself in to a narrative where he was entirely irrelevant.
For example, it's common knowledge that Whitney and her husband, RnB "bad boy" Bobby Brown, had a troublesome and often abusive relationship. Here, Broomfield utilises a series of interviews with close personal friends to document what managed to keep them together so long – a reliance on substance addiction and mental illness proving to be key bonds that kept them loving each other and hurting each other in a depressingly consistent cycle. These facts aren't exactly exclusive reveals, but when they are told with the candid, descriptive honesty by the interviewees here, it feels like setting the record straight, despite the record never having been out of place to start with.
How Will I Know If He Really Loves Me?
The other significant masterstroke, which elevates Broomfield's documentary above being a textbook rock documentary told mostly via talking heads and archive footage, is how Whitney: Can I Be Me subtly addresses African American issues that are often avoided. As stated above, Whitney had an identity crisis in the spotlight, due to producers wanting her to record "white" sounding songs, leading her to be booed at the Soul Train Awards in the late eighties.
But the film's exploration of race issues digs significantly deeper than that, particularly in the sections surrounding rumours of Houston's rumoured homosexuality, or bisexuality, in different stages of her career. To this day, we are told from a former friend, female homosexuality in the black community is considered a taboo subject, one which was made all the more problematic from Houston's religiously conservative upbringing (a factor which likely helped her prove palatable to white audiences in the first place).
Houston's closest friend Robyn Crawford was a lesbian, and due to keeping her private life shielded from public view throughout her early career, allegations started circling that she was secretly in a relationship with her. Obviously, Whitney: Can I Be Me isn't judgemental with regards to Houston's sexuality – in fact, by reopening these old rumours (which I have to confess, had completely passed me by altogether) Broomfield only furthers the general theme of Houston's continued identity crisis in the spotlight.
She was shielded from showing her true identity as a black woman for success, and had to live with tabloid media trying to lecture her with regards to her own sexuality. If the rumours of her sexuality were true, then the scorn showed by her mother and other close associates towards black homosexuals is an additional reason why she grappled with finding her own voice in the spotlight.
Even following her death, we are shown an Oprah interview with her mother, Cissy Houston, where she casually remarks she would disown her daughter were she to come out as gay. It's moments like this, where you realise she may have had to hide her own emotions and personality for a shot at fame, that show her troubled relationship with substances in the years that followed was inevitable. This is an already tragic story, which hints at an even more mournful tale due to rumours that followed her round for the rest of her life, which personal and professional circumstances prevented her from addressing.
Conclusion
Whitney: Can I Be Me is the best kind of music documentary. It works for audiences who aren't even fans of the artist's music, helping to display their talent at the peak of its powers, as well as tell an even more gripping story about life behind the camera. Broomfield may focus more on the context and hidden traumas of Whitney's life than the music itself, but that's no bad thing – you'll still find it hard to argue against her iconic status when the credits start rolling.
What are the best music documentaries?
Whitney: Can I Be Me is currently in limited release in the UK, and will air on Showtime in the US on Friday, August 25th at 9pm ET/PT. All international release dates can be found here. 
---
Opinions expressed in our articles are those of the authors and not of the Film Inquiry magazine.