A GHOST STORY: A Work Of Gothic Wonder
As given by its name, A Ghost Story is a supernatural tale, yet it touches on themes of love and grief in a uniquely beautiful way.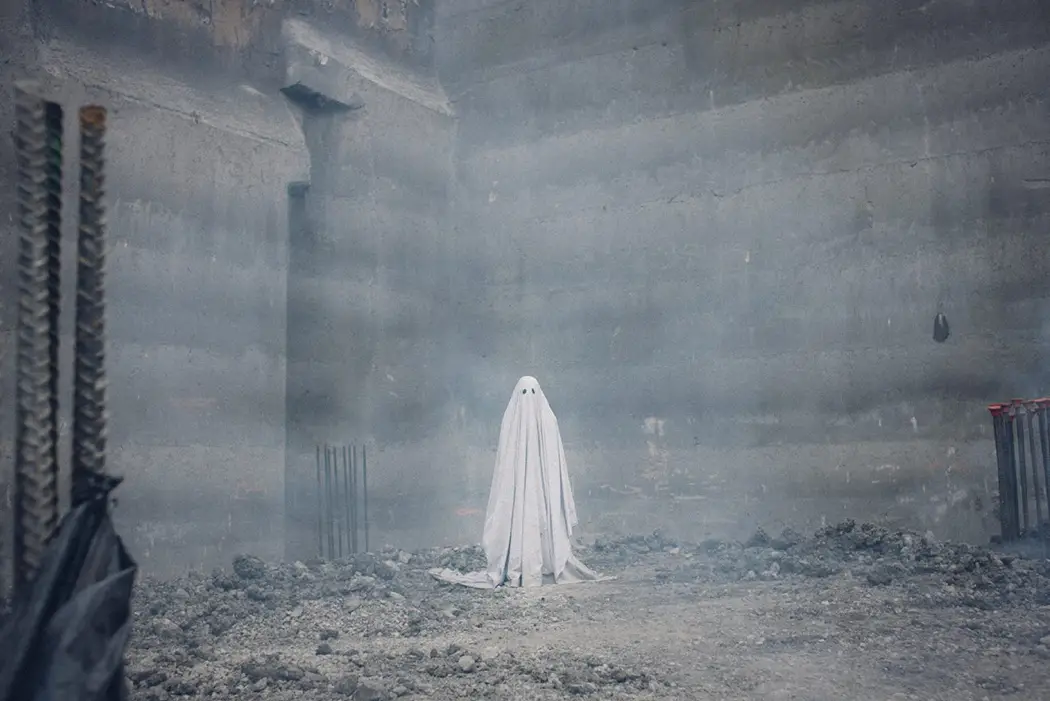 We are currently knee deep in a golden age of horror cinema, as the stale "jump scare" movies that have found favour in recent years are swiftly being replaced by more thoughtful films with more on their mind than mere shock. In fact, despite the ever present Gothic overtones of many ghoulish films released in the past 12 months, ranging from Personal Shopper to Get Out, very few of them can be described simply as horror; instead, horror tropes and iconography are becoming increasingly abstracted, finding a recognisable shade of humanity inside surreal premises initially designed merely to terrify.
More humane than horrifying – and all the better for it
A Ghost Story is the most experimental, abstract work among this new wave of ambitious horror to be released to date – and despite a brief running time of only 87 minutes, also manages to be the most epic, offering a nuanced look at grief, love, and the ever-changing face of American society across multiple generations. For director David Lowery, this was intended as an experimental palette cleanser after wrapping production on Disney behemoth Pete's Dragon. Instead, his small scale arthouse film is his best, most fully formed work to date, despite the fact it was written and filmed in its entirety mere months before premiering to rapturous acclaim at Sundance.
The movie documents the relationship between a nameless couple (cited as only "C" and "M" on the credits), understatedly portrayed by Lowery's regular collaborators Casey Affleck and Rooney Mara. After a fatal car accident, C wakes up from his hospital bed as a supernatural entity – a white sheet with black holes cut in the top for eyes, like an unimaginative Halloween costume. Heading back to his former home, he is now unable to leave his former partner and the home they made together behind for uncertain reasons. His presence isn't felt by his wife or anybody else who occupies his home space, which gives the whole film a sense of existential dread; so rarely do we see a film about grief told from the other side of mortality, in such a singular way.
Lowery is completely aware of the ridiculousness of his central premise, and does contain some moments of dry comedy at the expense of horror conventions that adds a sense of levity to this emotionally weighty tale; the only lapse into a stereotypical "horror score" is via the sound of something falling onto a piano, for example.
But it's to his credit that he takes the premise wholly seriously despite sounding ripe for parody on paper – within moments, you'll realise that we are to empathise with an entity draped in a bed sheet, and because of the nuanced performances and assured direction, you acclimatise to this immediately. A character with a consistently inexpressive appearance is highly responsible for A Ghost Story's status as one of the year's most human, and most unexpectedly moving, features.
By taking something so visibly ripe for parody and treating it with the utmost sincerity, Lowery's film is the closest American cinema will ever get to replicating the oddball mysticism of Thai director Apichatpong Weerasethakul. Although internationally celebrated, that director's films prove inexplicable to many viewers outside of his native country, due to how he blends folklore and firsthand insight towards contemporary Thai society into something singular – and so deadpan, it frequently seems unaware of how preposterous it all is. A Ghost Story may be more knowing as to how audiences will initially perceive its ludicrous setup, but it shares a sincerity that demands we take this seriously.
More ambitious than its stripped back nature would suggest
The sincerity is all down to the beautifully understated performances from both Rooney Mara and Casey Affleck, the latter performer being draped underneath a bed sheet for the majority of A Ghost Story's running time, yet still delivering an emotionally expressive performance through gestures alone. This is a movie proudly devoid of dialogue and any exposition explaining what is happening, but through facial expressions, and in Affleck's case, mere behavioural tics, the emotional struggles of both characters are there to see.
The best example of this is in a now much talked about sequence, when we are treated to a near ten minute take of Mara's character eating an entire apple pie a neighbour has gifted her. This sounds utterly ludicrous on paper, but in the context of A Ghost Story, it helps amplify one of the strongest performances she's ever given – the act of stress eating being a gateway to the character's emotionally damaged nature, with no dialogue needed to over emphasise this fact.
Affleck's performance is a lot more difficult to talk about, for obvious reasons. But as the story progresses, with his ghost cursed to remain in his former home as it exchanges hands between different owners for generations, he ably demonstrates a frustration that manages to refresh Gothic folklore: what if supernatural entities only lash out at homeowners because they want to be listened to and understood?
As we see him skulk in the background of most shots, draped head to toe in a bed sheet yet still invisible to all those on screen, his consistent stillness and occasional outbursts of desperate rage become all the more painful to witness due to the indifference of all those around him. This makes for a great comparison with Olivier Assayas' similarly themed Personal Shopper from earlier this year – the theme of "waiting" to hear from a loved one who can never physically be with you again, this time told from the other side of mortality.
The ghost sees families come and go in rapid succession, with A Ghost Story eventually building towards a crescendo (best left unspoiled, but if you don't want it alluding to, skip ahead now) that suggests that this is more of a science fiction tale than a horror one – a look at the changing face of American society in the same way 2001: A Space Odyssey is a tale of mankind's evolution.
Whereas Stanley Kubrick told his story about humanity on an epic canvas, Lowery is telling his on the most intimate imaginable; the past, present and future of America, all through the eyes of one ghost longing to find the reason why he still walks the earth, increasingly further away from the woman he once loved. It's every bit as existential as Kubrick's masterpiece, but with added romanticism displacing any accusations that Lowery has made a film as "cold" as Kubrick (at least in the eyes of his few detractors).
Despite seeming like a left field successor to his previous, big budget Disney movie, there is connective tissue between A Ghost Story and Pete's Dragon, as there is a similar exploration between the supernatural and the human, and how the fantastical can help forge and develop emotions from a young age. In one standout sequence, in which a rage-fuelled haunting actually proves to be the peak of audience empathy towards the ghost, Lowery even manages to explore this theme through a child's eyes in a more coherent way than Pete's Dragon did for the entire duration of its running time.
Conclusion
You may be taken aback by A Ghost Story at first, due to Lowery's preference for long, slow takes – but this is just to initially give an impending sense of dread, which isn't to materialise in the humane, Gothic tale which follows. Once you acclimatise to A Ghost Story's off kilter nature, it becomes apparent that his movie isn't supposed to terrify, or unsettle. At its heart, this is a universally relatable story about the nature of grief on an intimate scale, transplanted onto a more epic canvas than you would have ever imagined possible – something I never thought I'd say about a film where Casey Affleck stars as a supernatural bed sheet.
What are the best horror films in the genre's recent renaissance? 
A Ghost Story is released in the US on July 7 and in the UK on August 11. All international release dates are here. 
---
Opinions expressed in our articles are those of the authors and not of the Film Inquiry magazine.