AFTER FIRE: How Female Veterans Talk About Trauma
After Fire focuses on a female veteran named Valerie Sullivan, discussing how women in the military deal with trauma after coming home from war.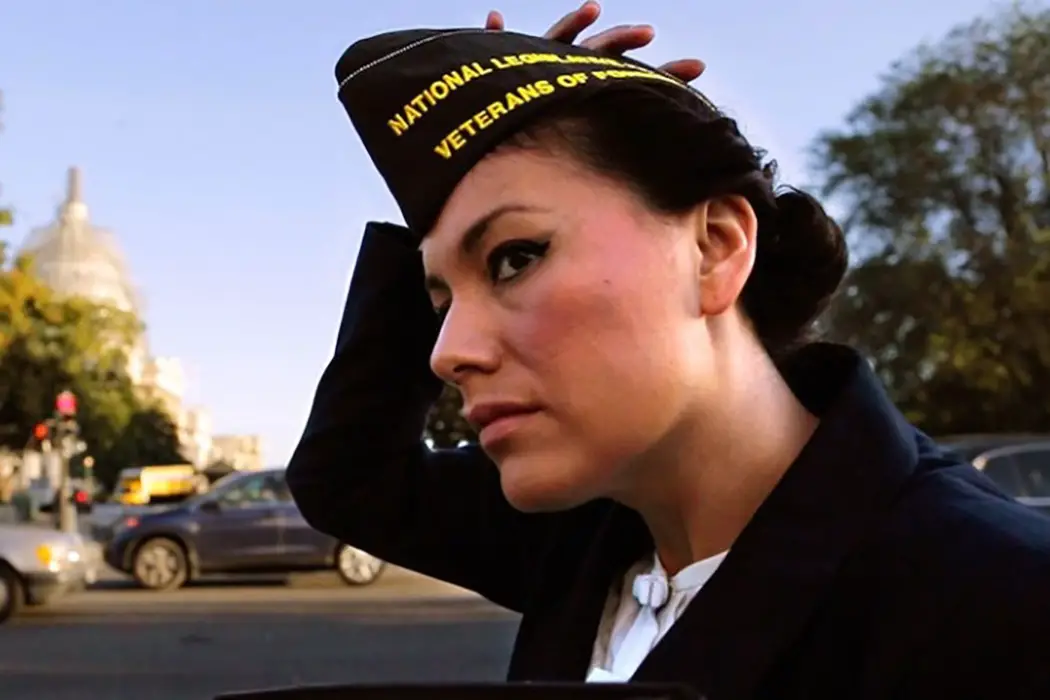 The trauma, mistreatment, and general stigma surrounding female veterans experiencing PTSD from their time in the U.S. military has been the subject of a fair few documentaries over the past few years. Lioness (Meg McLagan & Daria Sommers) and The Invisible War  (Kirby Dick) are just two which have highlighted the double standards of the U.S. military. The latest investigation comes from Brittany Huckabee, and explores veteran Valerie Sullivan and her therapy group as they each individually come to terms with what has happened to them.
In contrast to Huckabee's previous documentary, Hot Girls Wanted, After Fire feels less intrusive and less exploitative. Though much of the film deals with Valerie's inability to tell her husband about her sexual assault, After Fire is less about this reveal and much more about the emotional journey the women of the documentary are on.
Facts & Figures
As with many documentaries about the nature of military institutions, some pretty shocking statistics come to light early on in the film. Due to the growing number of women joining the military, and the fact that they were only recently allowed to join in hand-to-hand combat, women are the fastest growing group of veterans. Among women veterans; 1 in 10 will suffer from traumatic brain injury and 1 in 5 will suffer from PTSD. This is pretty shocking, but is overshadowed by the statistic that 1 in every 4 female veterans will seek medical help from the VA (Veteran Affairs) for military sexual trauma. This number is rapidly growing and at an alarming rate.
After Fire takes these statistics and shows us the people behind them: The survivors. The support groups. The families of those suffering with PTSD. The absolute silence and lack of support from the military itself. The shock and difficulty of transitioning into normal life post-military duty. The frightening truth of the situation.
Self Care
The catalyst to the bulk of the story within After Fire begins with a discussion in Valerie's therapy group about what self care means, and how each of them try to enact it. They all laugh about drinking wine to feel better, but there is also a tone of seriousness. It is clear that they understand all too well that self-medicating is not the most ideal form of self care. In reality, it's different however. Huckabee sensitively shows how their military service has deeply affected each and every one of their lives, and that sometimes alcohol or drugs are the only effective escape from these memories.
It is here that we learn of Valerie's self-care – bodybuilding. After Fire uses Valerie's training to articulate her trauma and recovery from her sexual assault in the military. This is where the film comes into its own. By centering on Valerie's journey to the bodybuilding competition, we can see not only a physical change, but her emotional journey. Non-invasive and tactful, Huckabee navigates around extremely traumatic subjects and allows us access within the veteran's lives without exploitation.
Bodybuilding, and Valerie's desire to get back to her former physique, is the driving force behind the film. Though at points, After Fire feels a little lost in itself, the journey to Valerie's first competition in years helps to bring it back on track. The most interesting aspect of the journey is that it isn't really about Valerie's physical self at all – despite how it appears. It becomes clear that Valerie wants to go back to a time where she felt empowered and strong within herself, which happened to be when she was competing and before her time in the military.
Huckabee manages to capture this transformation effortlessly. She also manages to capture the convoluted road to recovery, exploring trauma and the repercussions of it. It becomes evident that there is no one simple journey to recovering from trauma, as the array of characters in After Fire exemplify.
Director/Subject Relationship
The level of access that Huckabee is granted is important, and After Fire could not have been made without it. There is a very clear relationship between director and subjects, and without this having been cultivated, the film  would not have the personal touch that it does.
The shooting style is simple but the film doesn't suffer from this – it ensures that it retains its own authenticity. After Fire did feel slightly slow – methodical almost. It does suffer from the pacing, or rather, lack thereof. Fortunately, the characters are so inspiring and interesting that they carry the film – but unfortunately, a lot of the scenes aren't particularly memorable because it has trouble structuring them. There are scenes that feel slightly redundant or only serve to reiterate what we already know.
Due to Valerie's unique character, After Fire still succeeds despite its technical flaws. It is Huckabee and the crew's unlimited access to Valerie's life which ensures the film succeeds in what is trying to do.
An Educational Journey
After Fire is a tough watch, and an eye opener regarding the life of veterans after their time in the military. It will satisfy those viewers who already know the statistics on sexual assault in the military, but also work as an introduction to that world for those audience members who know very little. In this way, the film works not only as a story of courage and bravery, but also as an educational resource that can be used to spread further knowledge about this alarming issue.
Which other films depict trauma in a sensitive and realistic way? Share your answers in the comments below!
After Fire is currently on the 2017 US Festival circuit, for more screening info please check Transform Film's website here.
---
Opinions expressed in our articles are those of the authors and not of the Film Inquiry magazine.