ART OF COURAGE: Creative Activism For All
After the Paris terrorist attacks, two aerial artists worked tirelessly to spread a message of hope. This short film, Art Of Courage, details their story.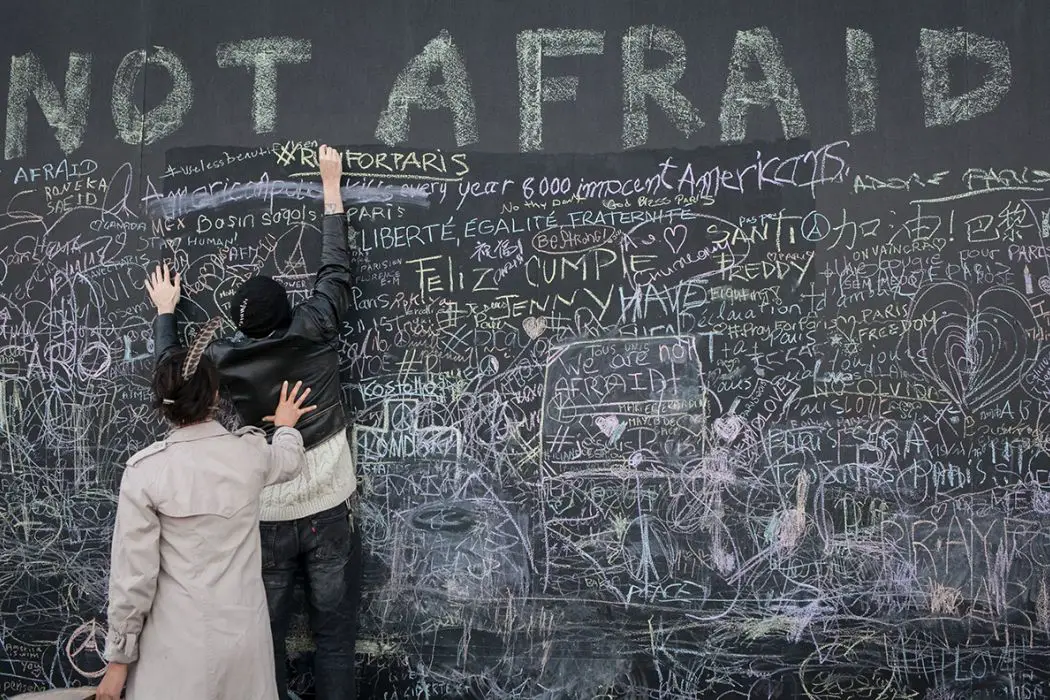 The Paris attacks of 2015 are still very fresh on the minds of Parisians, the French and Europeans alike. A senseless terrorist attack, which killed 130 people across Paris, shocked the world. It's terrible to say that we should be more used to the horrifying scenes but the truth is that no-one ever expects it to happen.
Whilst the world stood still, paralysed by the tragedy, two aerial artists (John Quigley and Magalie Bonneau) worked tirelessly to try and spread a message of hope and community to the people of Paris, and to the global community. Art of Courage (Veronica Duport Deliz & Kellee Marlow) is a short documentary which explores the tragic events that took place on that November in Paris, and how John and Magalie were able to reconcile their art with what happened.
Large scale aerial art
Originally attending the Paris Climate Summit, John and Magalie had planned to stage a huge aerial art piece depicting ideas of renewable energy. They are veterans of aerial art – they have staged events all over the world, for various summits, protests and with a range of political motivations. They use large groups of people to depict images which can be seen from an aerial perspective. Large scale and impressive, the art they create is striking and effective in putting across their agenda.
Following the Paris attacks, it became almost impossible for John and Magalie to stage their art piece, due to the restrictions on protests or large activist group gatherings. However, it wasn't all over yet. Changing their brief slightly to reflect the tragedy of the bombing, John and Magalie were eventually given permission by the Parisian authorities to create their human art piece – with incredible results.
Previously, John has staged pieces around themes such as ocean pollution, Martin Luther King Jr, sustainable living, anti war campaigns, and his website boasts over 150 aerial art pieces have been created globally.
Switching between individual interviews with those involved, and footage of the event itself, Art of Courage doesn't push any boundaries of filmmaking. It sticks to known conventions, but it reveals a truly interesting story which is captivating. It's a story which, especially in today's climate, will resonate with many audiences. We do not often know how to behave in the face of terror and fear – but what we can learn from Art of Courage is that we can use our creativity to show defiance and strength.
Hope and optimism
Art of Courage tells this story of hope and optimism simply, yet effectively. It's a straightforward story, but one which feels very important to tell.
What are your favourite documentaries about activism and art colliding? 
Watch the trailer, and find out more about upcoming screenings of Art of Courage here
---
Opinions expressed in our articles are those of the authors and not of the Film Inquiry magazine.