B&B: An LGBTQ Thriller For 2017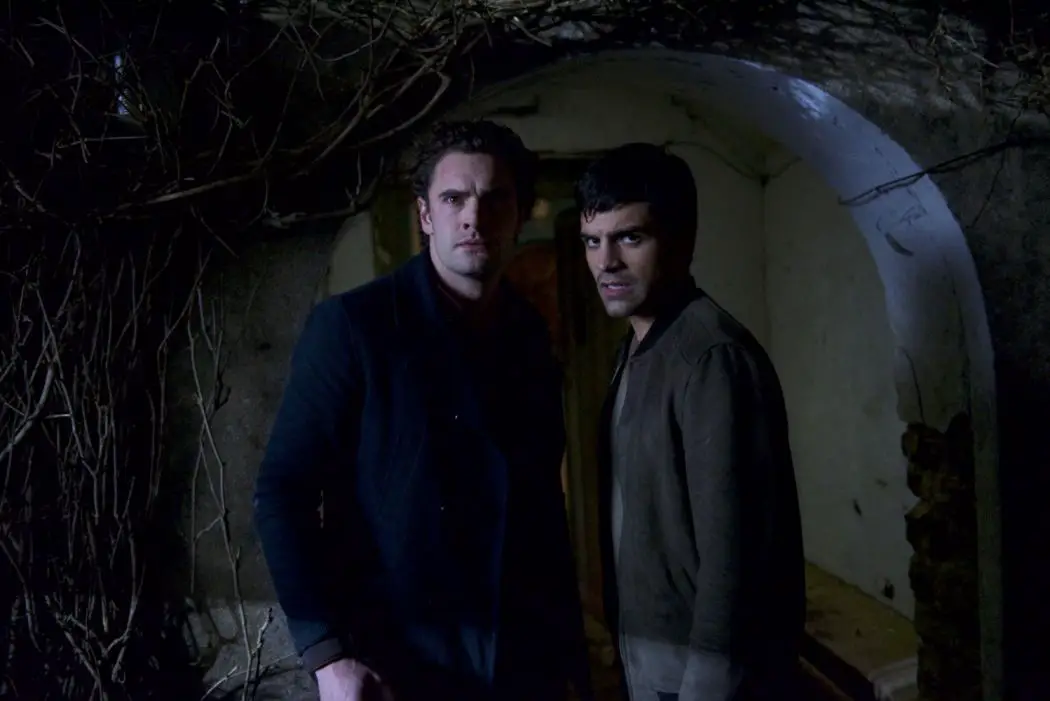 In B&B, gay couple Marc and Fred (Tom Bateman and Sean Teale) embark on a weekend getaway to a bed and breakfast, where a year before, they were turned away by the owner on religious grounds. The men sued on basis of discrimination and won the case. Now they're back to enjoy the getaway they were never able to experience. However, they get more than they bargained for (which is already a lot, to be honest) when a stranger shows up. Jay Ahearne, a veteran of British television and BAFTA nominee, proficiently directs this intimate, character-driven thriller – his first feature film.
Ahearne quickly sets the scene for us: Marc and Fred arrive to a laminated front page of a newspaper called The Diocesan Word, with a headline that reads "Homosexuals sue Christian for double bed," and a photo of our heroes on the front. Next to this is a small container requesting donations for legal funds. Overall, the inkeeper, Josh's (Paul McGann), decorating taste tends toward the pious and the pastel, as evidenced by the plaque bearing some scripture related to good Christian hospitality. Ahearne makes it a point to linger over this piece of kitsch, noting the sentiment has been selectively applied.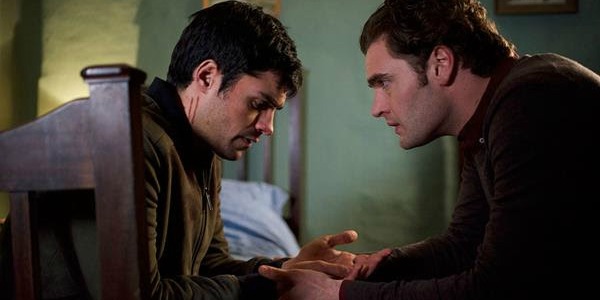 Presumably, Josh feels comfortable displaying these props because the majority of locals share his views, which puts Marc and Fred on somewhat treacherous ground. The whole gambit is Marc's idea, and Fred attempts to avoid conflict as best he can, meanwhile voicing his disapproval early and often. Viewers sense they may need couples therapy after this ordeal is through.
Legal Rights and Legitimate Fears
Why in the world would a couple waste a weekend in a place where they are deliberately made to feel unwelcome and potentially unsafe? Staying in close quarters with a bigot and being forced to sleep in the same room as your spouse on twin beds isn't anyone's idea of a good time, and that's if nothing else goes terribly wrong.
However forced the narrative may be, it does serve to highlight a tension that exists for gay couples in England, America, and other outwardly tolerant countries. When it comes to discrimination cases, the law is in gay couples' favor (for now), but these individuals still have to decide whether it's worth prosecuting, whether it's worth all of that time, energy, and discomfort, just to take advantage of rights that ought to be easy to enjoy. In addition, having a legal right to be somewhere doesn't automatically immunize you from harm. The law might protect your rights, but it can't (and sometimes simply won't) protect your body – an unfortunate truism for marginalized groups everywhere.
Then, of course, there's the question of confronting prejudice in the private sphere of your own home, where the law can't always reach. Compounding matters, Josh's 16-year-old son, Paul (Callum Woodhouse), has now realized he is also gay, a fact he has kept from his bigoted father. Despite fears of outing himself to his dad, young Paul is still tempted by the unexpected Arrival of Alexie (James Tratas). Is this sexy Russian hitting up the local cruising spot for a little after-hours fun, or are his intentions more nefarious?
The Male Gaze and Homages to Hitchc*ck
The result of this setup is a modest little Hitchc*ckian thriller that explores power dynamics under the guise of a more traditional genre narrative. In fact, Ahearne makes his debt to Alfred Hitchc*ck known in a statement available on B&B's official website, where he also laments the dearth of gay people in genres like thrillers. He adds, "the film thrives on argument and bickering, juxtaposed with the male gaze… Once we find something interesting to look at, the dialogue falls away to chatter."
If you're going to explicitly invite comparisons to Hitchc*ck, you have to expect to be taken to task for it. So, keeping this statement in mind, the film's visual language lacks anything resembling Hitchc*ck's meticulous style. However, there are a few striking moments in Ahearne's film.
A set of night vision goggles provides some eerie, inverted-color visuals of mens' furtive embraces that frame B&B in a gaze of surveillance. The men caught on camera are stripped of all of their individuality and sensuality, becoming vague, groping figures. Despite the queer themes in the movie, the male gaze here is not a loving or even sexualizing one, but one of pure control, enforcing hetero-patriarchal norms and laws.   
Conclusion
In its brief running time, the film manages, though not particularly gracefully, to hit on a broad spectrum of issues gay people face in countries that are for the most part liberal and accepting. Marc and Fred find themselves navigating a web of biases – both spiritual and legal. In the end, even Josh's choices, guided by his religion, cross legal lines and enter in ethical gray areas. However, B&B eliminates any trace of women or people of color from this moral portrait, which makes its case weaker and serves to avoid dynamics of oppression that could have given it additional depth.
While the dynamics between the characters are intriguing on paper, Ahearne doesn't take us deep enough to go anywhere interesting. Smart directing might have picked up some of the slack from the weak script. However, in the end, B&B promises something beyond pure diversion that it only delivers on in a few moments.
What do you think – does this film successfully grapple with issues LGBTQ people face in the current political climate? 
 B&B was released on April 28 in the US and April 13 in the UK. Get more released dates here.
Does content like this matter to you?
---
Become a Member and support film journalism. Unlock access to all of Film Inquiry`s great articles. Join a community of like-minded readers who are passionate about cinema - get access to our private members Network, give back to independent filmmakers, and more.
Kate Blair
Kate Blair enjoys writing about film and feminism. She currently resides in Chicago with her wife, cat, dog, and an endless pot of coffee. Find her on Letterboxd: https://letterboxd.com/Selective_Kate