BLUE IGUANA: A Blood-Splattered Action Comedy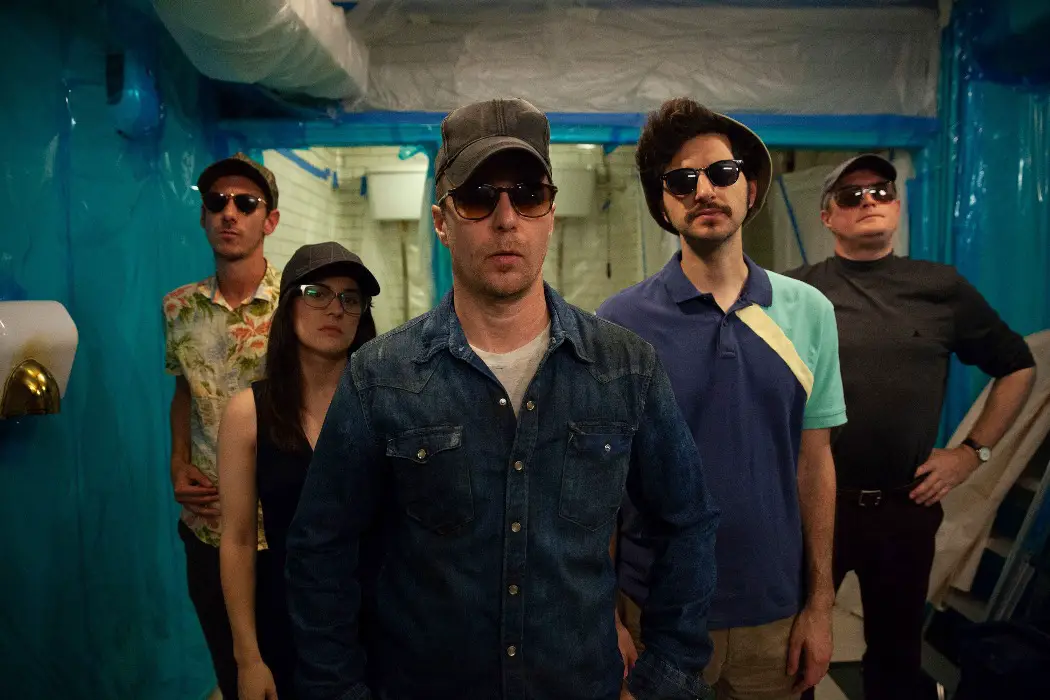 It's been a pretty decent year for action movies so far. Marvel standbys like Black Panther and Avengers: Infinity War were well received by audiences and critics alike, and more flawed films like The Meg still have a hefty amount of entertainment value. Blue Iguana, an independent British romp, may not have the gargantuan budget of either of these movies, but it does deserve to stand alongside them as slightly shallow but enormously entertaining fun.
Interesting performances despite a thin plot
Ex-Convicts Eddie and Paul are working in a diner when approached by English lawyer Katherine to assist in a robbery that goes awry. To repay mob debts created by the aftermath, Katherine enlists the two men again in a plot to steal the Blue Iguana diamond from another gang who plan to take it. The resulting antics involve running from the police, a hint of romance, and a reservoir of fake blood. To be honest, though, this relatively average story mostly serves as a solid jumping off point for the hilarious writing and performances.
The screenplay, written by director Hadi Hajaig, is the most impressive aspect of Blue Iguana. Packed with genuinely laugh out loud one-liners about Tai Chi and mullets, it establishes the characters effectively without compromising the rapid pace or stopping the plot to take a breath. Hajaig's greatest virtue, however, is the ability to lampoon the traditional tropes of other action movies; the bad guys don't have a strong enough kick to get the sack of money over to Paul, and it's not often that you see so many snack breaks in this genre of film.
Following his well deserved Best Supporting Actor Oscar win last February, I was certainly excited to see what Sam Rockwell would do next. Taking a more comedic turn as criminal Eddie, he doesn't hit the highs of his unbelievable Three Billboards performance, but who could reasonably expect that from a comedy heist movie? He's funny, he's entertaining, and he works brilliantly in the role, particularly opposite the anxious antics of co-star Ben Schwartz.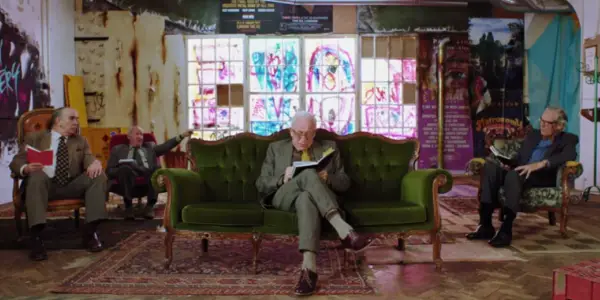 Despite a thin plot, there are enough standout performances in Blue Iguana to keep you captivated. Phoebe Fox takes a turn as the self-serious yet subtly goofy Katherine, the brains of the operation who still manages much of the slapstick laughs – a milk moustache has not raised a chuckle from me previously. And although he appears for a miniscule amount of the movie's 99-minute runtime, the ever charming Simon Callow claims the funniest scene in it, involving him and several other distinguished English gentlemen reading the dialogue of some unsavoury characters from the pub.
The 1980s Aesthetic
Ever popular nowadays, perhaps because of the oft-cited 30-year rule, a corny 1980s aesthetic permeates almost every frame of Blue Iguana. Hajaig utilises high colour saturation that brings a Day-Glo appearance to otherwise dull environments, and the costumes remain consistently over the top, my favourite being the acid-wash denim jacket of the mullet bearing villain.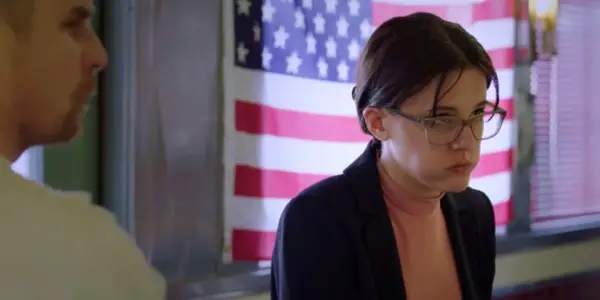 Similarly to Spidarlings, it also features briefly animated opening and closing credits in neon hues reminiscent of album covers from the Sex Pistols and The B 52s. Does this nostalgia aid the storytelling in a meaningful way, in the manner of Stranger Things or Deutschland 83? Not particularly, but it does lighten some of the darker moments and provides a semi-interesting aesthetic on a surface level.
Conclusion: Blue Iguana
Blue Iguana isn't a film that will blow your mind, but in these dark times, it'll give you a welcome and well-executed distraction. With fantastic performances and a punchy script, it stands as certainly worth a watch, and a fun throwback to older action-crime movies.
What did you think? Did you enjoy this corny action comedy, or were you left cold? Let me know in the comments!
Blue Iguana will be released on August 24 2018 in the US, and 5 October 2018 in the UK.
Does content like this matter to you?
---
Become a Member and support film journalism. Unlock access to all of Film Inquiry`s great articles. Join a community of like-minded readers who are passionate about cinema - get access to our private members Network, give back to independent filmmakers, and more.
Zoe Crombie
Zoe Crombie is a Film Studies student from Lancaster University, who has been writing for Film Inquiry since May 2018 as well as at her own site Obsess Reviews. She is a big fan of Studio Ghibli and The Marx Brothers, but is willing to watch anything and everything.