DIARY OF A WIMPY KID: THE LONG HAUL: The Most Excruciating 90 Minutes Of My Life
Diary of A Wimpy Kid: The Long Haul fails from a dreadful script that possesses the unique ability to make 90 minutes feel like an eternity.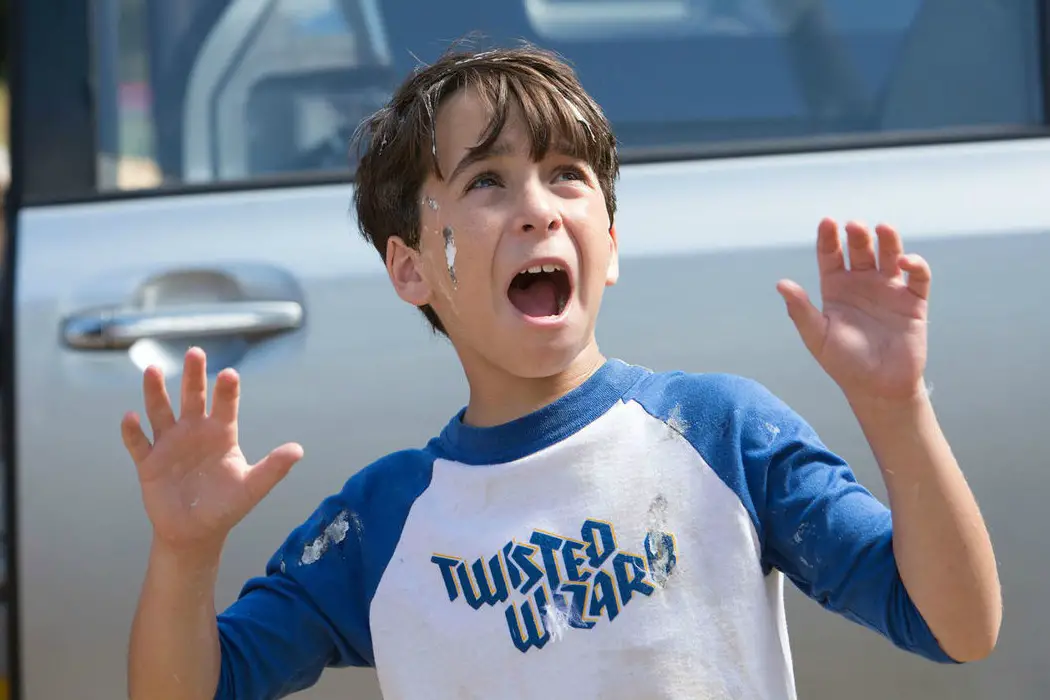 Are any of you aware of that meme that did the rounds earlier this year?* The one where Tiffany Pollard (AKA New York) is saying, after someone compares themselves to one of this generation's most influential public figures, "Beyoncé?! Beyoncé, sweetie, I'm SO sorry, I'm so sorry that a ugly ass bitch like this would even say that".
In a pretty hilarious way, in a way only the Internet could, that moment has been manipulated to suit other situations that might require a reaction of disgust, shock or pure embarrassment. It was my exact reaction when the latest, rebooted Diary of a Wimpy Kid attempted to evoke the infamous shower scene in Psycho, quite literally shot for shot. A film as iconic, ground-breaking and innovative does not deserve to be slandered and belittled in this way – Psycho should consider suing Diary of a Wimpy Kid: The Long Haul for defamation of character and dragging its respected name through the offensive, ludicrous and excruciating muds of the Wimpy Kid reboot.
* A reference point, featuring some strong language.
Later, when it name drops Mad Max: Fury Road, a defining action film from 2015, in a similarly offensive way – in between dropping its fifteenth and sixteenth joke about feces in the space of ten minutes and twelfth joke about bodily fluids –  it provides a genuine case for concern. Will these film ever again reach the realms they once resided in, after the smear and association with this shockingly bad excuse of a film? Oh, and if you think this review lacks any sophistication (what with the opening comparison to an internet meme), I am only trying to match the tone of the film – and failing miserable because I cannot physically lower myself to the standard of this trash without feeling incredibly queasy.
After the main child actors outgrew their parts, 20th Century Fox decided that after three successful installments, a soft reboot of the franchise was in order, recasting everybody while setting it in the same timeline as the previous films. Diary of a Wimpy Kid: The Long Haul sees Greg Haffley (Jason Drucker) attempt to avert the humiliation of a viral video with 4,000 hits (you call that viral?) by collaborating with his idol, a gamer called Mac Digby. With numerous failed attempts to sneak away from the family road trip to meet Digby, what should have been an opportunity to bond with his family may just be the thing that tears them apart.
Utterly excruciating
Admittedly, I can hold my hands up and say that this film was not made for me and so criticizing it may make it appear that I am out of touch with reality and the aims of the film; nine years old, I am not and while I am the target audience in terms of gender, this was never the type of humor that resonated with me at a younger age anyway. I never expected to love Diary of a Wimpy Kid: The Long Haul but I can absolutely recognize and appreciate a good film when I see one, even if it doesn't align with my personal interests in cinema.
There is not the faintest glimpse of  even an average film within these shambles though, and I implore anyone that comes into contact with something remotely satisfying with the picture to get in contact immediately and point me in the right direction – not that you could pay me to sit through it again. When I wasn't staring, longingly at the exit, I was glancing around to see the reaction and/or enthusiasm from the audience, with a number of the targeted pre-teen lads present; alas I've never been in a screening so deafly silent.
It is as if the writers of this film – three people (Jeff Kinney, David Bowers and Adam Sztykiel) who could not muster a chuckle from the audience between them – sat down and thought 'hmm, I wonder how many things we can sh*t on from a great height and ruin?". Aside from the Psycho nod and the Fury Road drop, they also decide to have not one, but two 'carpool karaokes'. Spice Girls' Wannabe will never be heard again by these ears with the same joy and affection as it once was, instead conjuring a painful memory of the horrors forced upon me by this Bowers-directed picture.
When it was abundantly clear (three minutes in?) this film was going to be far from my favourite cinema experience of the year, I breathed a sigh of relief recalling the fact that the film was a slender 90 minutes long; in all honesty, it felt closer to three hours long by the time the credits rolled. I genuinely think that time might have stood still while I was in that screening. While Diary of a Wimpy Kid: The Long Haul, thankfully, wastes no time in getting on course after an opening sequence that really sets the (really horrendous) tone for the rest of the film, there is little to differentiate what follows – it all merges into one incoherent muddle that stumbles through, desperately trying to pass time before it reaches the glaring predictable endpoint and sickly sweet message. Like the heavy traffic that implies a multi-car pile up on the motorway, the damage can be seen a mile off and all you can do is watch the destruction.
Like Watching A Car Crash In Slow-Motion
A car crash is the best way to describe it all really. In the mid-point, two of our characters step onto a fairground ride after consuming fried butter (I give up, too) which causes one of them to vomit. The sick then, in horrendous detail, flies around the ride and covers the 'fat beardo' next to him. Later, we see a flock of seagulls fly into the car, defecating on everyone and everything. In another scene, the main kid urinates into a plastic bottle; a prize pig then excretes everywhere and induces an orchestra of gagging and heaving.
And that was just from me.
All these scenes, and the entire film for that matter, hinges around the same cheap laugh that is so well-trodden, immature and juvenile that it will cause a bubbling of frustration and anger, reminding you that this has made it into your local cinema, over the likes of The Red Turtle, Miss Sloane or Lady Macbeth. Young children are being exposed to a level of comedy I truly thought and hoped had died out years ago. It's horrifying. The whole thing is one, big, dreadful car crash that you are watching unfold in slow motion, spread out over 90 excruciatingly long and unforgiving minutes.
My connection to the previous three films (Diary of a Wimpy Kid, Rodrick Rules and Dog Days) is non-existent, so I have no comparison point and, arguably, no bias either. I'd be shocked though if the performances were as bad then as they are in this fourth installment, with not one person leaving the film unscathed and in need of severe career rehabilitation. No word of a lie, the most convincing performance comes from Wyatt and Dylan Walters as Manny, the youngest Heffley. I wish I was joking. He did make me smile.
Drucker, taking the lead, has little experience – and it really shows. We switch between shock or sadness with nothing in between, failing to nuance the performance or give anything in the way of depth. He's young and every now and then you can see his potential but nothing is translated well on screen, mainly because of the dire script he is forced to work with. Charlie Wright is even worse as Rodrick, providing a performance so overcooked that it becomes quite infuriating. Diary of a Wimpy Kid: The Long Haul's woeful screenplay is not kind to him and he appears to be the brunt of the bad writing – but I do think some of the blame lands at Wright's feet. He doesn't know how to play the character without it striking you as absolutely hammy and cheesy.
Naturally, Alicia Silverstone and Tom Everett Scott have slightly more luck due to the experience under their belts – but they are still both far from good performances. Scott's Frank could have been almost entirely written out of the script with little impact of the narrative; it is almost as if he wanted to be there even less than I did. Silverstone ropes in your typical 'concerned mother' archetypes for her Susan, lightly sketching the mother with predictable strokes. Little to no chemistry is present between any of Heffleys, producing a dynamic that feels stale and unnatural. Some zing between these characters may have helped cultivate a more uplifting atmosphere – but it is unbelievably flat and uninspired.
Helmed in such an amateur way, director David Bowers does little to alleviate any of the flaws. Shots are pieced together haphazardly, on occasions not even remotely resembling the moment that came directly before, indicating a rushed, trite job. Clunky in its execution and predictable in its content, everything seems forced and mechanized, as if they are adhering to a tried-and-tested method that simply does not work. Bowers struggles against the tide and ultimately fails to provide anything new or interesting to draw your attention away from the surrounding garbage. Plain and simple, this direction is vapid and bland and does nothing to enliven your dwindling interest or care.
The Longest 90 Minute Journey Ever
Diary of A Wimpy Kid: The Long Haul is one of the worst films of the year so far and I don't think it will have much competition; it is absent of any qualifiers to prevent it from landing smack-bang at the very bottom of your list. Shockingly unfunny, the jokes are stale the second they leave the characters mouths, irritatingly repetitive and will amuse next to no one.
Most of the issues boil down to the dreadful script that possesses the unique ability to make ninety minutes feel like an eternity. With the full and complete understanding that I am in no way the target audience for this film, I was careful to survey the reaction from the audience both during and proceeding the film; let's just say, very few of the people that suffered this colossal disaster will be coming back for another journey.
Like Bank Holiday Monday traffic, Diary of A Wimpy Kid: The Long Haul takes forever to get to its destination and makes you long for the day to end. "Are we there yet?", no, we've got another seventy-three jokes about a turd coming at us down the pipeline.
Have you seen Diary of a Wimpy Kid: The Long Haul? Tell us what your thoughts in the comments below!
Diary of a Wimpy Kid: The Long Haul was released in the US on May 19, 2017 and the UK May 26, 2017. For all release dates, see here.
Film Inquiry supports #TimesUp.
"The clock has run out on sexual assault, harassment and inequality in the workplace. It's time to do something about it."
Read the Letter of Solidarity
here
. Make a donation to the legal fund
here
.
Opinions expressed in our articles are those of the authors and not of the Film Inquiry magazine.