FERDINAND: A Mechanical, Bull Story
There's a sense of shallowness to Ferdinand, a film so generic and formulaic that it's hard not to be cynical about its construction.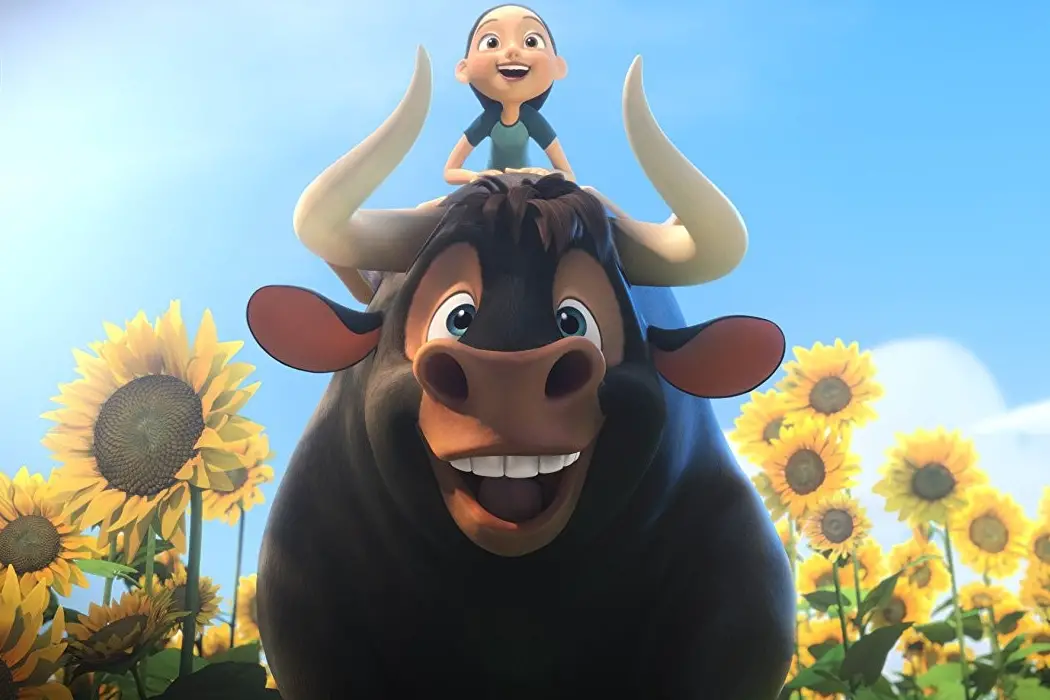 Back in 2014, 20th Century Fox released the animated film The Book of Life, a musical fantasy adventure set in Mexico that presents the two most commonly explored aspects of Mexican culture – Día de los Muertos (The Day of the Dead) and bullfighting; all we need now is an animated film about cartels to finish off the trifecta of overdone Mexican representations in cinema.
Now this year, we've seen those two major concepts being split off into their own respective animated films, with Disney-Pixar tackling Día de los Muertos via Coco just several weeks ago, and now 20th Century Fox animation has made a film about bullfighting. Where Coco used the concept of Día de los Muertos as a platform to explore more thematic territory of grief, loss, the importance of family and more, I'm struggling to define the purpose of Ferdinand, a film with the ultimate message of "give peace a chance", a John Lennon lyric that's probably being performed acoustically in some suburban cafe as you read this.
Disposa-bull
Now there's a growing trend of modern film criticism to simply define and rate a film based on its progressiveness and "woke" values and how they match with the writer's personal view. Not every film needs to be a soapbox to rattle off diverse opinions filtered through a cast of characters, but there's an extreme feeling of shallowness in Ferdinand, a film so generic and obviously structural in design that it's hard not to be cynical about its construction. There's always a demand for movies that are purely entertaining, that don't question or challenge its audience, so the lack of complex dynamics is not my main issue here.
To best summarise my final opinion of this expendable picture, is to think of it like a Loot Box. A Loot Box is one of the current hot trends on the internet, a service that sends monthly packages of catered merchandise, with the most popular ones being Loot Crate and Hero Crate. They usually contain a mixture of useless bric-a-brac items that are labelled with familiar pop culture icons, such as Game of Thrones and Star Wars.
You get a box, you open it, and its mainly a series of "Oh, I recognise this thing", but without contributing anything new or obligatory in your life. It's a brief distraction, fuelled by a series of reminders of other films you love. That's Ferdinand in a really prolonged manner, disposable and incredibly reminiscent of other, better animated features (a car chase sequence in the third act seems directly lifted from Finding Dory), destined to be another distraction for today's kids.
The Stories We've Been Told Before
Based upon the beloved children's book from 1936, The titular Ferdinand (an enthusiastic John Cena) is a Spanish fighting bull who already has his whole life planned out for him. The son of a legendary bull, everyone envisions a similar future of bullfighting – except for Ferdinand. Instead, Ferdinand finds pleasure in the simple act of smelling, with his favourite aromas coming from the variety of floral delights that grow around him. After escaping from his bullfight training camp that he grew up in, Ferdinand finds luck in being sheltered and eventually raised by Nina (Lily Day) the daughter of a successful florist.
Disaster strikes when Ferdinand grows up and eventually becomes too big/physically domineering to take into town, and when he disregards orders to stay at home, Ferdinand heads into town, a bad move that has him captured and returned to the bullfight training camp that he once escaped.
With his anti-fighting stance conflicting with his bull peer's determination to be great heroes in the matador arenas, Ferdinand plans an escape, a difficult scheme that forces him to team up with his combative adversaries and an irritating sidekick in the form of Lupe (SNL favourite Kate McKinnon), a tin (and scene) chewing goat who wishes to become a great coach someday.
Whilst people continuously protest the growing number of high profile superhero films being released every year, one of the other major cinematic trends at the moment is children's CGI-animated movies, now that the monopoly on producing them has fallen and they're usually a dependable source for a healthy box office return.
The problem with this is that majority of American animated films coming out now feel incredibly lazy in terms of storytelling, becoming a parade of predictable MadLibs adventures rendered on-screen. Even the animation styles are starting to blur into one homogeneous look that defies any form of characteristic visual approach that used to make each of the individual studio's releases feel exclusive.
The Same Two Plots
I've managed to deconstruct the two major types of narrative structures that modern Western animated films keep employing. The first (and most prominent) one is this: A Progressive Protagonist is matched with an identity/societal based destiny, but secretly desires a subverted version of that impending outcome. This protagonist is usually paired with a quirky, but callous sidekick with a heart of gold and their adventures are scored by a catchy pop song by one of music's hot stars.
Examples include Coco, Zootopia, Moana, Sing, Trolls, the Kung Fu Panda series, Megamind, The Despicable Me series, The Emoji Movie and yes, Ferdinand. But not only does Ferdinand use this overused plot format, it's also blended with the other major narrative structure that's frequently implemented in a lot of modern children's animated entertainment.
This second plot type features a content protagonist who is separated from home, and must go on a wacky adventure back home, alongside a quirky layabout sidekick and a collection of catchy original tracks and covers of well-known pop songs (in order to sell the soundtrack). These two stories frequently overlap, with Coco, Moana, The Emoji Movie, Trolls using it as well.
Other popular titles that have used this outline include Inside Out, Cars 3, The Good Dinosaur and of course, The Toy Story series. My frustration arises from not only Ferdinand's use of these cliched story-telling methods, but from the very obvious signs that there's been zero effort into trying to subvert or transform these tired structures.
This Is Not Matadorable
Even when the film attempts to deal with the fatal fallouts of Ferdinand's continued pacifism, as hopeless bullfighters are relegated to become meat at the nearby processing factory, this is immediately undercut when the film fails to commit to this grim consequence by reviving a presumably killed off character and treating the whole thing as a goofy affair. It didn't help that I was having flashbacks of that one traumatic sequence from Okja, a creative picture that was a few graphic moments away from being this year's best kids film.
This deferment of directly tackling more dire subject material highlights the film's general lack of experimentation and its muted approach to attempting anything fresh. Once again, this film doesn't need to have the emotional complexity of some of its animated peers, but attempting to hit these poignant beats without any form of dramatic tension comes across as sloppy, and shines a bright spotlight on the script's antiquated nature.
Notice that I just keep referencing the way other films have handled cinematic concepts in relation to Ferdinand's bland execution? Once you hear what the basic plot premise is, you can picture everything that's gonna happen, beat by beat. Was Coco's narrative predictable? Yes. But it had interesting characters, a plot that dared to touch upon darker themes and a real celebration of Mexican culture and heritage. Ferdinand predominantly disregards its Mexican setting, which becomes apparent when looking at the diverse cast list.
Most of the Spanish voice actors are relegated to smaller roles, with most of the primary characters voiced by a cast of familiar American actors whose presence encroaches on any feeling of dedication towards appropriately portraying the landscape of choice. This issue became apparent during an early moment featuring a policewoman with an incredibly thick British accent, a distinctive vocal quality that seems at odds with the established setting.
Ferdinand: Conclusion
The final message of Ferdinand asks us to not judge a book by its cover, which as a film critic, I've trained myself to not do. Misleading trailers and posters emerge frequently, so one must learn to enter every new film with zero preconceptions, allowing the filmmaker's ultimate product to speak for itself.
Unfortunately, what looked like a standard children's animated feature saddled with all the typical pops and whistles is exactly what I got. Watching this during this festive season does make me ask myself: If children and parents are generally entertained throughout the film's short run-time, do these criticisms matter? With the wealth of globalised entertainment available at all times now, Ferdinand simply does not have any distinctive qualities or the idiosyncratic depth to warrant an immediate watch.
So what's next? If my formula is correct, let's select an animal, identify its most notable quality, anthropomorphise it, and have them dream of subverting their destiny. Coming out next year: Trunks, the story about a circus elephant who wishes to walk the tightrope instead of doing stool tricks. The elephant has a wacky sidekick and a disapproving father, who finally supports his son during a final triumphant scene when Trunks finally walks the tightrope, a move that saves the failing circus and inspires hope in all. Sadly I can already picture the poster.
What are your thoughts on the current trends in CGI Animation?
Ferdinand is released today, December 15th. Click here for international release dates.
---
Opinions expressed in our articles are those of the authors and not of the Film Inquiry magazine.