Giveaway: ENTER FOR A CHANCE TO WIN HARRY POTTER AND THE SORCERER'S STONE: MAGICAL MOVIE MODE DIGITAL MOVIE
The Harry Potter Magical Movie Mode is a wondrous new way to experience Harry Potter and the Sorcerer's Stone, allowing fans the ability to discover filmmaking secrets, spell incantations, creatures, magical artifacts, trivia, and more in this enchanting collection of fun activities and curiosities. Let the magic begin!
Five winners will receive a HARRY POTTER AND THE SORCERER'S STONE: MAGICAL MOVIE MODE Digital Movie (Value: $14.99)
Consumer must reside in the U.S. and register for a digital service provider account (go to wb.com/RedeemMovie for a list of digital service providers (e.g., Movies Anywhere). May only include HD Main Feature. NOT COMPATIBLE WITH ALL DEVICES. SOME DISPLAY RESOLUTIONS MAY NOT BE AVAILABLE FOR STREAMING OR DOWNLOAD ON ALL DEVICES FROM ALL DIGITAL SERVICES. Consult your digital service provider for compatible devices, available display resolutions, streaming and download capability and Terms of Service. Ultimate display resolution on playback is dependent upon connection and device characteristics, including screen resolution. High-speed Internet connection required. Go to wb.com/RedeemMovie for additional details, requirements and technical support. Neither Warner Bros. Entertainment Inc. nor any affiliate is responsible for maintaining any digital service. THIS DIGITAL MOVIE OFFER MAY NOT BE RESOLD OR OTHERWISE TRANSFERRED
Does content like this matter to you?
---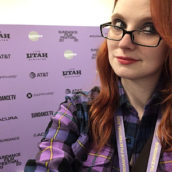 Kristy Strouse
Kristy Strouse is Editor in Chief of Film Inquiry, writer, podcaster, and all around film and TV fanatic.