GOD'S OWN COUNTRY: A Gritty Twist On The Stereotypical Coming Out Story
God's Own Country, a unique coming out story, is an amazing directorial debut for Francis Lee despite some minor, forgivable missteps.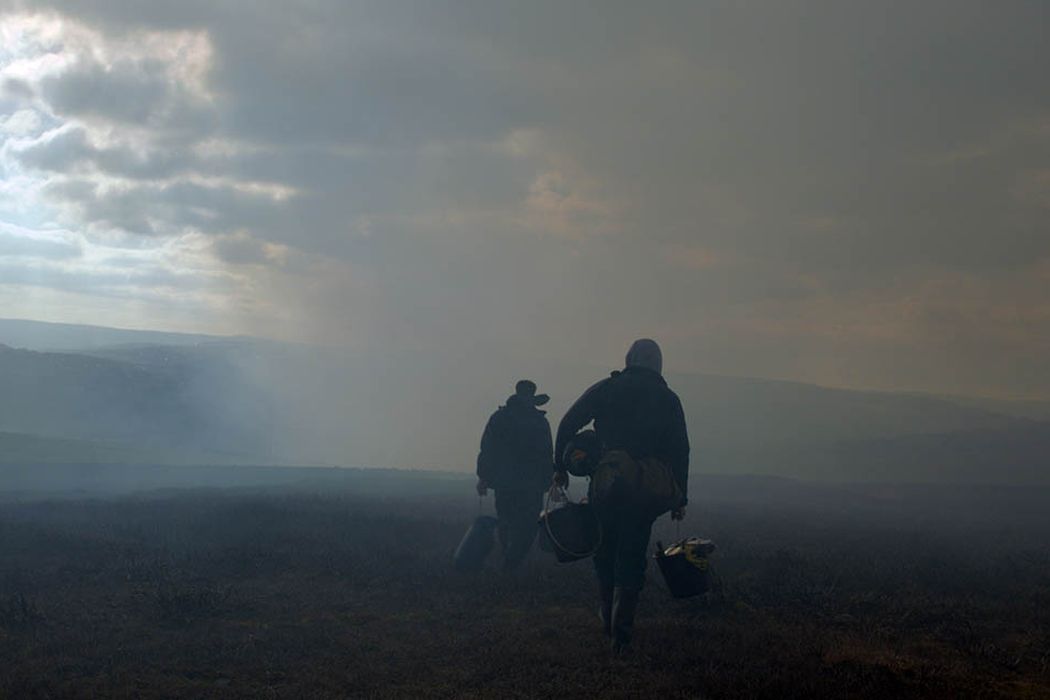 There is no shortage of LGBT movies dealing with the themes of coming out, or accepting your own identity, so artistically bold decisions need to be made in order to stand out from the pack. Transplanting a heart wrenching intimate tale on to the epic canvas of the Yorkshire Dales, God's Own Country does more to innovate the standard coming out narrative than to merely move the drama to the foggy, overcast Northern English countryside.
It's a film with a unique emotional power that sneaks up on you, proving in the final 15 minutes how much of a beautiful, yet brutally honest, tale it is, and how subtly different in scope it has been to other self acceptance narratives.
Brilliantly Calibrated Performances Across the Board
In an expertly brooding lead performance, Josh O'Connor stars as Johnny Saxby, a young sheep farmer going through a particular time of crisis. He's been left to tend to his family's farm by himself, as his father is recovering from a stroke, which leads to anxiety driven alcoholism – when he isn't on the farm, he can be found down the village pub, singlehandedly keeping it in business by downing pints in mere seconds.
To a lesser extent, he's also wrestling with acceptance of his own sexuality, participating in meaningless encounters with other men; but it isn't until the arrival of Romanian worker Gheorghe (Alec Secareanu) on the farm that he slowly starts to realise his feelings may be stronger than a mere animalistic lust.
O'Connor's lead performance is what helps make God's Own Country significantly more innovative than the average LGBT coming of age tale. Although he isn't public about his sexuality, it doesn't seem to be the root cause of his cycle of destructive behaviour. Rather, it's the expectations being placed upon him by his ill father and grandmother, who rely on him to solely help keep the family farm (which is increasingly becoming a barren wasteland) in business. The fact he's wrestling with inner emotions that circumstances force him to confront is just the icing on the cake; he's so afraid of becoming a disappointment to the family, he's entered into a reactive behavioural cycle that has had the unintentional effect of disappointing his family.
The performance given by O'Connor is wonderful due to his portrayal of masculine aggression hiding an ever present emotional longing. It's one of the most realistic portrayals of a cry for help by somebody holding on to their final shred of pride, losing the fight against showing the world their inner emotions and insecurities.
That an offbeat but tender love story has been transplanted into this narrative doesn't undercut the grittiness of the character study. In fact, as it progresses, it proves to be the perfect canvas for Johnny to see the effects of his reckless behaviour, and provide an all too rare feeling of hope in an openly gay narrative.
Although this leading performance is key to God's Own Country's unique approach to a coming out tale, it is far from being the only strong performance. As Gheorghe, Alec Secareanu is something of a pinpoint to the protagonist; the pair aren't fully opposites, but they have subtle differences in personality that help compliment the other. Gheorge, for example, is more attuned to his inner emotions, and despite his masculine appearance, is unafraid to be openly tender.
Secareanu's performance is winning due to how it manages to navigate the tightrope of being emotionally intuitive, while not portraying any vulnerability – despite being an immigrant (who is introduced being racially undermined by Johnny) alone in a new country, he still has a sense of self respect that refrains from him entering a similar self destructive cycle.
Sex and Self Destruction in Yorkshire
As well as creating believable character arcs in his brutally earnest screenplay, debutant director Francis Lee also has a striking visual sensibility. I was reminded of Andrea Arnold's 2011 adaptation of Wuthering Heights in the portrayal of beautifully miserabilist Yorkshire vistas, that manage to deliver an epic scope without overly romanticising the scenery. The Andrea Arnold influence can also be felt in the bluntly depicted sex scenes – in Arnold's films, sex occurs quickly and in a purely primal manner, the lust of the characters frequently overcoming (no pun intended) any illusions to a stronger connection.
The first sex scene in God's Own Country is an anonymous quickie in a toilet, which is depicted more as an angry masculine necessity, as opposed to anything approaching genuine desire. As God's Own Country progresses, the sex scenes subtly become more loving: Johnny and Gheorge's first encounter is rolling about in the mud, their final encounter within the confines of the narrative is shown only via cutesy post-coital small talk. Lust turns to affection, all without losing any of the dirt beneath the narrative's fingernails.
God's Own Country isn't a full knockout, as the screenplay does have certain flaws; most notably, in the film's earlier stretches, overpopulating the dialogue with stereotypical Yorkshire phrases. The film is semi-autobiographical for director Francis Lee, with many of the film's scenes shot on his own father's farm, yet the consistent use of Yorkshire slang doesn't ring true, and feels at times like it is trying to force a cultural relatability for viewers in that region.
The most offending sequence is an early dinner table conversation between Johnny, his dad (Ian Hart) and grandmother (Gemma Jones); within the space of just a few sentences, Yorkshire phrases are thrown back and forth at each other in a way that doesn't feel natural. If I were playing Yorkshire slang bingo, it was just an "Ilkley Moor Bar t'at" away from making me stand up in the cinema and shout that I had a full house – all in the space of one awkwardly written scene.
God's Own Country: Conclusion
The clunky dialogue doesn't distract from the raw power of the performances, and the story itself; instead, the writing feels composed during these offending scenes in a deliberately stereotypical way, to evoke a feeling of relatability that makes God's Own Country feel universal despite a very specific cultural backdrop. It's a forgivable misstep in an otherwise brilliantly assured debut – and I can't wait to see what the director and stars of this project go on to make next.
Which films manage to innovate the tried and tested coming out narrative?
God's Own Country is in UK cinemas now, and is released in the US on the 27th October. All international release dates are here. 
---
Opinions expressed in our articles are those of the authors and not of the Film Inquiry magazine.