Interviewing LOVING VINCENT's Dorota Kobiela & Hugh Welchman: On Taking Risks And Believing In Yourself & Your Art
Dorota Kobiela and Hugh Welchman, the directors of Academy Award nominated animation Loving Vincent, spoke to Film Inquiry's Nathan Osborne about the seven year process to bring their unique biopic to the big screen.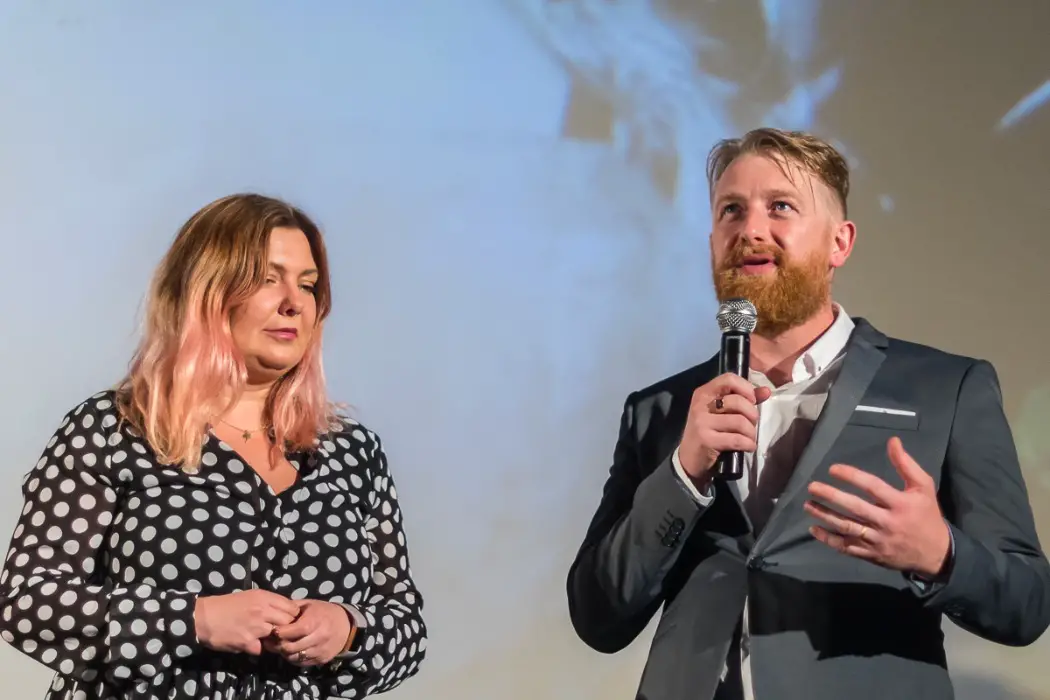 In Loving Vincent, co-directors and writers Dorota Kobiela and Hugh Welchman have crafted not only one of the greatest animations of our time but one of cinema's most inventive and innovative pieces of art to grace our screens. Just days before the 90th Academy Awards – where Kobiela and Welchman's artwork, the world's first hand-painted feature-length, will compete in the Best Animated Picture category – I was granted the opportunity to chat with the filmmakers about overcoming boundaries, believing in your project and where they'll go after Vincent.
"The last six months (have) completely took me by surprise" Kobiela reveals early on into our phone interview, with a beautiful authenticity she maintains throughout. "(I'm surprised by) how much people love this film. The whole reaction is very exciting. Adults are embracing it- animation for older audiences is usually such a difficult genre, but [we have had] millions of viewers around the world". On BAFTA weekend, Loving Vincent had just crossed £1 million in the UK – an amazing feat for a film with a limited release and little in the way of marketing – and charted at number nine on the DVD chart.
"When you work on something for so long you just want to make the best film you possibly can".
Very early on, you get a sense of just how much this film means to the couple – to Kobiela in particular, who has dedicated the past seven years of her life to Loving Vincent. "When you work on something for so long you just want to make the best film you possibly can". Having what began as a very personal experience translate into critical acclaim and success was the cherry on the top of their cake; "The nominations for the BAFTAs and Oscars were absolutely shocking (…) we did so much shouting and screaming when we found out". Their joy is clear in a video shared on the film's social media accounts; encapsulated perfectly in slow-motion footage is the moment they discovered that their seven-years-in-the-making project was one of five to be nominated in the elusive Animated category.
Welchman goes on to reveal the tooth-and-nail BAFTA fight that would have otherwise gone unknown to us. While Disney Pixar's Coco eventually took the award, it was a tantalising race according to insiders; "we were told that there was only a few votes in it" Welchman adds with a little disappointment, but remarks that there is one more race to go. "We've been getting a lot of support in America so it's really exciting. It would be the first film from Mainland Europe to win, the first film made for under $30 million to win, the first adult animation to win, ever. Obviously we're the underdogs but hopefully we're snapping at the heels of the studio films" he continues, reflecting on the forthcoming Oscar race. Despite the award attention their magnificent technical-feat has received though, the pair treat it as an added extra — it was never the focus for them.
"To me Vincent wasn't just a mad artist with a struggle, a genius who cut his ear off. I saw that he was a beautiful person, very intellectual and very hardworking" Dorota tells me, reflecting on the decision to tell Vincent's story in this style. The Polish-born artist and filmmaker, who becomes only the fifth female animator nominated in the category, was given access to Vincent's letters and his paintings by the Van Gogh museum, instrumental in crafting the touching narrative at the centre of it all. In fact, Welchman continues, the director of Amsterdam gallery will be attending the Academy Awards with them next month. "They were very supportive in giving us access to the paintings and access to their experts".
The team effort that is Loving Vincent
It proves what a team effort Loving Vincent was. 125 painters from around the world were assembled to work on the "labour-intensive" project, but how did the pair ensure a unified vision across the 65,000 frames and 130,000 photographs that form the whole? "We had one major source – Vincent – who we studied very carefully" Dorota stated of their muse, with Hugh adding that "(the painters) not only had to paint like Vincent by they had to paint as each other".
"They not only had to paint like Vincent by they had to paint as each other"
The painters were required to undergo intense, extensive training programmes so they were all able to sing from the same hymn sheet – but it was Dorota, with a degree from the Academy of Fine Arts in Warsaw, who was required to approve every single frame of this movie. Every piece passed her eyes, Hugh reveals, proud and glowing in appreciation towards his wife and collaborator; "at maximum capacity, she was approving up to 500 frames a day (…) under Dorota we had a head of painting animation, six painting supervisors and their job was to keep them on track".
As production evolved, the pair worked tirelessly to play to the strengths of their talented painters, assigning sections that they could execute most efficiently. "Production-wise it worked because we divided painters by speciality. I made sure that the artists were using their particular skill. We had a guy who was really good at male portraits; we had a painter who was good at male portraits with beards; some fantastic with landscapes". Heavily involved during every single step in the process, the duo's hard-work to ensure the execution of their high-concept style was as brilliant as the idea itself.
So how did Hugh and Dorota manage to balance the painstakingly-detailed visuals with a story that explored the mystery of Vincent's death? Dorota read many of his letters in new light as the project developed, at a time where she took solace in the words of an artist struggling to make the world hear and take note of their artistry.
"Right from the beginning we knew that there was a mystery surrounding Vincent's life and his death (…) we wanted to tell the story of the artist as we see him. We watched so many biopics and read so many books and we just wanted a different approach". Hugh adds that they themselves became embroiled in the mystery of Vincent's death too.
Finding a balance between the visuals and the narrative
"It quite naturally became a mystery because we were in this mystery ourselves; we went to the Van Gogh museum and asked 'well what's the real story on this' and they said 'well we think this but that person thinks that' or 'we don't actually know about this'. We wanted to find out ourselves because we were so fascinated by what his mental state was at the end of his life. We had to do a story towards the end of his life because that's when he was producing his most iconic work that we still love today."
It is here that my favourite moment in our discussion occurred. I explain, "a lot of people told me that with Loving Vincent, they came for the paintings and art and stayed for the story and the emotional resonance". Dorota falls in love with that very idea, proving once and for all her aim with Loving Vincent; it was as much about telling Vincent's story as it was showcasing and pushing the boundaries of animation. "That is so beautiful, thank you so much. I'm sorry but I love that – I'm using that! I love that, it's so amazing". Hugh affirms, they're using that one for themselves down the line. You can have that one on me, guys!
"They thought I was trying to do something bigger than I could cope with".
As well as seamlessly incorporating Van Gogh's most famous works of art into the film – Starry Night, Cafe Terrace and Sunflowers are some of the scenery and symbols that populate the film – the filmmakers went even further than that. When crafting the story, they used the subjects of Vincent's paintings to create characters to weave into the story. It takes the form of a crime-investigation, exploring the circumstances and days before Vincent's death by gunshot, visiting all those who associated themselves with the artist before his untimely death-cum-sucide.
"We had these characters like the Boatman (played by Aidan Turner), who is just a really tiny character at the shore of the river in a painting and you can't really see his face" Dorota explains, with Hugh adding that "his face is just one tiny brushstroke". "We wanted to build a character from the small details", Dorota concludes, adding again that the Van Gogh museum were of a paramount importance with the access they granted them to his work.
Believing in your project
This project has lived with Kobiela for over seven years now, but she used the time to the best effects. "One of the perks of the very difficult process that was funding the film was that we found the silver lining — we got to study the project for a very long time". She goes on to speak of her trouble in finding funding for the project, with many skeptical of her ability to execute the massive undertaking. "I was rejected with the project many, many times because no one could really believed that I could make something like this and that it could actually work. They thought I was trying to do something bigger than I could cope with".
"It was very personal, a personal struggle. When I met the jury who awarded me the funding, I left in floods of tears — but then as I was walking away I thought 'no, no I can't give up, I have to prove that this is possible, I can do it". When reflecting on the advice she would give to filmmakers and artists wanting to approach the industry from a more unorthodox angle, she tells; "you don't necessary have to follow the path that they tell you that you have to follow. You don't have to do it in a certain way, you don't have to go to film school, no certain training — you just have to believe and know that the project you do is something that you really believe in".
Hugh brings it back to Vincent's own struggle too; "I think that having our subject matter helped us because Vincent started painting when he was 29 and he didn't have as much support as we had. We had each other and a really good core team to work with. He just had his brother supporting him and that was it. In meetings we were saying unique films that were made and critically successful; it was still a hard journey but when someone wants to pitch a project now – they can (now) say Loving Vincent as proof".
The enduring art of Loving Vincent
After such a long but fruitful journey for the pair and their team, do they have any plans for new ventures in the future? "The next film we want to do [using the same oil-on-canvas technique] is a horror film based on Francisco Goya, a Spanish painter" Hugh teases. While they're not quite ready to go with production, their excitement for whatever's next is palpable. "It really depended on whether we got the audiences in and it was only around November [after launching in Europe in September] that it became obvious that there was so much popularity for the film around the world, in so many places, that we could have the confidence to make other films with this technique and have the audience for it."
An audience they most certainly do have. Loving Vincent has thus far earned over five times its production budget and new audiences will no doubt discover the delights that lie in wait for them as the film gains more exposure on Oscar weekend. It is inspiring to hear Dorota and Hugh's journey with the film and their commitment to Loving Vincent is clear and inspiring. What they've produced is nothing short of a triumph, technically, visually, thematically and artistically. It has been a pleasure speaking to both Dorota and Hugh for Film Inquiry; I thank them endlessly for their time, congratulations them for all the well-deserved success with Loving Vincent and wish them all the best with their future projects.
Loving Vincent remains playing in select theatres. It is out on DVD, Blu-Ray and Digital in the UK and USA. You can read Film Inquiry's original review of Loving Vincent here. You can view the trailer for the film below.
---
Opinions expressed in our articles are those of the authors and not of the Film Inquiry magazine.