THE MUSIC OF SILENCE: A Squandered Opportunity
The Music Of Silence lacks emotional weight, developed characters, a coherent linear story, and sufficient enough acting to make a passable biopic of a living legend.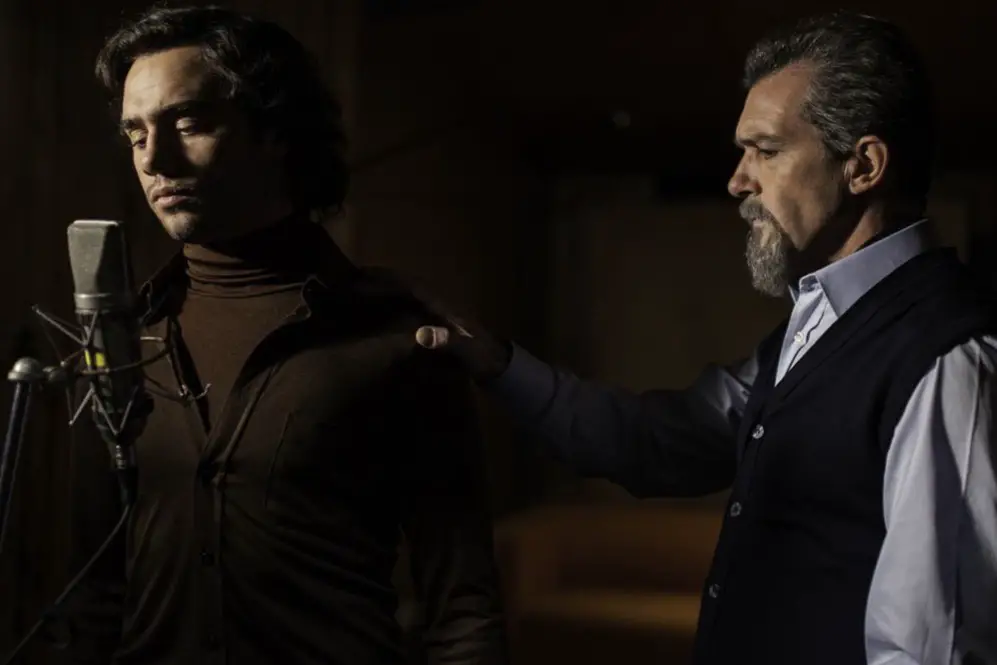 Virtually everyone on earth who was born before the year 2000 has heard of Andrea Bocelli. To date, the famed opera tenor has sold over 80 million records worldwide. The blind singer has the voice of an angel. He has performed for multiple popes, presidents, and royalty around the world, overcoming his disability, enduring hardships, and rising to the top from humble beginnings.
Based on Bocelli's autobiography, La musica del silenzio, and in collaboration with Bocelli himself, Michael Radford (Il Postino, Merchant of Venice), directs and co-writes along with Anna Pavignano (Elsa & Fred) The Music Of Silence. Starring Antonio Banderas, Toby Sebastian (Game of Thrones, BarleyLethal), Luisa Ranieri (Letters to Juliet), Jordi Mollà (Bad Boys II, Blow), and Ennio Fantastichini (Loose Cannons, Open Doors), the project has all the ingredients of a successful feature.
Unfortunately, somewhere during the process of translating the material from paper to film, the story falls apart and loses its sincerity. Bocelli deserves a much better onscreen treatment, though it is a bit odd that the 59-year-old is already getting a biopic made about him. One would also expect more from Oscar-nominee Radford. So, what exactly makes The Music Of Silence a subpar biopic of a living legend?
The acting is largely underwhelming, the dialogue stale, the transitions between scenes are choppy, the time jumps rough, and the runtime is overlong. The film isn't a total mess, however; Toby Sebastian as Amos (Bocelli) gives an outstanding performance, the audience has an opportunity to hear some of Bocelli's earlier, unreleased original songs, and Radford's direction provides occasionally beautifully-shot set pieces with some sweeping backdrops.
Tawdry Writing
Pavignano and Radford, both of who were nominated for an Oscar in the category of Best Writing, Screenplay Based on Material Previously Produced or Published for Il Postino, have more than proved themselves capable of crafting thoughtful dialogue. One can't help but wonder what exactly is missing in this adaption. Much of the dialogue by the secondary characters doesn't feel natural. A lot of this is likely the result of the screenwriters' desire to write the film in English to reach a wider audience; phrases, sayings, and words never translate exactly across languages and culture, and the result can appear blunt when what is written on paper is spoken in a different language.
Aside from Banderas and Sebastian, who are English, The Music Of Silence boasts a predominantly Italian cast, and it would have been nice to see them act in their native language. It isn't just that things get lost in translation, however. The writing comes off as inauthentic, aside from the lines that are given to Sebastian and Banderas. Furthermore, one of the only constants, the retrospective narration, beautifully written, seems to vanish a third of the way into The Music Of Silence. The viewer isn't introduced to the adult Amos (Sebastian) until almost halfway into the film, showing a lopsided focus on Bocelli's childhood.
The Problem With Biopics
Biopics are always tricky; condensing someone's life into a feature length film almost never does that person's story justice. Stanley Tucci once told me, "I don't like [biopics], I never liked them; you can't cram somebody's life into – you could do six episodes, or eight episodes of a life – but you couldn't do two hours, it's just stupid." The Music Of Silence certainly doesn't provide any arguments against his theory.
There are plot points that are introduced throughout the film that are set up as a seemingly important part of the story going forward but are never addressed or nurtured further, such as Amos' friendship with Adriano (Alessandro Sperduti), Amos' ignoring of his wife, Eleonora (Nadir Caselli) while he pursues his career, and the subplot of Amos and Eleonora's quest to conceive a child.
Radford's narrative time jumps in The Music Of Silence are off-putting and done without finesse. When put together, they don't tell an emotive story worthy of Bocelli's hardships that he endured to get where he is today as one of the most respected artists. The story doesn't focus enough on Amos' blindness, or rather, his struggle adjusting to his loss of sight to give The Music Of Silence the emotional payoff it needs. Perhaps most baffling is the film's abrupt ending. The best part is the compilation of pictures and videos of Andrea Bocelli through the years after the film ends.
It is clear that the secondary cast didn't connect to the source material enough to be completely present in each scene. They don't leave an impact, and characters come and go, reappear later in the story, aged. It's an odd juxtaposition the central figures in Amos' life that doesn't have much rhyme or reason to it. Il Maestro, played by Banderas, a resoundingly important figure in Bocelli's life is introduced towards the end of The Music Of Silence, which is rather odd. If the film had not focused so much on banal parts of Amos' childhood, then it could have centered in on the important relationship between Amos and Il Maestro. For what it's worth, Sebastian as Amos gives a career-best performance, and is the clear standout in the film.
The Music of Silence: A Disjointed And Inferior Biopic
It's rare to see so much talent involved in a creative project, but have the collaboration fall short of success. The screenwriting duo behind Il Postino, Michael Radford and Anna Pavignano needed to polish the script considerably more before Radford brought Bocelli's story to life. It is certainly nice to see the humble beginnings that Bocelli arose from, and the new songs that the audience is introduced to are enjoyable, but the film just doesn't stick. The Music Of Silence lacks emotional weight, developed characters, a coherent linear story, and sufficient enough acting to make a passable biopic of a living legend.
Are you a fan of Andrea Bocelli's music? Have you read his autobiography? What did you think of Radford's film adaption? Tell us your thoughts in the comments below!

The Music Of Silence was released theatrically and on VOD on February 2, 2018 in the US. For all international release dates, see here.
 https://www.youtube.com/watch?v=uoKM-GIfXOU
---
Opinions expressed in our articles are those of the authors and not of the Film Inquiry magazine.