SXSW Film Festival 2023: LATE NIGHT WITH THE DEVIL, FRY BREAD FACE AND ME & FURIES
As this year's SXSW winds down I finish my coverage with three more films. One is a horror comedy, another a coming of-age, and I finish with an action-thriller. All three have room for growth but they all resonate in some form.
The 2023 SXSW Film Festival was a lot of fun and I got to see a lot of talented artists contribute! Until next year!
Late Night With the Devil (Cameron Cairnes, Colin Cairnes)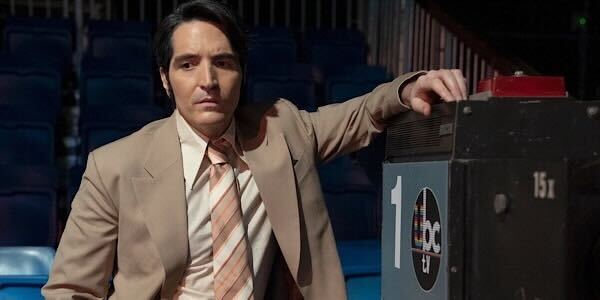 What can you do on a late-night talk show to spice it up? Add Satan to the mix! Jack Delroy (David Dastmalchian) is a popular late-night icon. Funny and charming, he's a born TV personality with a commanding screen presence. The same could be said for David Dastmalchian, whose exceptional performance takes center stage Late Night With the Devil.
When Jack's show is in danger and there's some talk about a cancellation, he decides to curate a program for the season. It's October 31, 1977, and for Halloween, he brings in a psychic, Christou (Fayssal Bazzi), a skeptic (Ian Bliss) who tries to disprove others, and a young teenage girl who is possessed, Lilly (Ingrid Torelli).
At 92 minutes it doesn't waste any time. The story progresses like a found footage film and a faux documentary, with mention of one particular live recording where a demonic possession takes place. The music, costumes, and production all feel as if plucked from the 70s. The talk show aesthetic, complete with commercial breaks and behind-the-scenes takes (in contrasting black and white), adds to the overall excitement. It's a colorful background for horror and one that l didn't know I needed.
I did.
Late Night With the Devil compels you with a generous amount of creativity and an admirable level of commitment. The juxtaposition between the personality Jack puts on for the audience and the stressed-out man behind the camera is engrossing. Written and directed by brothers Cameron Cairnes and Colin Cairnes, Late Night With the Devil harnesses an ingenious idea and executes it with comedic intelligence.
A lovely symbiosis of genres that is a treasure of a mood with a satirical wit that has a throwback style that speaks with nefarious undertones. It delivers an exciting homage that is alluring and simultaneously disturbing. There are some narrative dips in the final act, leaving behind the structure of a talk show, but once it really gets its hands dirty and lets loose there is an undeniable force.
As it does unravel, so does our lead, threatened to buckle under the pressure. At one point, Late Night With the Devil shirks its barriers and moves onto full-on lunacy. A hilarious, macabre throwback that's chaotic and bizarre and a hell of a lot of fun. David Dastmalchian is fantastic. Can we get him a late-night show?
Fry Bread Face and Me (Billy Luther)
Written and directed by Billy Luther, based on his memoir, Frybread and Face and Me is a coming-of-age story captured with an inherent sweetness. The year is 1990, and our protagonist is an 11-year-old Fleetwood Mac fan from San Diego named Benny (Kier Tallman). He is made to spend the summer at his Grandma Lorraine's (Sarah H. Natani) home on Diné Reservation and Sheep ranch in Arizona.
There he spends time with his Navajo-speaking Grandma, his cousin Dawn AKA Frybread Face (Charley Hogan), his aunt Lucy (Kahara Hodges), and uncle Marvin (Martin Sensmeir). After some reluctance, Benny accepts his situation and in turn, learns more about his Native American background. A close bond is built between Dawn and himself, and the film captures this relationship and the family with a contagious warmth.
It has a voice-over narration from Luther himself and even features clips of home videos. It's a very special film, a peer into an important time in his life. It allows us to gain an intimate insight into our lead that's both emotional and joyously lighthearted. Certain scenes like driving a car with his cousin or watching Starman over and over. The navigation of youth is always a challenging one, but there is also humor to be found, the sort of blithe perception one has early in life. Frybread Face and Me allow that to flourish in poignant strokes.
As genuine as the picture is, it occasionally falters with some forced-feeling dialogue. However, the charm of Keir Tallman and Charley Hoganjs is enough to overcome it.  At first, I wasn't sure about the score but it feels like childhood in a sense, the light that you try to focus on over the tragic truths that adults can't hide from.
Overall, it's a promising future for all involved. Frybread Face and Me is a touching coming-of-age story brimming with the authenticity of its creator. In the great words of Mr. T (and quoted in the film): "Be somebody or be somebody's fool."
Furies (Veronica Ngô)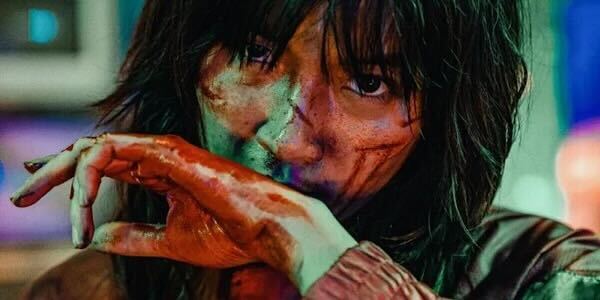 A trio of girls enacts their revenge in Veronica Ngô's electrifying thriller: Furies. Beginnings can be brutal and at Furies' start, we see a young girl suffer sexual abuse and witness her mother die. Now older, Bi (Dong Anh Quynh) is on the streets of Saigon when she's taken in by Mrs. Lin (Veronica Ngô). Under Mrs. Lin's guidance, fellow Thanh and Hong teach her to not only defend herself but how to inflict her inner turmoil onto the criminal underbelly of the city.
There is a training montage intercut with the building of her new family, these women are bonded by a shared experience of abuse. They target Hai, a Saigon crime lord, responsible for the trafficking of girls and drugs. Veronica Ngô has had a long history in action films within her native Vietnam. As a prequel to 2019's Furie by director Le Van Kiet, she returns behind the camera to fuel the backstory of the character she embodied. Here she co-writes, costars, and directs.
The action is captured with terrific stunt choreography (from Samuel Kefi Abrikh) involving gun fights, hand-to-hand combat, and motorcycle chases that are rendered real with impactful sound design. Colorful cinematography and a rocking soundtrack help to play a violent chord. At times it's filmed a bit frenetically which has its pros and cons. All of the performances are compelling, never losing the film's edge or the story's lens that speaks to the trauma of its characters.
The finale doesn't land all of its punches, keeping the film from a fully rounded cohesion, but it doesn't deter it from the overall effect. Full of bloodshed and female ferocity, Furies slays. Veronica Ngo creates a vengeance-fueled ride that is one of the best actions of 2023.
Does content like this matter to you?
---
Become a Member and support film journalism. Unlock access to all of Film Inquiry`s great articles. Join a community of like-minded readers who are passionate about cinema - get access to our private members Network, give back to independent filmmakers, and more.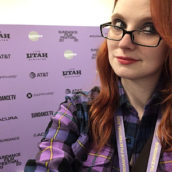 Kristy Strouse
Kristy Strouse is Editor in Chief of Film Inquiry, writer, podcaster, and all around film and TV fanatic.