CPH: DOX 2021: THE GIG IS UP: the lives behind the apps
Behind the friendly smile of the Parisian Deliveroo rider who just brought you lunch is a woman battling for her children's future; in the driver's seat of the Uber you're taking to work in downtown San Francisco is a father struggling to make ends meet; from Lagos to Florida, thousands of Amazon "crowdworkers" spend every waking hour completing surveys and cleaning up irregularities left by AI algorithms, for an average of $2 USD an hour, so that your online shopping experience is as seamless as possible.   
Walsh Sets Business Practice In Her Cross-Hairs
Taking aim not necessarily at the lazy consumerism of those who use such platforms, more so the inhuman, puppet master CEO beneficiaries pulling the strings from on high, Shannon Walsh's The Gig is Up paints a simmering, sobering picture of the global gig economy. At a value of $5 trillion USD annually, and predicted to employ 540 million people by 2025, the explosive proliferation of online platforms and 'convenience maximalism' shows no sign of abating, but continues to ignore those without whom it would grind to a halt. If a young mother considers her mobile phone of greater importance than the roof over her family's head, it's certainly time to take stock of the direction in which we – as an increasingly interconnected worldwide community – are headed.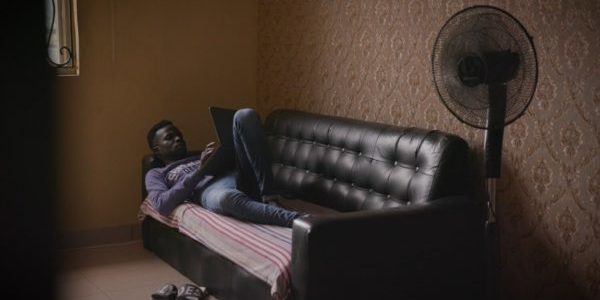 Taking on a behemoth of a subject with just 90 minutes to play with, Canadian documentarian Walsh focuses her eye on a select group of individual stories, representative of an evidently gargantuan picture. Pinging from one compass point to another with dizzying regularity, the editing is crisp and economical, but The Gig is Up pauses just long enough to get under the skin of its core subjects, though unfortunately others are relegated to being rather superfluous filler. Annette, who quit a well-paid, steady job for the lucrative rewards promised by Uber's initial incentives, finds that once hooked, and then at the mercy of falling rates dictated by the ride-hailing giant, she is left far worse off than before.  
The Hard Reality Of Life As a Gig Worker
Her tears evoke a desperation echoed in much of the catalogue of testimony which plays out to camera or via mobile-phone recorded clips, stitched together to demonstrate the extent of this global phenomenon. With the benefit of hindsight, the moral of all stories is that if a deal appears too good to be true then it probably is. For all the mealy-mouthed promises of great opportunity and 'flexible working conditions' it becomes immediately apparent that workers are enslaved by these tasks and their devices. The heavy toll is evident; a lack in the human interaction of traditional workplaces, interrupting sleep patterns, and suffering as a result of irregular income is like living in a Black Mirror-esque nightmare scenario where a personal star rating is all that counts. 
Al Aloudi, with whom we spend a significant amount of the film, is one of many Lyft and Uber drivers to speak out against such perilous, unsustainable working conditions. Vociferous opposition to their status as independent contractors as opposed to employees, therefore lacking the protection of labour laws, shows signs of encouragement for progressive, organised activism. The film concludes with a new beginning. Or at least the potential for one. Though the title of Walsh's latest documentary may suggest that the end is nigh for gig economies, it's hard to imagine that being the case. Perhaps instead it hints at the fact that these companies have been found out, that their game is up, and that profound changes must be made if they are to continue to operate.  
The Fight Goes On
Hidden beneath a Shenzhen motorway underpass, photographer Wu Guoyong finds hundreds of thousands of discarded bicycles of failed food delivery services. Piled high as far as the eye can see, here lies the physical evidence of fierce competition and rapidly expanding capitalism run riot. The Gig is Up does a good job at lifting the lid of its subject, at demonstrating there are human stories behind the apps, behind each and every order or click, but there remins a lot more to investigate here. The fight goes on.  
Did seeing The Gig is Up change your opinion of Uber, Deliveroo, Lyft, and other such services? Will you think twice about using them in the future? Let us know in the comments below!
The Gig is Up is in competition in the F:act Award of CPH:DOX and will soon be appearing at Hot Docs 2021 in Toronto.
Does content like this matter to you?
---
Become a Member and support film journalism. Unlock access to all of Film Inquiry`s great articles. Join a community of like-minded readers who are passionate about cinema - get access to our private members Network, give back to independent filmmakers, and more.