WHAT EVER HAPPENED TO BABY JANE?: What's Camp Got to Do With It
With the release of the FX series Feud, there's no better time to revisit Robert Aldrich's histrionic horror, What Ever Happened To Baby Jane.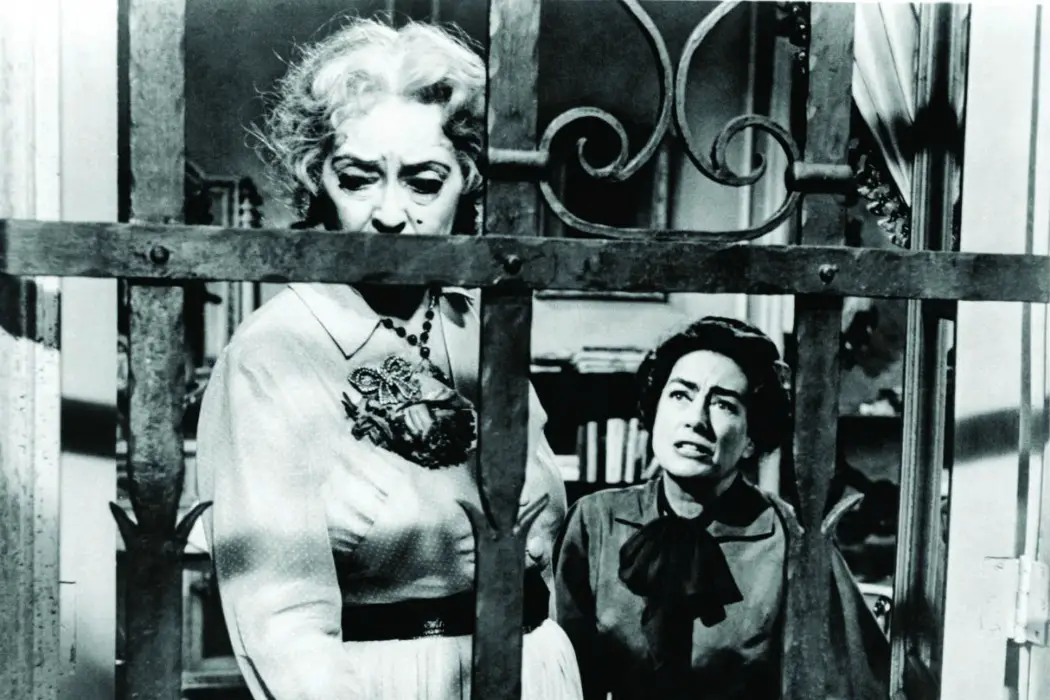 Ryan Murphy has become synonymous with the glamorization of horror, of historical accounts, of musicals, of camp. You name, and odds are, he has tackled it. From Nip/Tuck to Glee to American Horror Story to American Crime Story, the list almost seems endless to what Murphy has put his touch on in the 21st century. Say what you will about the quality of his work, but there is no denying the cultural impacts he has left on the art form we now call anthology series.
In 2017, he is back with another project altogether: Feud: Bette and Joan. Telling the contentious story of Bette Davis and Joan Crawford during the filming of What Ever Happened to Baby Jane?, Murphy has now left his stamp on old Hollywood glamour in his attempt to ask what, in fact, did happen to Baby Jane… that is, what took place behind the scenes of the film that Bette and Joan were sworn enemies? Dripping in camp and speculation (what was their relationship really like?), Feud also presents its audience with an opportunity to re-explore the very film the series is centered around.
I remember watching Baby Jane years and years ago, falling in love with the story of two dysfunctional sisters Blanche (Crawford) and Jane (Davis) Hudson, one significantly more terrifying than the other. Not secretive in sharing disdain for her more successful sister, Jane now takes care of her bed-ridden sister- serving her rats for lunch, shouting at her, mocking her at the drop of a hat. Oftentimes, it is brutal by even standards set in the 1960's! The film is delicious and its power still rings true in 2017, and thus, necessitates a closer look to work as a primer for Murphy's latest concoction currently on FX.
"I've Written a Letter to Daddy"
Entrenched in the "feud" between Davis and Crawford, especially as revisited on the series, are issues of body politics, ageism, and familial drama. Interestingly, Baby Jane often works in direct parallel with the themes of the series. While both Bette and Joan vie for the attention of the film's director Robert Aldrich (in the series, played by Alfred Molina), we as viewers watch as they descent into a different madness than what is presented in the film– in pure desperation to stay socially relevant in the industry. Still, it is madness all the same, and this clawing for attention, to bring back the spotlight to their stardom, is a theme that runs rampant throughout the actual film.
Whether or not you care about the feud that took place between Crawford and Davis behind the scenes of Baby Jane, the film works today on so many more levels than how Murphy portrays it on Feud. With its release in 1962, critics hailed it as an unsettling, claustrophobic thriller. Today, though, that perception has changed drastically. While still heralded as a staple to the horror genre, it has since crossed over into camp territory. Look at it this way: two of the most renowned and glamorous actresses of their era, ostensibly "washed up" by this point in their lives, attempt to revive their dying careers with this tour-de-force examination of madness and showbiz?
It's no wonder that both Blanche and Jane have influenced gay culture, drag culture, and horror buffs alike. Look no further than its comedic spin-off "Wha' Ha' Happened to Baby JJ" on RuPaul's Drag Race. 
Clearly, this inspiration must be drawn from the source material, and Baby Jane is truly a showstopper. One scene in particular sticks out. "Baby Jane" Hudson dances before a mirror, singing to the tune of a song she was once famous for singing, "I've Written a Letter to Daddy." She cannot take her eyes off of herself as she glides across the screen, a vision of who she once was. Simultaneously heartbreaking and demented, this scene highlights the ways in which Baby Jane works succinctly in a modern-day context.
Here, we watch this woman, aging and callous, attempting to claw her way back into the industry. It is altogether common, even today, to watch celebrities, mostly women, face this same type of humiliation. And while the film relishes in its own maniacal glee, there is a glimmer into this horror that indicates the sheer loneliness that this business entails.
"All This Time We Could Have Been Friends?"
At the heart of Baby Jane, though, are the two central performances. Although discriminated against for their age, Davis and Crawford are two powerful performers at the top of their game here. What occurred behind the scenes is up to our own speculation and interpretation. But that should not stop us from lapping up the drama that Murphy allows us to indulge in for eight weeks.
Did Davis really mean to kick Crawford as hard as she did? Did Crawford really put rocks in her pockets so that it would be more difficult for Davis to drag her across the floor? I sure hope so, because that would definitely give the fictional story of Blanche and Jane even more weight and drama. Baby Jane could even fall into meta-territory, right? And while the series is interested in exploring this toxic relationship, there is also something endlessly fascinating about watching the scenes between Crawford and Davis that explores how they work together to thwart the evils that be– in the forms of sexism primarily.
Here, we watch as two keenly aware women battle the system that had previously adored them, but now ignores them completely. And what cannot be undersold is the actual relationship that is explored from film to series. The film offers commentary on aging, sisterhood, and show business, all remaining worthy of discussion today. Fortunately, we have been handed a chance to enjoy this vicious cycle and critique it at the same time.
At just three episodes in, there is no way of knowing if Feud will show those glimpses of pure insanity that Baby Jane delivered, all the way back in 1962. And who knows if Murphy is even interested in humanizing the larger-than-life personalities of Joan Crawford and Bette Davis (now played by Jessica Lange and Susan Sarandon respectively)? All we know for certain is that, given the cultural significance that What Ever Happened to Baby Jane? offers, it will still be one hell of a ride.
Are you currently checking into Feud? Does it work as a companion piece to What Ever Happened to Baby Jane?
What Ever Happened to Baby Jane is available on most platforms, notably iTunes. Feud is currently airing on FX in the US.
---
Opinions expressed in our articles are those of the authors and not of the Film Inquiry magazine.