WHOSE STREETS?: Reclaiming The Narrative
Whose Streets? is a black story told by black voices, presenting a perspective that has remained elided in mainstream debate over black bodies and lives.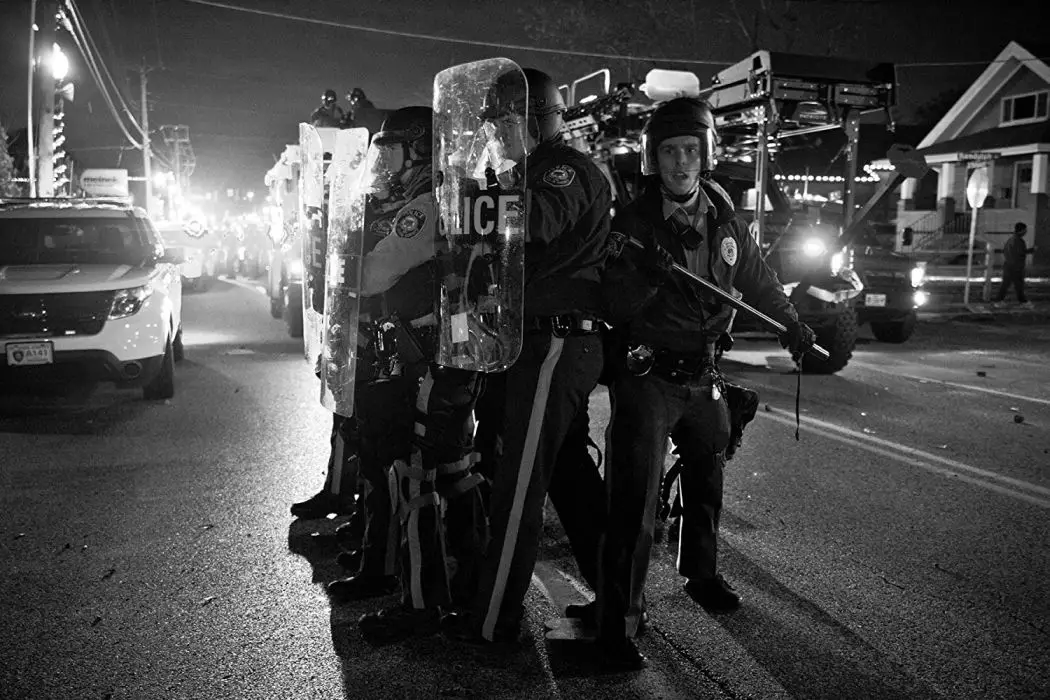 In the national furor that has erupted over the past few years concerning police officers' continued practice of murdering unarmed black men, most of the attention has been focused on the macro; societal and ideological causes and consequences of these tragedies.
It's absolutely essential to have these conversations, but they are almost always had from without, by people with no personal knowledge or connection to the events being discussed, whose impacts they experience several degrees removed. What is almost always lost in the bluster of pundits and politicians are the actual people on the ground, individuals for whom these tragedies aren't merely flash points in the 24-hour news cycle, but are regular interruptions in their day to day lives.
The new documentary Whose Streets? breaks this cycle of narrative and coverage in a way that only a feature documentary can, by staying committed to the people on the ground making the stories happen, removing as much mediation as possible between their reality and the audience.
Even more unique is that this is a black story being told by black voices, presenting a perspective that has unfortunately, but unsurprisingly, remained largely elided during the mainstream debate over black bodies and lives.
This is a black story being told by black voices
Humans and Humanity
A huge part of what makes Whose Streets? so compelling is its careful curation of online media from citizen journalists; at times conflating subject with cinematographer. First time directors Sabaah Folayan and Damon Davis utilize the semiotics of the digital age in order to paint a more multifaceted and comprehensive picture of the events in Ferguson.
Read our interview with Sabaah Folayan and Damon Davis here.
Tweets and smartphone videos are regularly inserted into the film, but it never feels forced or contrived, especially since so much of this conversation happens online, in fact, to not include them might even feel like an omission.
It's to the filmmakers credit that they were able to include these disparate sources in a way that at once offered variable perspectives while still remaining unified under their authorship.
But the film's power primarily comes from the filmmakers' commitment to their subjects and willingness to close the traditional distance put between documentarian and subject, immersing themselves in the movement they're documenting in an effort to more potently share what it's all about.
This may at first seem like a slippery slope for non-fiction filmmakers, but I don't think it would be possible to tell this story the way it needs to be told, the way this film tells it, without that. The two people with whom we spend the most time are activists David Whitt and Brittany Ferrell.
The film's few moments of levity come in scenes with them in their roles are parents, balancing organizing and demonstrating with raising children, their presence implying much of the explanation for why Whitt and Ferrell do what they do on the streets of Ferguson.
And that's where the film's most dramatic scenes take place. We witness peaceful protest after peaceful protest, made up of a community in mourning, met with heavily militarized police utilizing chemical weapons and firing of rounds of rubber shotgun shells with seeming glee.
The energy captured here is something singular
The energy captured here is something singular, as the camera gazes upon the faces of hundreds of people simultaneously fighting and fearing for their lives. The film does a great job of highlighting the individuals that make up the sea because the filmmakers are side by side with them, literally and figuratively, something impossible for news stations who insist on maintaining their distance, physically and ideologically.
Promise for the Future
Though consistently infuriating, Whose Streets? avoids the depression that sometimes accompanies social issue docs. The film's dependable energy, as well as its desire to explore the love and unity that exists within this all too commonly misrepresented community, actually kind of make you feel some semblance of hope, as absolutely crazy and naive as that sounds in this specific moment in history. I kind of can't believe that just came out of my mouth (well, fingers).
But As Kendrick Lamar's "Alright" plays over the credits, the repeated assurance that "we gon' be alright" actually seems plausible backed by the invigorating power of everything that preceded. But it's not the kind of hope that things will just naturally get better, it's the kind that you know depends on the actions of thousands of individuals no different than you and I.
Whose Streets?
I'm sure it's no accident that the film is being released just two days following the third anniversary of Michael Brown's murder, the instigating flap of the butterfly's wings that set so much into motion, not the least of which is this film.
The opening scene features shot after shot of empty city streets on a rainy night with mournful horns laying on top. Though they include an official dedication to Michael Brown, this scene makes it immediately apparent that the film is an elegy for him and all of those who befell similar fates, in the hopes that no more will.
How do you view the relationship between objectivity and participation?
Whose Streets? opens today, and will continue to open in more cities throughout August and September. Go to the website to find where it's playing near you.
---
Opinions expressed in our articles are those of the authors and not of the Film Inquiry magazine.