BOY MEETS GIRL In An Unpredictable Transgender Romcom
In an article entitled "Why It's Important to Make More Diverse LGBT Films," fellow Film Inquiry writer Cherokee Seebalack lamented: "Where are all the LGBT romcoms at?" Where, indeed.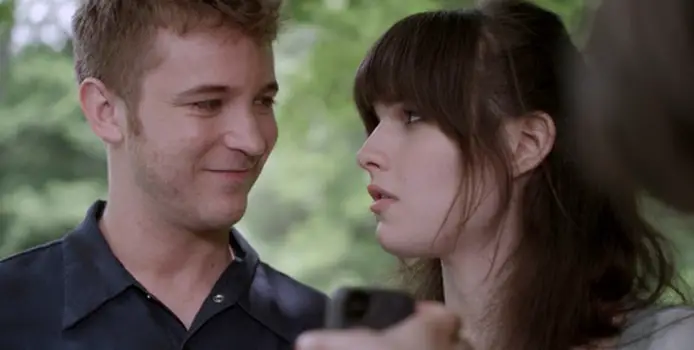 In an article entitled "Why It's Important to Make More Diverse LGBT Films," fellow Film Inquiry writer Cherokee Seebalack lamented: "Where are all the LGBT romcoms at?" Where, indeed. Films depicting LGBT relationships are mighty scarce in the industry, and those that are made are ultimately relegated to the "Gay & Lesbian" subcategory on Netflix.
What a pleasant surprise, then, that I happened to stumble upon a little independent movie called Boy Meets Girl. Written and directed by Eric Schaeffer (If Lucy Fell), it's a film that features a confident and capable transgender female as its main character. Think about that for a second. How many other films can you count on one hand that meet the same criteria? Indeed, it's extremely rare to see a transgender romcom at all. But it's even more rare to see one as refreshingly honest, bitingly funny, and ultimately touching as Boy Meets Girl.
Love Transcends Gender
The previously mentioned transgender girl, Ricky (Michelle Hendley), lives in a small town in Kentucky with big aspirations of finding love and becoming a fashion designer in New York City. Upon meeting a pretty debutante named Francesca (Alexandra Turshen), Ricky finds that they share feelings for each other that are stronger than just friendship. However, their blossoming romance is threatened by Francesca's bigoted marine soon-to-be-husband (Michael Galante) and the looming potential of Ricky's future in New York. Meanwhile, Robby (Michael Welch), Ricky's best friend since childhood, discovers that he also has burgeoning romantic feelings for Ricky.
Perhaps what makes the story of Boy Meets Girl so satisfying is that the film depicts sexuality as the fluid, often indeterminate concept that it is. So many films go out of their way to establish their characters as explicitly gay or explicitly straight, but Schaeffer understands that sometimes things aren't so black and white. Yes, the characters often talk about sexuality – its various facets, contradictions, and societal stigmas – but never once do they definitively state their own sexual preference. This is an important step forward for the romantic genre in that it depicts people having physical and emotional relationships with other people, regardless of their gender.
This idea is illustrated most beautifully during a scene in which Ricky and Francesca share a tender moment in bed together. Francesca struggles to label herself:
"What does this make me? A lesbian? Bi-curious?"

"Human?" Ricky offers with a shrug.
It's moments like these that are the film's greatest strength, as it shows a compassionate understanding that labels are not what make us human. Rather, it's the deep, personal connections we make with others that allow us to express our own humanity.
Even the Sure-Footed Stumble
Yet, for all of its courageousness and progressiveness, Boy Meets Girl is not without its flaws. While it does a tremendous job of depicting its central queer characters realistically, many of the decidedly straight (read: "conservative") supporting characters are on the opposite side of the spectrum. In particular, when Francesca's mother Helen (Elizabeth Ward Land) learns of the romantic involvement between Ricky and her daughter, she turns into a caricature as broadly drawn as a Disney villainess. During a scene in which she confronts Ricky, she throws casual insults and diabolical threats with such an overt zeal that I wondered if I was actually meant to take any of it seriously.
Boy Meets Girl never feels like it's pushing any kind of agenda or politics on its audience, necessarily, but this kind of blunt and simplistic characterization is at odds with the empathy the film demonstrates toward its "non-straight" central characters.
Stars in the Making
But what a cast Schaeffer has assembled to play these central characters. Young actress Michelle Hendley gives a truly courageous breakthrough performance as Ricky. It's a complex role that requires an incredible amount of confidence, sass, and vulnerability in equal measure, and Hendley simply nails it. In addition, she demonstrates a true gift for comedic timing, especially during a scene in which a pair of women chat with Ricky about the perils of growing up in a small town:
"High school… who can survive it?"

"I was fat," titters one. "I had terrible acne," says the other.

"And I was a boy," deadpans Ricky. "So that sucked."
Given far more to work with here than in the oh-so-compelling role of Mike Newton in the Twilight saga, Michael Welch is an absurdly likable screen presence. And judging by her performance as Francesca, Alexandra Turshen is an actress capable of the multiple layers that the complex role demands – perky and bubbly at first glance, sensitive yet resilient underneath the surface.
Finding an Audience
The sad truth about a beautiful film like Boy Meets Girl is that it won't get the audience it deserves simply because it's a "gay movie," when in reality it is so much more. I was lucky enough to see the film at the Angelika Film Center in Washington, D.C., a theater that screens challenging, diverse, and otherwise little-seen independent fare. Kudos to Angelika for presenting a film that depicts very tender and very real love. Meanwhile, multiplexes across the world are now screening horribly offensive (and yet lucrative!) drivel like Fifty Shades of Grey.
This, however – this – is a film that truly deserves to be seen. It's brave. It's often very funny. And it made me cry buckets of manly man-tears. No doubt Boy Meets Girl will one day end up in the aforementioned "Gay & Lesbian" category on Netflix. But I hope it's sooner rather than later, because frankly the more people who see Boy Meets Girl, the better.
Have you seen Boy Meets Girl? If so, what did you think of the choice to have a transgender girl as its central character? Do you think it's important to make more films that represent those in the LGBT community?
(top image source: Wolfe Releasing)
---
Opinions expressed in our articles are those of the authors and not of the Film Inquiry magazine.