HALF MAGIC: Heather Graham's Directorial Debut Impresses
Half Magic succeeds with the help of Graham's stellar writing and direction, the cast's adherence to Graham's comedic and dramatic vision, and three central characters that serve as great role models to women of all ages.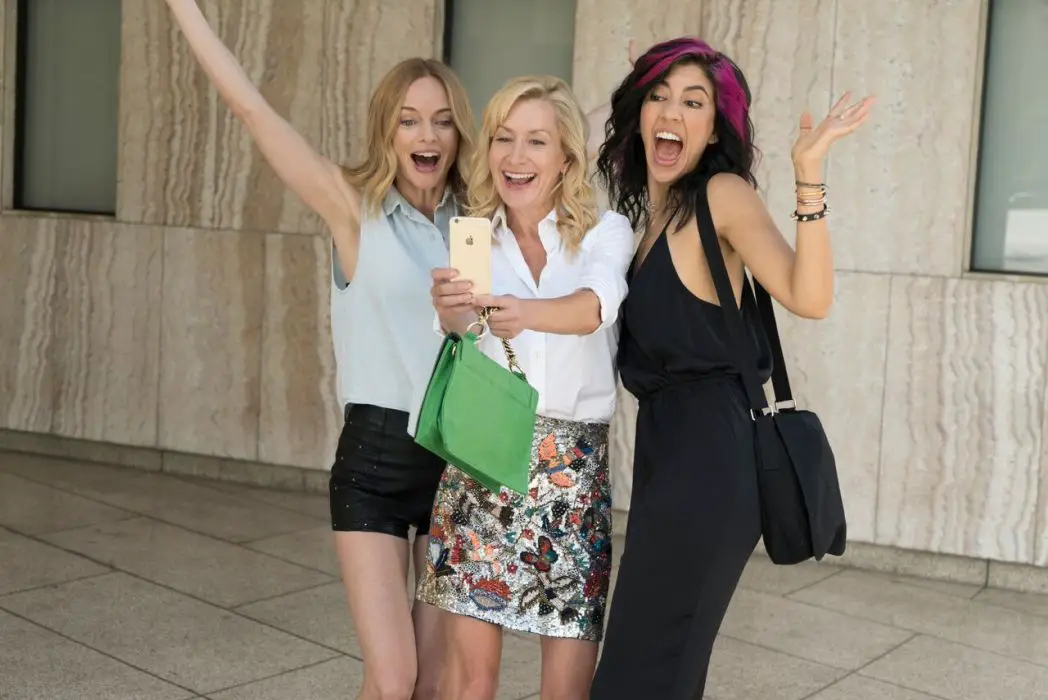 Can you believe Heather Graham hasn't written or directed a film until Half Magic? The Hollywood heavyweight has been a staple of the industry for over 30 years, acting alongside and having been directed by some of the most talented names in film. She became a star in Gus Van Sant's Drugstore Cowboy in 1989. Since then, she's had over 80 acting credits to her name. However, as we all know, Hollywood isn't exactly a meritocracy; unfortunately Graham hasn't always found roles worthy of her talent in her career. Who could forget her role as Rollergirl in Paul Thomas Anderson's Boogie Nights? Or 'Stab' Casey in Scream 2? Or the stripper, Jade, in The Hangover series? She's had a difficult time avoiding Hollywood's typecast for a lot of attractive blonde women.
Graham finally decided to write her own role worthy of her talent and intelligence in a cinematic world that critiques the roles that limit women both on and off of the camera. Half Magic is a thoroughly empowering and uplifting film filled with themes of overcoming sexism, escaping one-sided relationships, the power of belief and self-love, and challenging our patriarchal society as women navigate their way through oppressive industries filled with abusive men. Graham is fearless in her writing, beyond adept in her direction, and shines in front of the camera, as usual. It is her clap back to all of the demeaning roles she's been given to in her career by men in the industry.
Half Magic is about a Hollywood assistant and aspiring screenwriter named Honey (Graham), who struggles with her self-worth as a result of an oppressive workplace relationship with her boss (Chris D'Elia) that crosses the lines of power dynamics. She encounters two women (played by Stephanie Beatriz and Angela Kinsey) on a retreat that encourages women to love their whole selves. Together, they form a bond that seemingly transcends the material and rational world and defies logic. Half Magic is not only hilarious, it has something, or rather, a lot of important things to say.
Balancing Slapstick With Earnest Storytelling
Graham is no stranger to slapstick comedy. Not bad slapstick, either, the good, intelligent kind. Having worked with Mike Myers in Austin Powers: The Spy Who Shagged Me, Sex And The City, The Hangover, and the sketch comedy show Portlandia, she understands every aspect and type of comedy. Half Magic's comedic aspects are kind of an amalgamation of slapstick, improv, witty one-liners, and awkward moments.
Most of the jokes hit and very few miss thanks to her writing and the talented actors landing the lines. With Brooklyn Nine-Nine and The Office, respectively, Beatriz and Kinsey are comedy veterans. And the secondary cast full of comedians such as Molly Shannon, Thomas Lennon, Johnny Knoxville, and D'Elia fully connect with Graham's script.
The comedy is only part of Half Magic, however. There is an endearing, at times dramatic element to the story. It is filled with heartbreak, abuse, workplace harassment, and career shortcomings. At the heart of the story is the relationship between the three women. Graham, Kinsey, and Beatriz have outstanding chemistry together. Graham as a the workaholic, Kinsey as the heartbroken breadwinner, and Beatriz as the free-spirited optimist all compliment each other wonderfully. They are fully fleshed out characters, and entirely relatable for both women and men. Together, they go through the ups and downs of being a woman in a male-dominated society.
The Meaning Behind The Magic
Is there really magic in Half Magic? Well, this is a spoiler-free review, so you'll half to watch the film to find out if actual witchcraft goes down. Throughout the film, Beatriz's character, Candy, has candles which she claims to have cast spells on. Graham's and Kinsey's characters go along with it. The idea is, if one makes a wish, lights the candle, and blows it out, then the wish will come true. As the women make wishes together, they gain more confidence in themselves to make things happen as luck seemingly comes their respective ways. The candles also reveal something sobering about each of the women.se
Graham's character is extremely smart and talented, but she's been told time and again by her boss and boyfriend (D'Elia) and other men in the film industry that she isn't. Both her career potential and love life have been squandered by men. Kinsey's character is very successful, which emasculated her estranged husband (Lennon), who left her for a 19-year-old. She realizes that she doesn't deserve somebody who can't appreciate her success. Beatriz's character has been stuck in a friends with benefits relationship with somebody she's been faithful to and has loved for two years, yet she has to do his laundry while he sleeps around. The candles serve as a metaphor for what is most important for these three women, what their career and relationship priorities are.
You Go, Graham
Oftentimes when she hasn't been cast as the quintessential bombshell blonde (License To Drive, Swingers, Austin Powers: The Spy Who Shagged Me), Graham has been cast as a porn star, prostitute, stripper, or some variation (Boogie Nights, The Guru, From Hell, The Hangover, The Hangover, Part III, About Cherry). However, Graham doesn't mind, for the most part, portraying the latter roles, as she explains:
"You know, it's interesting I've chosen these roles because, in my personal life, I'm not that crazy-wild. I've been a serial monogamist with periods of being single in between. The issue of sexuality fascinates me, though, because our culture sends out mixed messages to women about sex. Are women supposed to be sexually alive people, or are we supposed to be 'good' mothers who would never do those things?
In movies, we see men having all kinds of sex, and people say, 'Oh, they're men.' But women don't have the same amount of freedom to express that side of themselves in films or in life. I like the fact some of my roles maybe help people open their minds about the way they think about sex."
It's a great point and double standard that she touches upon. Women simply don't have the same liberty of physical expression that men do. However, she still thinks that substantive roles are few and far between for women in an industry run by men, which Half Magic directly hits upon. In the film, her male boss at her production company is not only sexist (quite literally an HR department's worst nightmare), but he doesn't let her express any ideas in the drawing room.
Perhaps most important to Graham in this script is that these three women, through their friendship, gain the freedom that they've always had to express themselves sexually, intellectually, and verbally.
In Conclusion: Half Magic Is An Impressive Debut
Graham has a promising new career as a filmmaker. As Beatriz told me during our interview, "She's usually the smartest person in the room, but also, she's the humblest, so the mix of those two things often creates a little bit of tension in that no one else seems to think that she's probably the smartest person in the room, but she is…this was her passion project. She was drawing herself into every part of it at all times. She was absolutely tireless and incredible to be around." It truly shows with Half Magic. There is so much care put into every frame and every bit of dialogue.
With a tonally commensurable score by Alex Wurman and catchy music by popular musician, Moby, Half Magic is a hit all around. The cameos are hilarious, the drama is believable, and the messages are uplifting and timely. Half Magic succeeds with the help of Graham's stellar writing, commendable direction, Beatriz, Kinsey, D'Elia, and the rest of the cast's adherence to Graham's comedic and dramatic vision, prescient themes, and three central characters that serve as great role models to women of all ages.
What did you think of Graham's directorial debut? What is your favorite role of hers? What is your favorite Beatriz or Kinsey role?
Half Magic opens theatrically on February 23, 2018 in the U.S. For more information on its release, click here.
---
Opinions expressed in our articles are those of the authors and not of the Film Inquiry magazine.