HUMAN FLOW: An Important But Misguided, Scattershot Documentary
Human Flow's imagery is unspeakably powerful. The sequences captured on film do not shy away from the scale of the issue and the scope of the problem is showcased to truly heartbreaking effect.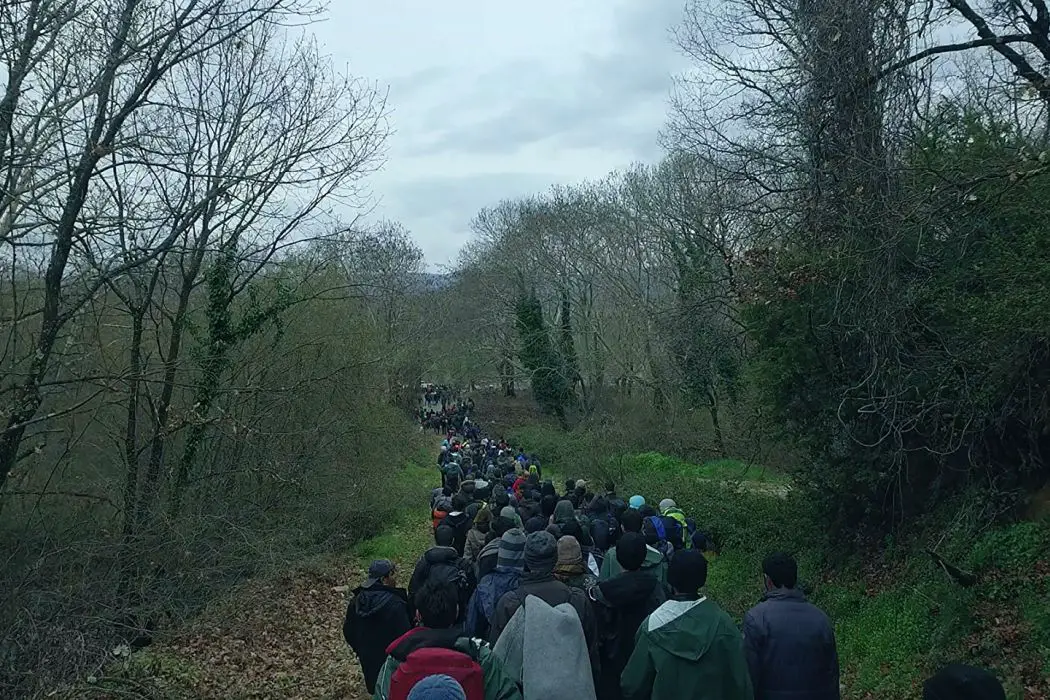 There's no denying the sheer impact of Human Flow, Ai Weiwei's documentary exploring the global refugee crisis. From the thousands upon thousands of lifejackets piled on top of each other in the closing shot to the sight of those fleeing their homeland spilling over the side of a lifeboat, desperate to feel solid ground under their feet, Human Flow is a staggering experience that admirably attempts to dig and expose the core of a very worldwide problem.
Yet the thematic topicality and timeliness of Human Flow is constantly undermined by a sometimes self-indulgent approach. Weiwei's documentary is needlessly long and scattershot, coming across as a well-intentioned but misguided vanity project for the artist and activist. It's disappointing that a film of immeasurable importance can feel so disjointed and hard to watch at times – not for its subject manner but because of horrible pacing and structure.
Unspeakably powerful imagery
Human Flow's imagery is unspeakably powerful. The sequences captured on film do not shy away from the scale of the issue and the scope of the problem is showcased to truly heartbreaking effect. Weiwei keeps the camera lingering on harrowing symbolism and victims of the wide-spreading crisis to really drive home the message; it takes a hard heart not to break as thousands shown displaced, desperately searching for somewhere to call home. It's rooted in fact, statistics delivered to us on-screen at random intervals throughout the film – and it is sometimes completely unrelated to what the documentary is showing, it provides context that even your Brexit-loving relative will find difficult to dismiss.
We are encouraged to act upon our reaction to the distressing scenes and I genuinely do think this film will have an impact on each and every person that views it. It's stirring and poignant – I just wish the final product was more easily accessible and comprehensible, rather than so haphazardly pieced together; it's a little bit of a slog to endure.
Scattershot and misguided approach
Sequences are layered together with little in the way of coherence, united only by powerful prose and quotes from poets and writers spanning the globe. Weiwei's footage was obviously extensive – 800 hours, supposedly – but it seems that streamlining it into one whole has caused one of the film's most glaring issues; it's poor focus and weak structure. This would likely be a far stronger experience if each sequence was released as more experimental vignettes, rather than unmethodical as it is in its current form, each story distracting from the next. The editing plays a part in this as the globe-spanning footage struggles to come together; despite the urgency of the situation, Human Flow slowly crawls by with no true focal point.
Human Flow's conscious decision to avoid overly-personal stories dilutes the potential power of the narrative too. It breezes past the personal for a more political standpoint, viewing the crisis in brief snippets; we understand the scale of the catastrophe but Weiwei never gives substance or time to one person's story and it feels like a mistake. It only adds to the scattered feeling Human Flow leaves you with, lacking an editorial eye that could pull this piece together more effectively.
In Conclusion: Human Flow
Weighing things up, Human Flow's power and potency just about trumps the scattershot structure it enforces, but it doesn't make it easy and it is difficult to endure at times. It's vividly and powerfully illustrated, with Weiwei's striking aesthetic sensibilities pouring through but it fails to conjure the method of storytelling that would pay the topic the attention it deserves. Human Flow is a huge undertaking – mass human migration across the globe – and a commendable, important one with a message that deserves to be seen and heard the world over; but this is a misguided project that picks the wrong format to tell it in and one that lacks an editorial eye to pull it all together in a satisfying manner.
The trailer (below) is so immensely more effective than the final feature-length.
What did you make of Al Weiwei's Human Flow?
Human Flow is now available on Amazon Prime.
---
Opinions expressed in our articles are those of the authors and not of the Film Inquiry magazine.