OH LUCY!: A Thoughtful & Clever Escape
Oh Lucy! is an inventive and poignant story that's remarkably relatable, touching on loneliness and the sometimes outrageous lengths one will go to to escape the world and discover one's own happiness.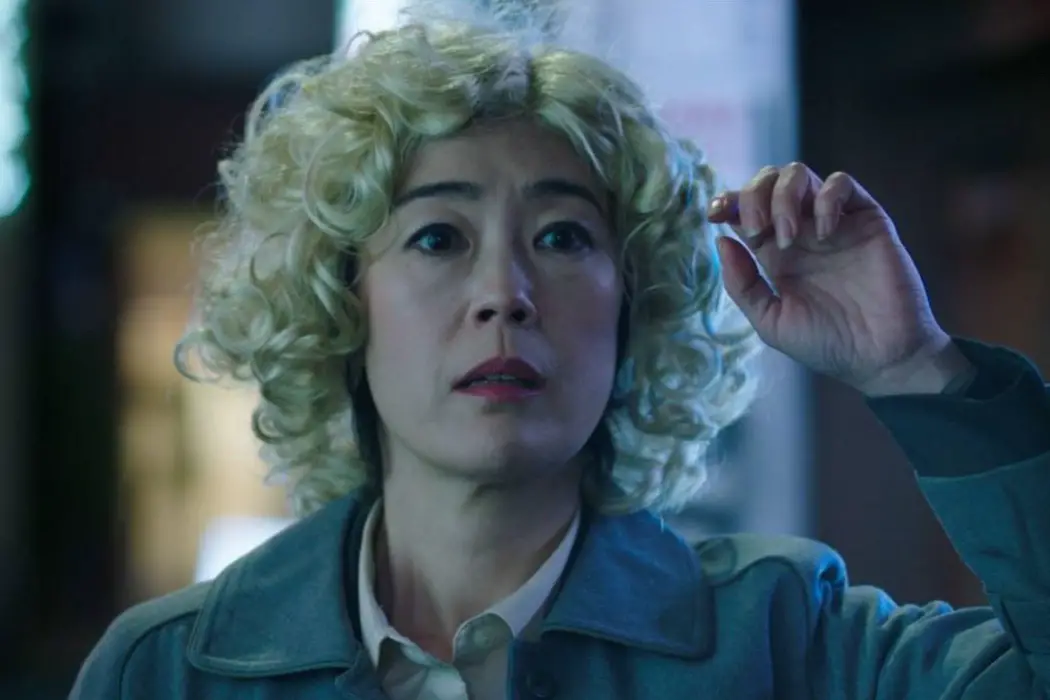 With Oh Lucy! director Atsuko Hirayanagi makes her feature debut. Based on a short of the same name, this compelling story follows Japanese woman Setsuko as she meanders her way through a mid-life crisis, and the unique circumstances that get her through it.
From the beginning, when quiet Setsuko (Shinobu Terajima) sees a man commit suicide on a train platform, but still proceeds to her humdrum office job, it is obvious that she's unhappy. Despite the bustling city that surrounds her, she's isolated in her cramped apartment, single and with no real friends to show for. Her only refuge seems to be her communication with spirited niece Mika (Shioli Kutsuna). Though hesitant at first, when Mika offers her a chance to take an English class in her stead, she agrees.
This is where the delightful Oh Lucy! truly finds its footing.
Taking Chances
There, from within a tiny office (seemingly inside a brothel), she meets John (Josh Hartnett) a highly unorthodox teacher. His methods include assigning an American identity, complete with a name and wig, and frequently hugging his students. Setsuko embraces the change to Lucy and grows more comfortable with John. Unfortunately, her fervor turns into an infatuation with her newest professor. Here she also meets Tom/Takeshi (Kôji Yakusho), another student.
From just one session she's smitten. Not only with John himself, but with the idea of Lucy. This stirs something inside of her, finally challenging her normal routine. When he's replaced by a new teacher, the sudden disruption causes her to lash out at a co-worker's retirement party. This incredible new sensation has been ripped out from under her, and Setsuko doesn't want to go back to life as she knew it.
When Mika runs to California with John, Setsuko, working from a place of both concern and jealousy, decides to travel to see her. With her estranged sister in tow, Ayako (Kaho Minami), they show up at Hartnett's door. Mika has moved on, so the three go off together to find her. There are a lot of terrific moments between the three of them, with the sisters' history bubbling to the surface and Setsuko's feelings for John inciting.
It's quite a clash of cultures, and from the moment she gets on the plane it's clear Setsuko is filled with a sort of youthful encouragement. She's slowly becoming more like her smiling alter-ego Lucy. As she spends more time in California, she begins to unload some of her baggage. However, there is a price for her wild abandon.
When Mika is finally tracked down some of the details of Setsuko's feelings are divulged, which puts things into a tailspin. Her liberation has a cost.
A Physical and Mental Journey
As Setsuko/Lucy, Shinobu Terajima gives a rousing portrayal. There are a number of subtle variations to the character that she winningly creates. Through her journey, Setsuko is extremely vulnerable, but also daring and curious. Even when she's taking her fresh naivety to a level of sheer brattiness, she's still lovable, and her story is still moving.
Josh Hartnett is quite funny as well, proving that his ability to give well-rounded performances is still very present. As a viewer, Josh Hartnett's character goes through a transformation as well. At first when Setsuko initially unwinds, she is mesmerized by John. Much like the roles of his past, Hartnett is dreamy here, but that's all it is – a dream. As we learn more about John his flawless image crumbles, and in the end, he's as messed up as anyone.
As Setsuko's uptight sister, Ayako (Kaho Minami) is also strong. Even Mika, Shioli Kutsuna who doesn't have a lot of screen time, still manages to leave an impression.
Written by Atsuko Hirayanagi and Boris Frumin, the keen script offers ample opportunities for multicultural ambiances and sophisticated humor. The film jumps from Japan to California and back again, and the locales are proficiently chosen.Will Ferrell and Adam McKay were two of the producers, which I found to be interesting. Hopefully this is telling of future projects, and they will continue to branch out.
Conclusion: Oh Lucy!
The comedy sneaks up on you, and for the most part, it's a very meaningful premise. When you are driven to laughter it feels as organic as it does in life, welcomed and reassuring. There are also some significantly dark moments, but they don't seem at odds here. This character is going through something difficult, as we all do, and there is no guarantee she'll come out clean on the other side. By the end, the movie itself doesn't necessarily promise that she does.
As a whole, Oh Lucy! is an inventive story that's remarkably relatable. What makes the sympathetic Setsuko so wonderfully charming is a combination of Atsuko Hirayanagi's story and direction and Shinobu Terajima's endearing performance.
No matter where you are in the world, you know these characters. That's what makes Oh Lucy! pertinent. It touches on loneliness and the sometimes outrageous lengths one will go to escape it, but it is also brave, just like Setsuko is, in discovering her own happiness. Oh Lucy! is a poignant story, more than worth 96 minutes of your time.
Were you fan of the film too? Let us know what you think!
Oh Lucy! will be released in the USA on March 2, 2018. For all international release dates see here. 
---
Opinions expressed in our articles are those of the authors and not of the Film Inquiry magazine.