SXSW Film and TV Festival 2023: CATERPILLAR, HUNG UP ON A DREAM, & ART FOR EVERYBODY
In the third report from the 2023 SXSW Film and TV Festival, I cover three documentaries. While they differ in subject matter, they each resemble some stage of the quest for a dream.
Caterpillar (Liza Mandelup)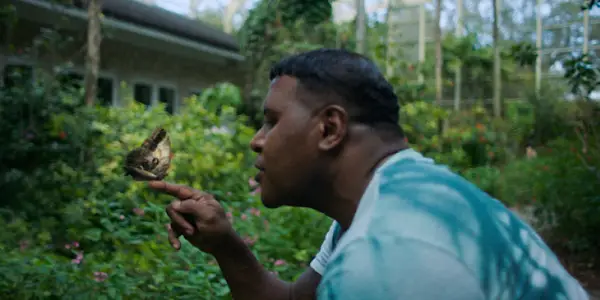 Caterpillar starts with David Taylor in the club, his voice-over tells us about the origin, emphasizing that spurred his desire to change. David finds out about a company called BrightOcular which can change the color of your eyes.
He yearns to have his different, closer to his father whom he didn't really know, so he reaches out to the company. As a gay and biracial man, he's struggled with who he is, and is looking for a transformation. When they agree to provide the procedure free, it's getting to India that's the next step. It seems too easy and too good to be true, and it turns out, it is.
His excitement is palpable, as are the times that he digs into his troubled past. His mother also suffered abuse and heartache, and their relationship has its fractures but also its strengths. David isn't the only person seeking ocular implants, and the film shows a few others' stories. After the color doesn't go as planned, David tries to stay optimistic but after some time he starts to notice some negative reactions realizing it may have been a mistake. 
The tone of the film changes from touching to thrilling to quite poignant. Our quest for identity and meaning is different for everyone, and this is primarily David's story, but a lot of his musings are universal. 
The synth score from Palmbomen II is the perfect accompaniment to soul searching tale. Liza Mandelup's sophomoric feature shows her skill and eye for beauty. Even with the inner beauty that our subject exemplifies. It's a portrait of self-image and societal pressures that's quite alluring.
David has a wonderful presence and is a great narrator to take us on this journey. He's changed by the experience, in different ways than he initially expected.  In the end, David has learned about himself and the journey had the desired effect. As he states "I'm happy that I got to try a dream."
Caterpillar is an impressive documentary that touches on the journey of finding fulfillment in life, before transitioning into the dangers some cosmetic procedures might pose. Riveting.
Hung up on a Dream (Robert Schwartzman)
In the pantheons of rock and roll history, The Zombies sit in an ordained corner, often an artist known by many but not always identified. Legends.
You are sure to know at least some of their songs, and with this documentary, you get to know the artists behind them (as well as get the opportunity to pad out your playlist). "Time of the Season" and "She's Not There" are two of their biggest hits but there's a large well of terrific music that The Zombies have given us. It's been nearly 60 years since they met and original band members Rod Argent, Colin Blunstone, Chris White, and Hugh Grundy discuss their ups and downs. The film weaves together interviews with the band, as well as audio and video over the years. It moves from how they assembled to how they eventually left the limelight.
As a young girl, I had a huge affinity for The Zombies and I was thrilled when I heard this film was coming out. As much as I knew the music I felt like I didn't know their story. My attention was peaked and my ears were ready to be serenaded. And they definitely were.
It's a pretty standard documentary in its execution and conventional tempo and texture. But, the band is so charismatic, and their music so damn good, that it's easy to be taken along for the ride. I can see why director Robert Schwartzman took on the project, and his own affection comes through in the capturing of their story. 
"I still don't know what a zombie is."
They have a timeless quality, a soft allure that fuels both haunting melodies and catchy harmonies that capture the 60s bluesy vibe. It's the time and season of the resurgence of The Zombies. I thought this was a wonderfully illuminating look at the talented 60s rock band, that any fan or lover of music should visit.
Art for Everybody (Miranda Yousef)
Miranda Yousef directs this documentary about the famed artist Thomas Kinkade and the untold story with both sensitivity and craft. He was known as the painter of light, and if you don't know his name, I guarantee you've seen some of his pieces. It probably even hung in your home in the 90s. Looking at his work is like taking a stroll through a fairy tale with a perceptible warmth of cottages and bridges, rivers, and forests.
Not only was he a massively talented painter, but he also was skilled at marketing his art, in places like QVC or his own store. He was a showman and someone who pushed their brand. He was quite successful and was quite the family man and churchgoer. He had various pen names where he dabbled in different styles. This is a story of a man who truly achieved success.
However, his life eventually took a downward turn. He had trouble with alcoholism, dealt with bankruptcy, arrests, and fraud, and exhibited a noticeable shift in behavior.  After his passing in 2012, Kinkade's daughters unexpectedly discovered a vault of unseen paintings that were darker, quite different than the work the world knew him for. Through the artwork they saw after he passed, a new side was discerned. One at odds with the artwork they knew. It feels like a form of resolution for his family, a goodbye and whisper back "I see you".
Throughout the documentary, we meet his family, as well as many others (critics, art historians, and fans). Many were touched and those were wounded by him. They share their stories, and it's an intimate and heartbreaking ode to the artist and loved one.
Art is pain, it's beauty, it's love. Kinkade's passion was never in question, but eventually, his motivations shifted and good intentions became consumed by the persona. It's a fantastic documentary and portrait of one of the world's best-selling painters. Miranda Yousef's feature debut is a moving and rich study of the man behind the art, and the tragedy that befell him.
Art for Everybody focuses on the life and legacy of the Painter of Light: Thomas Kinkade, but it is also an intimate and compelling look at the dark parts we sometimes keep from the world.
There is still more coverage to come!
Does content like this matter to you?
---
Become a Member and support film journalism. Unlock access to all of Film Inquiry`s great articles. Join a community of like-minded readers who are passionate about cinema - get access to our private members Network, give back to independent filmmakers, and more.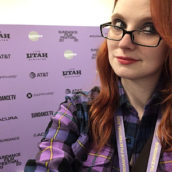 Kristy Strouse
Kristy Strouse is Editor in Chief of Film Inquiry, writer, podcaster, and all around film and TV fanatic. She's also VP of Genomic Operations at Katch Data and is a member of The Online Association of Female Film Critics.